Second Thoughts
La Boheme' Joins Select Circle!
Kentucky Opera is prepping for another season. October 16, it opens with Giacomo (James) Puccini's romantic tragedy, La Boheme. One reason why it's the opener is that local opera lovers rated it the one they would most like to see. This year, it will have its sixth local performances, tying the record jointly held by Tosca and Madama Butterfly. All are by Puccini, suggesting he has become Louisville's favorite composer. Incidentally, all three are almost universal favorites.
La Boheme, if this writer's calculations are on target, will be Kentucky Opera's 173rd performance. That breaks down into 88 different operas by 48 composers.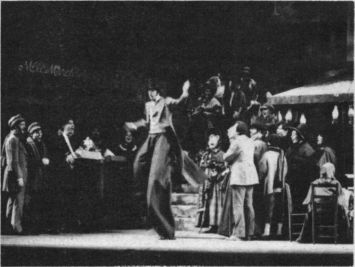 Scene from Kentucky Opera's 'La Boheme'
Excitement is building for La Boheme and the season, for already more season tickets have been sold than ever before. Holders of these tickets can save up to 25%.
Possibly some of the more excited persons are 18 Lexington youngsters who will be the Children's Chorus. They will sing in Italian; they get to wear costumes; they will get to act in some street scenes. To do all this, they are taking part in at least six rehearsals.
The youngsters hail from Christ Church Cathedral, Lexington, where they have been superbly coached by the talented organist and choir director, Bruce Neswick. They gained the enviable opera assignment by outperforming six other choral groups. David Berger, KO's chorusmaster, said they were "far superior and they displayed a sheer volume of pure and clear sound." Kentucky Opera will donate to their travel fund, for in 1994 the girls will perform at Westminster Abbey and the boys will follow in 1995.
Another KO first will be New York City Opera's "1992 Debut Artist of the Year" Elizabeth Futral in the prominent female role of Musetta. The young lady, whose family currently lives in Pewee Valley, has performed in operas by ten composers. Kentucky Opera is the tenth company with whom she has appeared. She appears to be on her way up and critics have noted her radiant beauty, rich, vibrant voice, and enticing stage personality.
Still another Kentucky participant will be the Louisville Male High School band.
Kentucky Opera is supporting Kentucky Harvest. If you bring a canned food on Monday, Oct. 18, you will get a free ticket.
Stephen K. Murphy is making his first appearance as our stage director. Active with New York City Opera, he is founder and artistic director of Washington Square Opera who dedicates its production to raise money for target groups. Most recently, they put on Poulenc's Dialogues of the Carmelites for a three-month run at a New York convent in which Poulenc's masterpiece was integrated with journal entries from the nuns killed in El Salvador in 1980. (The Carmelites were also religious who gave their lives rather than surrender to the tyranny of France's Reign of Terror in the 1790s.) The proceeds helped buy supplies for mission schools throughout Central America. The group's 1994 production of La Boheme will benefit victims of AIDS.
Kentucky Opera is missing no opportunity to enhance your enjoyment of La Boheme. It has scheduled three one-hour Lunch and Listen programs at Vincenzo's (5th and Market). If you want to have lunch, call Kentucky Opera (584-4500) by noon of the day before the luncheon.
At Luncheon No. 1 on September 28, General Director Thomson Smillie tells why he (and others) consider La Boheme the most perfect opera.
Then on October 5, in an informal setting, Maestro Lawrence Leighton Smith examines the conductor's role in this opera.
Finally, on October 12, we can learn why "Boheme" is characterized as a "verissmo" opera. Kentucky's director of drama, recently returned from work in Argentina, explains.
But THAT'S NOT ALL.
At each performance night, October 16, 18 and 19, David Berger provides another one of his uniquely enlightening and entertaining previews.
Interested? Want more information? Luncheon reservations ($6 a meal)? Tickets to the Opera? Call 584-4500 after 9;00 a.m.
See you at the luncheons — and the theater.