'Black & Wy Homecoming'
By Earl Meyers
The Black & Wy Tour was appropriately scheduled as the grand finale of the Kentucky State Fair, Sept. 29, for those who enjoy country music.
I arrived two hours early with family so that we had time to eat a barbecued pork sandwich, stop by the Rough Diamond Music Network booth, and see some of the other sights, including the people. Drifting into Freedom Hall with the crowd, we took our seats at the far end from the stage.
Michael Johnson opened the show for the full house, performing solo with his guitar. He surprised me with several hits, including "That's That" and "Ghost in This House," written by Hugh Prestwood. I had the honor of meeting Hugh at the Nashville Songwriters Association International's first Advanced Songwriters Day Camp in Nashville in July, along with four other professional writers who tried to help 28 struggling writers improve their writing skills.
A trimmed-down Wynonna triggered a thunderous roar of approval as she strolled out on the stage in black pants and a red jacket. The thunder was repeated after most of the songs, including "She Is His Only Need," "Mama, He's Crazy" and "No One Else on Earth."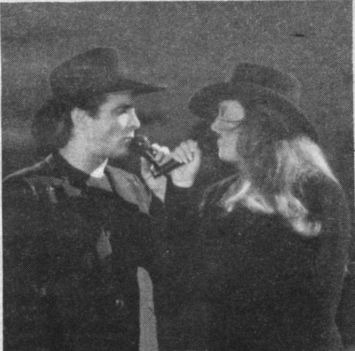 Clint Black and Wynonna croon at the Kentucky State Fair. Photo by Bev Ingram
Wynonna moved around on stage more than she had when I saw her as half of the Judds' daughter/mother team a few years ago at Cardinal Stadium. More mature and relaxed in her role as a singer, she performed fewer songs with her guitar, leaving the duties to six very good musicians, and the backup vocals to three very capable vocalists. Her borderline bluesy country sound, with an occasional growl, is hard to beat. Fans seemed to agree with Wy when she said "It's always fun coming home to Kentucky."
Squint-eyed, Roy Rogers-look-alike Clint Black followed Wy after a short break. With an outfit in a color other than the black he wore, one might expect him to ride out on Trigger. The usual black was the predominant wear around the fair long before the concert, so we all knew what to expect.
"Killin' Time" and several other hits were part of the Black-attack show, backed up by an excellent band with the more traditional country sound, including fiddle and steel guitar and occasional harmonica and guitar licks from Clint.
The biggest crowd pleaser was "A Bad Goodbye" duet with Wynonna halfway through Clint's part of the show. He had already shed his jacket earlier, and touched the hands of several of the fans gathered around the stage during one number near show's end.
Clint ended his set with an encore, as had Wynonna, and then it was back to the parking lot, hoping all the way to get ahead of some of the 18,000+ leaving the grounds. After all, work and a job awaited many of us early the next morning.
The Black & Wy Tour goes on, leaving behind a homecoming kind of nostalgia; even though Clint is not from Kentucky, he performed in a WAMZ free concert at the Louisville Motor Speedway when he was relatively new.
With all the new electronic lighting, smoke and sound effects on stage, and both artists becoming more seasoned performers, it's almost like they've grown up before our eyes. Clint & Wy helped make Kentucky State Fair '93's record-breaking attendance year a little more special.