Bluegrass Beat
It has been a great summer and fall is upon us. Starting off fall, I'll remind you once more right now, is the Tennessee Fall Homecoming at the Museum of Appalachia, Norris, Tennessee. Only about 18 miles north of Knoxville and one mile east of Interstate 75. In telling about this event last month, I said that if a picture is worth a thousands words, then a trip to the museum and the homecoming must be worth ten thousand words. I meant to say ten thousand pictures. A learning and enjoyable experience.
As it is October, Halloween in sight, you need to see Joe Carter and his demonstration on carving a pumpkin. Also hear him tell how the jack-o'-lantern got its name and how some folks fight the devil to get into Hell. Joe is a school teacher in the vicinity of the museum and gives a very entertaining and informative demonstration several times during the weekend. You will enjoy it, along with all of the many, many other things going on.
The man who, through his sponsorship of a well-known old-time radio program in Knoxville, launched the careers of many top country acts such as Dolly Parton and Ernie Ford, will be there. The man, Cas Walker, who the brochure for this year's Homecoming says started singing at 91, is the most talked-about act of the '92 Homecoming. The dates are Oct. 6-10.
The 6th is student day and activities will be geared toward children.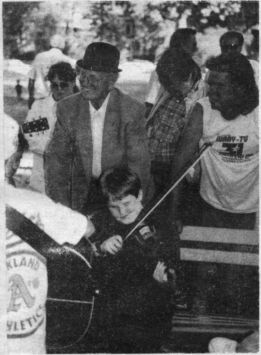 ll-year-old Michael Cleveland attracted a crowd at the Second Strictly Bluegrass Festival in Central Park, as Candy Mountain Express' Charley Flannery (in hat) smiles his approval. Photo by Jean Metcalfe
We expect to be there Friday through Sunday. Look for us, come over and say hello. If you want an excuse to talk with world champion banjo player Raymond Fairchild, ask him if he has seen us and where we are. Please, at some time during your visit, tell John Rice Irwin you read about it in the Louisville Music News, in my column.
The Strictly Bluegrass Festival at Central Park, September 10-11, was a big success. A tip of the bluegrass boy hat to Jim and Gary Brewer for getting this festival going and keeping it going.
The headliners this year were Bill Monroe and Jimmy Martin. There were several other groups who are not household names in this area but are nevertheless topnotch. Among those were Wendy Smith and Blue Velvet, The Carroll County Ramblers, Robert White & the Candy Mountain Express, Eastbound and Beaver Creek, to name a few. Gary Brewer and the Kentucky Ramblers did a great job.
Gary, some folks want to know if you have recorded any of the clawhammer numbers that you did at Central Park. The Carroll County Ramblers did themselves proud every time they took the stage, and they have a lot of good tapes.
One group had something available that we thought was a tremendous idea. Beaver Creek had written up a little story for a bluegrass coloring book designed for kids. The thinking is that kids like to color, they can learn the different instruments and their colors, and, ideally, become bluegrass fans. Another tip of the ole hat for an excellent idea. Oh, they are a good group. And friendly, pleasant folks also.
The festival was also an opportunity to celebrate Mayor Jerry Abramson's and Bill Monroe's birthday. Mr. Bill was 82 the 13th. We had to leave for another engagement late Saturday afternoon, but the MC duties were in good hands with C.R. Wilson, and I understand that Mr. Bill had Michael Cleveland up to fiddle a tune. Before we left, I had an opportunity for something I have waited years to do. I taped an interview with Mr. Monroe on his bus and played part of it on the Sept. 26 edition of our "Sunday Bluegrass" show. I'll probably play more on Oct. 3.
Congratulations to Gary and his dad Jim on another fine festival and good luck on your international tour that is in the works.
There was a bit of mixed emotions for the Brewers for the festival week. Gary's grandfather, Jim's dad, was killed in an extremely unfortunate vehicle accident in Tennessee earlier in the week. Our sympathies go out to the Brewers.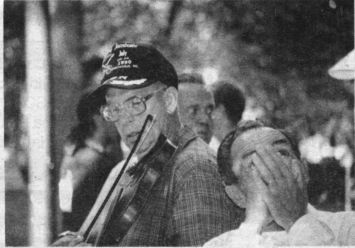 Don Crecelius (in cap) and Garnet Brown jam in Central Park during the Strictly Bluegrass Festival, September 11. Crecelius and Brown are members of the band Tommy Brown & County Line Grass. Photo by Jean Metcalfe
A heads-up for the faithful and dedicated: As of this writing the WFPL fall fund drive starts in November, and our Sunday will be the first Sunday, November 7. Yes, folks, we will do it again. A live show at the 1st Unitarian Church, 4th and York streets in Louisville. It will be open to all and it will be free, although we are in the fund drive to help keep our program on the air. Be with us. And at this time I can assure you there will be some surprises you will not want to miss. [Trust this man, folks. — Editor.]
We have gotten a little behind in our reviews lately. We have several from Pinecastle Records, P.O. Box 456, Orlando, FL 32802. In the interest of time, space, and all of those other things used in a statement of this nature, I will attempt to do them all together. We have three:
Foxfire's Starting Today, Wild & Blue's Heirloom, and a self-titled album by Special Delivery, the 1993 Pizza Hut Showdown champs. They all have a lot of talent and good numbers.
Foxfire is what I sometimes call soft grass and they included a couple of jazzy type numbers. Their "Sweet Kentucky Girl" struck me as one of the best on the album.
Wild & Blue is generally over-all good. Their two female lead singers have good voices, and are good. "Pass Me By" is pretty much country, while the instrumental on the side will get the cloggers to their feet. "Goodbye and So Long to You" has a blues/swing rhythm and sound which will suit a lot of listeners, although not hard grass.
Special Delivery has a good recording that most bluegrass fans should readily accept. "Just When I Needed You Most" gets over to soft grass.
There is something on the three of these for most bluegrass fans; if you are with the "softgrass" fans you will like all of it.