Cocoanuts
By Deborah Joyce Williams
and Jean Metcalfe
The zany antics of the Marx Brothers — Groucho, Chico, Harpo and Zeppo — provided an amusing evening for late-September patrons of Actors Theatre of Louisville with the musical comedy, "The Cocoanuts."
Set in Cocoanut Beach, Florida, in 1925, the action takes place in a hotel owned by Henry W. Schlemmer (Groucho) who is struggling to keep the hotel afloat, with wit and wisecracks instead of wages. An excellent dance number by his unpaid bellhops earned — and received — enormous applause.
"What's There About Me?" is the musical question Groucho asks in a later scene, as four female dancers with large pink fans swoon over him, then carry him off stage at song's end.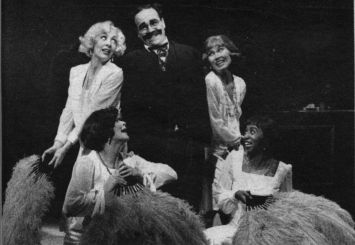 Clockwise from center: Peter Zapp, Teresa Lynn Deihl, Myra Browning, Angel, Jaban, Karen Lifshey.
As a young lady and her hotel clerk boyfriend consider their dream acreage in the woods of Cocoanut Manor, men in gorilla masks and women dressed as yellow bananas do "The Monkey-Doodle-Doo" against a wonderful gold backdrop.
The musical progresses and the plot gets ever zanier as fast-buck artists plot to steal a valuable necklace, the hotel clerk plots to win the hand of his beloved, and the Marx Brothers weave their magic throughout.
Connecting doors, impersonators, confusing maps and a false arrest add to the confusing hilarity, and bring the evening to a happy ending.
Cocoanuts contains fun numbers aplenty, with unique settings (there were 11) and costume designs (75 of them). The Spanish costumes were wonderful in "Tango Melody" and the lighting was especially well done in the set of Act II for the song "Always."
An evening filled with talented actors, costume and set designers, and musicians earns many kudos for "Cocoanuts" and Actors Theatre. The wise will dial 502-584-1205 and reserve a seat in the Pamela Brown Auditorium for this rare ATL musical.
Underwritten by Brown-Forman Corporation, "Cocoanuts" continues at Actors Theatre, 316 West Main, through October 23.