MISSISSIPPI RIVER MUSIC CONFERENCE:
The first ever Mississippi River Music Festival was held September 9 – 11 in St. Louis. A music industry showcase/seminar focusing on the Midwest, it was sponsored in part by the well-established South by Southwest seminar of Austin, Texas. Unfortunately, the MRMF paled in comparison to SXSW. The panels of industry professionals were sparsely attended on both sides and enthusiasm ran lower than the subsiding Mississippi River. There was no shortage of eager showcasing bands, however; One hundred-eighty-six bands paid their registration fees and were scheduled over three nights, all over St. Louis. That's over 60 bands per night, and only about 10 A&R representatives from varying labels were present to see them (and most of them went out in pairs or trios). Thus, the vast majority of bands went unseen by music industry people.
Interestingly, there were no Kentucky bands invited, though bands from Indiana, Ohio, and Tennessee appeared. I asked one of the organizers why there were no bands from the Bluegrass, and he answered, "Well, there's really no reason to, is there? I mean nothing really happens there." Such unawareness is apparently the average awareness level of outsiders to our scene.
DON'T RAVE, RANT!!!
A new multi-media cultural, alternative, non-profit organization, The Literary Renaissance, is working on the publication of Rant, a literary magazine which will feature local, national, and international writers, poets, artists, photographers, and bands. The premiere issue is penciled for January, and will be a special 12" x 12" collector's edition of 600 pages. It will include exclusive, previously unpublished photographs by Andy Warhol, plus writings by Lawrence Ferlinghetti, Allen Ginsberg, and Diana di Prima, just to name a few. Subsequent issues will be about 150 pages, smaller sized, and published quarterly. Another division of The Literary Renaissance is Richie's Lemon Records, which will release compilations of artists' live performances from some of the Rant benefits.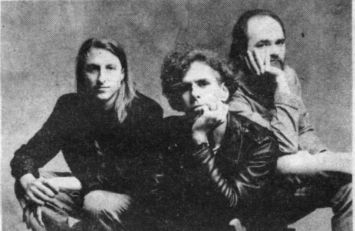 The psychodts will play at Uncle Pleasant's on October 30
Rant has already sponsored several benefits at local coffeehouses and clubs. They are now sponsoring the biggest music and poetry event to date in Kentucky history, over the weekend of October 7-10; an INSOMNIACALMANIACALITHON.
The event will begin Thursday evening around 8 p.m., resume early Friday evening, and then go non-stop (i.e. 24 hours) through Sunday midnight. It will take place at The Brewery's Thunderdome (next door to The Brewery) and ALL AGES are welcome. Cover is a quite reasonable $5 and is good for the whole weekend (if one keeps one's stamp). Over 70 poets are scheduled to read by day and over 30 bands will perform by night. Scheduled to appear are: Endpoint, 10 Foot Pole, Poster Children, Scrawl, Brett Ralph, Crain, Rodan, The Vestrymen, Grayson Hall, Women of Destruction, Drinking Woman, Juanita, Catawampus, Strictly Wet, Evergreen, The Blueberrys, Enkindle, Slo-Pok, Lather, Pale Blue Star, Eleven Eleven, Chigger, Cereal Heroes, Biff Banger, Jimmy Raney & Jack Brengle, 9th Wave, Dem Reggae Bon, Serpent Wisdom, Danny Flanigan & Kelly Wilkinson, the Metropolitan Blues All Stars Duo, Oval, Dreadful Lemon Sky, Tyrone Cotton, and more and more. This listing is in no particular order (and subject to change), so be sure to scope out a poster at your local record store, coffee shop, or telephone pole for up-to-the-minute listings.
This will also be the album release party for the first Richie's Lemon release, which was recorded several months back at Tewligans. It features: 10 Foot Pole, Crain, Rodan, The Blueberrys, just to name a few. The Insomniacalmaniacalithon will also be recorded for pressing and release in future months. For further info on any of the above call 339-0400.
CLUBBING:
Spotlight Productions (a.k.a. Bill Barriger) wins this month's "coolness" prize for bringing us the most hip shows. For starters, Rounder recording artist/legend Jonathan Richman (ex-Modern Lovers) is at Cliffhanger's on Saturday, October 9. Dramarama with Slim Dunlop (ex-Replacements) is at Phoenix Hill Tavern on Tuesday, Oct. 12. Warner/Slash champions Los Lobos headline the Macauley Theatre on Thursday the 14th and Omar and the Howlers are at Cliffhanger's on Friday, Oct. 15. On the following Monday (the 18th), Adrian Belew returns to town unplugged-style accompanied by Dave Alvin (of The Blasters). This treat is served at Phoenix Hill Tavern. Back at Cliffhanger's, the weekend of the 22nd/23rd is packed with Royal Crescent Mob on Friday and Jason and the Scorchers on Saturday.
Plus, any deadheads out there will want to know about Born Cross-eyed at Cliffhanger's on the 1st and 2nd, and Widespread Panic at Phoenix Hill Tavern on the 5th. If there are any Winger fans reading this, they should be at Phoenix Hill on the 13th. These and more are brought to you courtesy of Spotlight Productions.
Southern Culture on the Skids will appear at the Butchertown Pub on Tuesday, Oct. 19
Billy Hardison and David Gruneison (dba Stone Axe Productions) were described as "pruned" from Tewligans in last month's column, but a better metaphor would have been that they are "pollinating" different clubs around town now. They bring us an alternative evening with Rodan, Braniac, and Pitch Blend at Uncle Pleasant's on Friday, October 15. They sponsor the next weekend at The Silo Brew Pub with 10 Foot Pole on Friday the 22nd and Big Hat on Saturday the 23rd. This will be the Louisville release party for Big Hat's new release on March Records, which was produced by Billy Corgan of Smashing Pumpkins with assistance by Butch Vig (Nirvana, L7, etc.).
Back at Uncle Pleasant's, a new group of Twin-Tone recording artists, Marlee MacLoud and the Lonesome Choir, debut on Saturday, October 23. They hail from Athens, Ga., and fill up the gap left in Twin-Tone's roster when the Jayhawks moved to DGC records . . . that dangerous space between folk/country and rock & roll. Wrapping up the month at Uncle P's in a Halloween party kinda way are the psychodots on Saturday, October 30.
At Tewligans this month look for Indiana's Vulgar Boatmen on Friday the 1st with Hula Hoop and Blind Justice. Lexington's 10 Foot Pole celebrates the release of a brand spankin' new CD on the 10th, with guests Birdmen of Alcatraz from Indy and Nashville's Moon Saloon. Vertebrae Records' Arson Garden headlines the October 23 show. Halloween is celebrated one day early with an all ages matinee by Erchint and Integrity. That evening, the over-21 demons are released with Commonlaw Cabin, Juanita, and Grayson Hall. Grayson Hall is Louisville's latest "O'Bannon" band, featuring Tari and Michael (and sometimes Wink), Mark Gordon (of Rodknocker and Bodeco-management fame), and Brett Holsclaw (Evil Twin Theory, Crab Nebula).
Since everybody's going to be broke after all those shows, it seems a good time to bring up the free (or real close) Tuesday shows at Butchertown Pub. On the 5th, Antietam returns to their native soil for the first time since Tim & Tara joined Syd Straw on a May bill. Joining Antietam will be Sub-Pop recording artists Codeine, who are dropping by while en route to Oklahoma. This show costs $2, but the rest are free. Bar-None Records' The Swales share the bill with the local Nadine (Dan Gediman's new project) on the 12th. Southern Culture on the Skids is back (with a new van) on the 19th for the first Louisville gig since February. Alias Records' The Archers of Loaf share the stage with Hula Hoop on Oct. 26, and Athens, Ga's, Five-Eight are scheduled for the 2nd of November.