Well, it's jeans and boots weather once again. The weather is beautiful. A lot of the leaves have a hint of color stimulating the most radiant season of the year. With all the Septemberfests and the Octoberfests, not counting the applefests, there is plenty for everyone to enjoy. Louisville has a lot to offer. And this doesn't even count some of the best local talent playing somewhere every night.
Annie's, one of our local establishments in the southwestern part of the county, did a mighty fine job defeating the WAMZ Country Hams softball team and successfully collecting money for the St. Jude's Children's Hospital. This is really what it's all about. Way to go!
Our own local entertainer Karen Kraft, winner of the Kentucky state finals, True Value / Coca-Cola Country Showdown, was the opening act for the final WAMZ concert of the summer at Louisville Motor Speedway. She opened for Don and Darrell Ellis and the unpredictable Collin Raye. Some unexpected visitors showed up for the concert: TNN's new video show that airs October 1, hosted by the No. 1 female air personality in the Nashville area, Shannon of KDF 103. They were there to do a segment on Collin Raye; a very pleasant surprise for everyone. This show will take you on location to the artists' homes and concerts and then play their newest video. Sounds like a super show.
The Texas Stadium belongs to Garth until the three-day sell-out is over. He was shook up recently when an accident occurred while he was doing his sound check, and fifteen members of his crew were injured. It was like a bolt of lightning. A support trestle holding the lights collapsed, and too much weight was said to be the problem. Fortunately, only minor injuries occurred. Garth contacted all the people who were injured to see how they were doing. He said, "We will be starting all over. Safety is our first priority for everyone."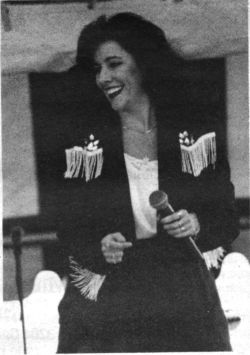 Karen Kraft at the last WAMZ Louisville Motor Speedway free concert of the year on Sept. 19. Photo by Letha Marshall
CMA Horizon Award nominee Sammy Kershaw will be taking his 7-year-old daughter to the awards show as his date. A new baby is due the last part of September. Sammy's sporting a new look these days. Glitter and rhinestones is what he'll be wearing to a lot of his shows.
Susie Harper and Heartwood, hanother local group, hasn't busted up. Byron Pendleton, their bass player, says they've been doing the Leitchfield circuit, and looking for another band contest to enter. They really like to compete with other bands.
Farewell to Ralph Emery. He will be leaving "Nashville Now" on October 15. Ralph has made a tremendous impact on country music by publicizing the music and its artists. He will continue his association with TNN behind the scenes. Good Luck and God Bless.
Several local bands have been reorganizing these days. Many of the members have full-time jobs that interfere with their gigs.
Don't forget to buy your tickets to see Restless Heart playing at Coyote's on October 7.
October 9 is the date of the Southwest Community Festival, 6505 Bethany Lane. There will be plenty of music and dancing and arts and crafts for the whole family to enjoy.
I'm still looking for news about your band to share with our readers. Just write me c/o Country Style, Louisville Music News, P.O. Box 148, Pewee Valley, KY 40056.