Drivin' N-Cryin'
By Pete Strojny
There wasn't any crying at Cliffhanger's on September 11, unless it was crying for more of the hard-edged, melodic sound of Drivin'-N-Cryin'.
Opening was Big Wheel, whose solid set of originals served to warm up the crowd as well as to continue building their own following.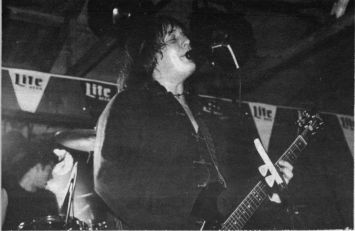 Kevin Kinney, above, works up a sweat, while below, bassist Tim Nielsen seems to be in need a break. Photos by Pete Strojny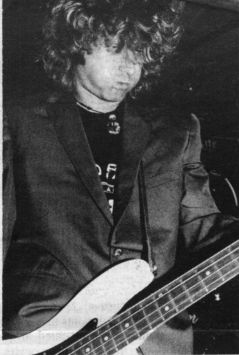 The full crowd was anxious to see Drivin'-N-Cryin', however, and the band wasted no time getting into gear, opening with a rendition of Cheap Trick's "Are You Ready to Rock?" It was a question the crowd was eager to answer in the affirmative and it didn't let up for the next hour and forty-plus minutes.
Drivin'-N-Cryin' is touring in support of a new release, Smoke. They showed off a lot of the new material from it, including "Turn It Up or Turn It Off," "Whiskey Soul Woman," "Smoke," and the newest single, "If I Was Born on the Right Side of Town."
The fans were not denied Drivin'-N-Cryin's old tunes, however, as the group romped through "Build a Fire," "Fly Me Courageous," and even a hard version of "Ain't No Sunshine When She's Gone." They covered the Seeds' "Pushin' Too Hard," which pretty much summed up the good time, positive approach with which Drivin'-N-Cryin' comes across on stage.
The fans were really singing along on Cheap Trick's "Surrender," and by the time the non-stop, exhaustingly long performance closed, everyone seemed to have had their fill of loud jams and cool liquids.
Drivin'-N-Cryin's tight-knit sound comes from years of road seasoning. With Kevin Kinney on vocals and guitar, Tim Nielsen providing the thick bass underpinnings as well as back-up vocals, Buren Fowler on lead and Jeff Sullivan on the drums, Drivin'-N-Cryin' is a solid unit with which to showcase the songwriting of Kinney and Nielsen.
At a post-show interview, Kinney was asked why the band covered the Cheap Trick tunes "Surrender" and "Are You Ready to Rock?" He explained that Drivin'-N-Cryin' had been on the same bill with Cheap Trick the week before. Playing the Cheap Trick songs was just a way to acknowledge the two bands' compatible styles.
Kinney plays a '60s model Mosrite guitar, which sounded even better live than on record. He also mentioned that he has released a solo collection of "folk" songs.