HeadHunters with Johnnie Johnson at Coyote's
By Paul Moffett
Greg Martin and the Kentucky HeadHunters came home in more ways than one when they appeared at Coyote's on the first of September.
To begin, of course, Martin, singer Mark Orr and Anthony Kenny have solid Louisville roots. Martin, true to his habits, made considerable efforts to call and write his many friends in the area, encouraging them to come out. Accordingly, there was a strong contingent of FOG (Friends of Greg).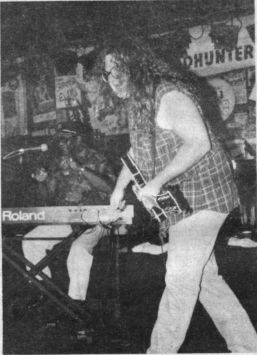 Richard Young, foregroud, and Johnnie Johnson. Photo by Paul Moffett
The show was in support of their new roots/blues album, That'll Work, recorded with Johnnie Johnson, Chuck Berry's long-time piano player, who also was on the tour. Just to drive home the point that the program was not a country show, local blues favorites da Mudcats were tapped to open, and they handled that chore admirably, with the harmonica and vocals of Jim Rosen leading the way.
Of course, seeing the duded-up line dancers doing their routines to the get-down and moan material of da Mudcats was a little weird. But okay.
For those who might not know, the headhunters' current configuration is a duplicate of the pre-Phelps' brothers group, Itchy Brother, which worked as a roadhouse rock band.
Perhaps just to drive the point home further, Jimmy Hall, former saxophonist and harp-blower for Wet Willie, was on stage to add to the Chicago blues feel.
For the next two hours, the group looked and felt like a rhythm and blues band engaging in a late-night, joyful jam session with a few really talented friends. Martin danced around the front of the stage, ripping through his solos, then stepping aside when Johnson took his brief turn on the ride, and generally exhorting the crowd to rave it up.
Richard Young acknowledged the magic of the night when he told the crowd that it was a "night I've dreamed of." Drummer Fred Young worked himself into a ferocious sweat on the kit. Johnson, on the contrary, seemed an island of serenity, laying down his trademark boogie shuffle while scarcely moving anything but his hands.
Mark Orr was also at home in the music, and he handled the vocal chores admirably, seeming more comfortable with the blues rock material than he does on the country-oriented songs.
Coyote's should be given points for their increasingly adventuresome booking. The room is the middle-sized venue that the city has needed for some time and the fact that the club is bringing in shows like the HeadHunters/Johnnie Johnson bill is a plus.