Don Henry and Tim Krekel


Louisville Homefront Performances
By Paul Moffett
Don Henry is the Tom Robbins of country songwriters.
Like the author of "Even Cowgirls Get the Blues" and "Another Roadside Attraction,": Henry's forte lies with his words, particularly his imagery and turns of phrase, although his musicality is not to be slighted. He sketches with precise, visual images the story he wants to tell and keeps the attention of the listener throughout.
The tune "Harley," first recorded by Kathy Mattea and included on Henry's Epic recording Wild In the Backyard, is a prime example. The song is the story of a pair of motorcyclists who have a child named Harley (after the bike), then lose him when the sidecar they're carrying him in comes undone. Harley is raised by a farm couple, Beulah and Barney, and leaves home to become a carny, "jumping fifty trucks at the fairground." His real parents attend the carnival, hear the crowd chanting Harley's name and are reunited with him.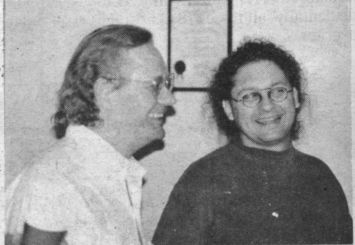 L to R, Tim Krekel and Don Henry share a moment of amusement backstage at Homefront. Photo by Jean Metcalfe
In the songwriting business, this is considered a no-no — too long, too complicated, no killer hooks. Henry makes it work nevertheless, and splendidly.
Of course, Don Henry can also write the kind of song that commercial radio likes, as demonstrated by "Where've You Been," co-written with Jon Vezner. That tune won a Grammy for Country Song of the Year.
Tim Krekel is no slouch when it comes to songwriting, either, and the pairing of him and Henry was a master stroke by the Homefront booking committee. Since moving back to Louisville, Krekel has been showing up in a variety of places. For the Homefront show, he brought Jim Wilson and Jim Byers, two members of his Thursday night band at Dutch's Tavern, to help him on a string of his tunes.
"Perfect World" is Krekel's statement of how he would like to live: "Follow the music and find me there." "Mason-Dixon Buckaroos" was the sing-along song of the set, together with Van Morrison-like "All-Night Radio."
"EW+AV," a new tune whose lyrics temporarily escaped from Krekel, was a little love song inspired by seeing the title's initials carved on a tree in Cherokee Park.
As usual, the Homefront crew recorded two radio shows. The Homefront shows are broadcast on WFPL FM 89 on Sundays at 1:00 p.m.
The October Homefront show, set for October 16, a week later than their normal schedule, will feature Ann Reed and Londa Crenshaw, at the First Unitarian Church.