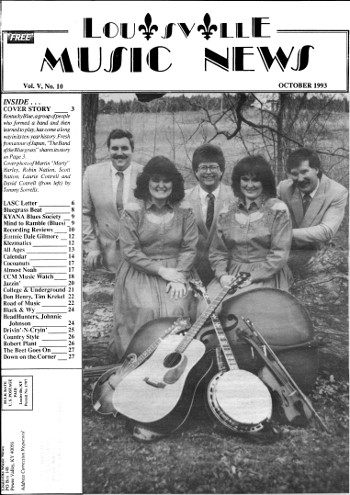 Kentucky Blue
The Band Of The Bluegrass
By Jean Metcalfe
After giving up Golden Gloves boxing for marriage and a family, David Cottrell woke up one morning and said to his wife, Laurie, "I want a banjo."
"So she went and bought me a harmonica," David chuckled.
"It was cheaper."
The banjo followed soon enough; Laurie gave him one for Christmas.
Beginning with that banjo, David and Laurie Cottrell put together a band and undertook a journey that has included winning the Kentucky State Bluegrass Band Championship, composing and performing music for Purnell's "Old Folks" Sausage TV ads, and eating raw fish with Kentucky bourbon on the side during a recent trip to Japan.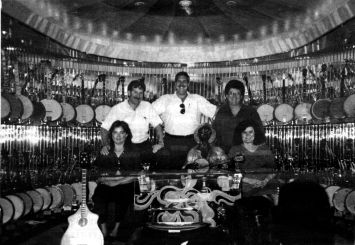 Kentucky Blue visits an exclusive banjo museum in Japan. L to R, Laurie Cottrell, David Cottrell, Marty Harley, Scott Nation and Robin Nation.
Kentucky Blue has performed with some of the biggest names in country and bluegrass music, were named the official host band for Kentucky's 1992 Bicentennial Celebration, and played for President and Mrs. Bush at the 1992 Kentucky Harvest anniversary party in Cardinal Stadium.
Now celebrating their tenth anniversary, Kentucky Blue still has the original five members of the band. And although the Cottrells founded the band, David stated emphatically that Kentucky Blue is a partnership.
In early September, David and Laurie Cottrell sat with me at the kitchen table in their Simpsonville home and shared the story of Kentucky Blue. Later, between sets at the Jeffersontown Gaslight Festival, the other three members of the band, Scott and Robin Nation and Martin "Marty" Harley, helped fill in the blanks.
l
In 1983, Laurie Cottrell was playing mandolin and David the banjo in a foursome that included Grafenburg guitarist Logan Hahn and David's sister-in-law Donna Cottrell on upright bass. For several months they played at various country music venues, until Hahn joined the Air Force and Donna left the band. To replace them, the Cottrells brought in Scott Nation and his wife Robin, who is Laurie's aunt. Laurie put aside her mandolin and learned to play upright bass; the instrument had been acquired by David in exchange for a valve-grinding machine.
Wasting no time, "The Dixie Mountain Gang" traveled to Leitchfield to compete for the title of 1983 Kentucky State Bluegrass Band Champions.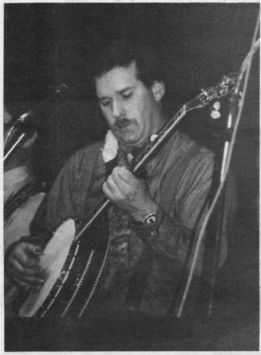 Dave Cottrell. Photo by Jean Metcalfe
They didn't win.
Just before going on stage they had been told by contest officials, "Now you know you can't play 'Foggy Mountain Breakdown' or 'Cripple Creek' . . . and you have to sing one and play one' "
Oh, no.
"We didn't know any other instrumentals," David admitted. [Laughter] "So we tried to learn 'Old Joe Clark' right before we went on stage (they traded places with another contestant in order to rehearse). ... We got up there and it was a mess. And we walked off stage and Scott said, 'I can't believe I let you get me into that.' "
Back to the drawing board.
They added Martin "Marty" Harley on fiddle, changed their name to Kentucky Blue, and employed the well-known method of "getting to Carnegie Hall."
Said Scott, "Most groups, they're musicians who decide to form a band. We were not like that; we were people who wanted to form a band, who then became musicians. If that makes any sense."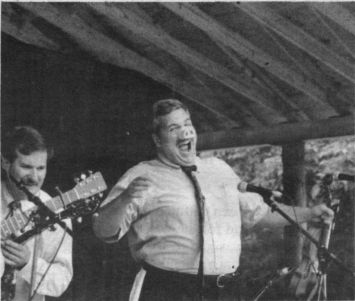 Marty Harley at Otter Creek Park. Photo by Jean Metcalfe
"Marty was the only person who ever really came into the group that ... we wanted to get him because he played the fiddle. The rest of us, we kinda formed a band, then we learned to play."
Marty's debut with Kentucky Blue was a particularly memorable one. A mountain of a man, Marty had been outfitted with a papier-mache bear's head for the occasion. As the script went, Marty would go on stage wearing the bear's head, dance around, leave the stage to remove the head, return to pick up his fiddle and play his ride during "Old Slew Foot."
But David tells it best:
"So Marty, he runs out on stage, he's jumping around and he sees the crowd and he just freezes and he yanks that head off and throws it down, reaches for his fiddle and knocks it off, and it hits the floor and goes out of tune and he spent the rest of the show back there tuning. He never got to play a note."
Practice and perseverance paid off and three subsequent contests later they were awarded the title "1986 Kentucky State Bluegrass Band Champions."
Said David, "When we won that contest we were so happy. We were jumpin' and hollerin'"
"And crying," Laurie added.
The day after the contest, the new bluegrass champs, along with The Cumberlands and others, opened for country superstar George Strait at a concert on River Road in Louisville.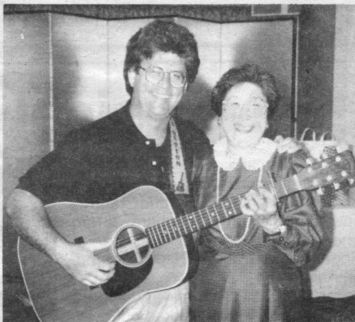 Mrs. Kazuko Toyoda gives Scott Nation an assist on guitar
Kentucky Blue gives much of the credit for their success to Dave Cosson, former banjo player with The Cumberlands and other notable groups. At a Cumberlands performance, Cosson and David talked about fishing and banjo playing and agreed that Cosson would swap David banjo playing tips for information on good fishing holes. Cosson invited David to his home for coaching, and wound up taking the whole band under his wing.
Both David and Laurie had exceedingly high praise for Cosson, as did the other members of Kentucky Blue.
"He gave us a lot of his time and we really appreciate him," Robin told me. "He took us under his wing. ... And I know he got frustrated with us at times."
"He was not only willing to spend time with us," Scott added, "but he actually tuned in to us. ... Why did he do it? Why did he care?"
Scott answered his own questions:
"He loved music. And he loved people who wanted to share in his abilities and his knowledge, and I think he knew we appreciated it."
Cosson has since "let us grow up," Scott chuckled.
"He wanted us to start doing it ourselves," Robin added.
Laurie taught herself to play upright bass by watching and listening to other players, then honed her skills by studying under such accomplished players as Ruth McClain and Lauren "Sis" Guernsey.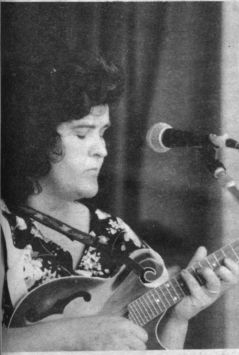 Robin Nation
Scott had played guitar in high school, but it wasn't bluegrass, it was rock 'n' roll. Self-taught, he at one time played piano for a female gospel trio comprised of Robin and two of her relatives. Performing at revivals and other church activities, the trio would include Scott's originals in their repertoire, and he "got a lot of satisfaction out of that as a songwriter."
Robin had studied music at Eastern University, and sang "all the time," but didn't play an instrument. After deciding she wanted to learn to play one — "I felt dumb standing up there just singing" — Robin borrowed a mandolin and "for a whole year I didn't know what to do with it." She then learned G, C and D chords on the borrowed instrument to convince her husband that she was serious, and they ordered her a mandolin from a magazine. She taught herself to play by listening to other players and asking questions.
Marty has played music since he was a small child. In school he played tuba, trumpet and saxophone, taking up fiddle/violin in about 1982.
David gives Scott Nation high marks for his songwriting: "He's a good songwriter and if you give him a subject and give him a week, he'll have you a song on it."
Scott receives a tremendous amount of satisfaction from having his originals performed by the band and included on their albums.
"I write songs usually when I feel there's a need for them or someone desires a song.
"When our band first decided the name Kentucky Blue, I wrote the song. We've been doing that song ever since and nobody's ever said 'I'm tired of that song.' ... I appreciate that so much ... they went ahead and made my songs their songs ... . And that's really the best acceptance a songwriter could ever hope for."
He feels that his songwriting has improved considerably since his early efforts, and is especially proud of the most recent two, "Make the Devil Mad" and "When We Were Just Sixteen," that Kentucky Blue has recorded on their Blue Gems album.
Scott also penned two commercials for Purnell's "Old Folks" Sausage.
Al Purnell lives about a mile down the road from the Cottrells.
"He's a real nice fella. He's just like he seems on TV," David told me. "It's not an act at all. In fact he might even be trying to act a little less country than he is."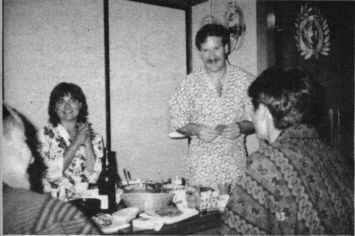 Laurie Cottrell applauds husband David's magic coin trick. Photo by Tomoko Tanaka
When David heard that Purnell likes bluegrass music, he suggested that Scott write a song about Purnell's sausage business and "we'll see if Al likes it."
Scott wrote the song, Kentucky Blue practiced it and put it on tape, and the following day David and his father, Jimmy Cottrell, drove over to play it for the Purnell family. They sat together on the porch pictured in the well-known television commercial and listened to the tape. Purnell's mother sat in the porch swing.
"I like that. I like that," Al kept repeating, and less than a month later Kentucky Blue was in the studio recording the commercial for radio airplay.
Later, after hearing Al Purnell relate the story of the family business to Terry Meiners on his radio show, Scott turned out a song called "The Ballad of Old Folks Sausage," and it is the soundtrack for Purnell's nationwide television commercial. It is also a cut on Kentucky Blue's current album.
Purnell has a brief speaking part in the commercial: "It's gooo-od!"
After the music for the commercial had been laid down, David Cosson, who produced both of Kentucky Blue's albums, Two Shades of Kentucky Blue and Blue Gems, brought Purnell into the studio and told him, "Al, when I do this (point his finger at Al), you say, 'It's good!' "
Purnell had a problem coming in on time, and Cosson attempted to trick him by giving him his cue early, but on those occasions he would come in on cue, which made him come in too soon. After several hours, they resolved the problem by having Purnell say his line over and over again on a track and dubbing it in.
Purnell has appeared live with Kentucky Blue on several occasions and he does his line out of time.
"And it's hilarious," David declared. People laugh and he gets all red in the face. Cause he'll go (rushed) 'Uh, it's good — oops.' "
On July 26 this year, the members of Kentucky Blue departed from Lexington on a 12-day trip to Japan, as part of "The 1st Goodwill Mission of Japan/America Society of Kentucky, The Best of Kentucky Bluegrass" tour. Other entertainers on the tour included Homer Ledford, Jim Olive and the Berea Dancers.
The trip to Japan was arranged by Don Schaeffer, Executive Director of the Japan/America Society of Kentucky, as a goodwill exchange prompted by an earlier visit to the commonwealth by Suzuki violinists from Japan.
The sponsor for the first leg of their trip was Mrs. Kazuko Toyoda, Chairwoman of Toyota International Association (a cultural exchange organization in Japan), and wife of Soichiro Toyoda, Chairman of Toyota Motor Corporation.
Mrs. Toyoda was a very gracious host. She welcomed her guests at a reception, sat in the front row smiling and nodding while they performed, and at concert's end led a standing ovation. She also had a farewell party for her visitors, during which her 8-year-old granddaughter, who is in the eighth book of Suzuki, performed.
The visiting dancers also performed at the party, and taught an unusual dance. David ("I don't dance but they made me") led his partner, Mrs. Toyoda, (properly) by the ear and she reciprocated.
Her gift to each of the performers was a wonderful set of wind chimes, one of many presents they would receive during the tour. Another was an interesting keepsake that featured a replica of the first Toyota car, a 1936 model.
The second leg of their trip was sponsored by Masayuki Aizaki, who owns the Jesse James Bourbon Bar in Japan and exports beef and bourbon from Kentucky to Japan. He sponsors a Japanese jazz group, The Bison Band, which also performed on the Japan tour and just recently entertained at the Bourbon Festival in Bardstown, where Aizaki has a home and a business.
"Everywhere we went they fed us like kings. We sat on the floor and they brought food out and they just kept bringing the food out," David exclaimed.
Besides the obvious honor of representing Kentucky in numerous well-received performances in several cities, including one at a facility for the handicapped, there were other highlights.
The exhausting 20-hour flight was the Cottrells' very first plane ride, and, upon their arrival at the home of the hosts, the family's children drew a picture of the usually clean-shaven David with a beard.
There were rides on the 175-mph bullet train, a visit to an exclusive banjo museum, and exotic food and enough bourbon to keep even J.R. Ewing sated.
Said David, "They love Kentucky bourbon over there and they probably think everybody in Kentucky just drinks it like crazy."
While the host would pour small amounts of bourbon for himself, he would pour very generous amounts for his guests.
Drinking the entire amount in one gulp, he would say "Ahhhhhhhh."
Since they had been advised prior to the trip that they should try everything offered to them, David (who doesn't drink bourbon but did on those occasions to be nice) would toss his down and go "Ummmmm," even though he wasn't thinking "Ummmmm."
Laurie feared that after drinking the bourbon her throat would never be the same.
At one meal Mr. Aizaki leaned over to David and said, "In Japan, great honor to eat this fish. You must eat all." He watched as David ate "the whole fish, everything, the head and all," David laughed. "And it was the best thing I ate over there."
Laurie was offered a large piece of bloody fish and was told "you must eat." She took a nibble, satisfying her host.
While in Japan, Marty had a birthday. To celebrate the occasion, he was served a saucer with a cup turned upside down and a sparkler on it. He was told, "Traditional Japanese birthday dish; you must eat."
To Marty's horror he discovered in the saucer "a large locust with its legs kicking." David laughed heartily while explaining that Marty had been set up and didn't have to eat the live locust after all.
Chopsticks were de rigueur, and it is unclear whether it was the raw fish or the chopsticks that caused Marty's weight to drop from 315 pounds to 300.
David related that because of Marty's large stature (he is 6' 3") "everywhere we went they're just acting like he's a giant. They're pointing and just amazed, and the kids are laughing and walking up and just staring at him. So on stage no matter what he did the crowd would just die laughing."
Marty perspires profusely during performances and frequently wipes his brow with his handkerchief. Discovering that the Japanese audiences found this habit extremely funny, Marty would wait until the stage curtain dropped very low at the end of each show, and would then stick his head out from under the curtain and wipe his brow. The audiences would "die laughing," David said. "They did have a good sense of humor."
Kentucky Blue did a lot of physical stuff in their performances, including magic tricks that David incorporates in their regular performances. He charmed his hosts by performing magic tricks for them in their home. Each magic trick would be rewarded with an "Ooooooooooooo."
At the end of most every show the group joined in singing "My Old Kentucky Home."
While there the group was honored with a tour of an exclusive banjo museum; it had been visited by only nine non-Japanese until their party brought the total to 18.
The museum tour was a very special treat for David, an accomplished banjo builder. He had once seen a photograph of a banjo built in the twenties that was inlaid with black and white checks. He liked the banjo so much that, with Laurie's help, he laboriously decorated his own self-crafted banjo with some 1200-1400 checks. The banjo museum contained the very instrument David had copied.
David spoke of how the Japanese respect and emulate the Americans. In a museum they toured there were many American cars, including President Franklin Roosevelt's Deusenberg.
Although they didn't get to see Mount Fuji — it was obscured by clouds — or Sumo wrestling, they managed to shoot 27 rolls of film, but admitted that they could not truly capture the beauty of what they saw.
Then there were the laundry bills. Marty's cost for one bundle was $127, he said, which came as a considerable shock to him. The Cottrells had told me with great hilarity that the cost had been $200, and that Marty "like to have died." Marty admitted the $200 figure may have been closer to the actual amount but that there had been "some discussion with the hotel" over it. The Cottrells were likewise surprised by their own $92 tab.
The many stories of Kentucky Blue's trip to Japan would easily fill a book. The book would include descriptions of the unusual public rest room facilities, the Japanese people's strict adherence to time schedules, an account of a couple who traveled 500 miles via bullet train to see them after having purchased Kentucky Blue tapes via mail, and on an on.
David recounted how they had caused Don Schaeffer to get "fussed at" by the Japanese emcee at one performance when Kentucky Blue returned to the stage for an encore after the emcee kept repeating their name and the audience kept responding enthusiastically at each mention. The crowd wanted an encore but the time-conscious emcee didn't want them to do one as it would throw them off schedule. Kentucky Blue's encore number was "Fuji Mountain Breakdown."
A wonderful storyteller with a great smile and an equally great sense of humor, Marty described his arrival at the home of his first host: "[He] took me into his beautiful home and he looked up at me and he looked at his wife. He said (and Marty here switches to a Japanese accent), 'We have a big-a mon a-staying heah."
For their first meal together, his host family had prepared a whole pizza for him "which was wonderful." His host asked, "How much you weigh?"
"About 300."
"Three hundred pound?"
"That's correct, 300 pound."
The host consulted with his wife, whereupon she repaired to the kitchen and returned with "three or four hundred bowls of rice and shrimp and ... ," Marty exaggerated. "I couldn't begin to eat it because she had seven or eight pounds of food there. But I did make a good dent in it. ... She brought me a big apple pie and I ate part of that ... ."
Marty spoke of another dining experience:
"I won't forget. They brought me a big serving of what looked like fried apples. And I thought 'Oh, thank goodness, I've got some fried apples from Kentucky.' I cut a big piece off and immediately upon putting it in my mouth, I realized it was raw catfish. And I tried not to toss my cookies right there."
Marty assured me that his hosts had been wonderful to him.
As the Cottrells prepared to leave the home of their Japanese hosts, the woman of the family gave the apron that she had worn while cooking to her "Kentucky daughter," Laurie. The Cottrells were especially touched by this gesture.
It is apparent that all the members of Kentucky Blue love music.
Said Scott, "When you get relationships that go that far back and you're that much of a family, it gets to the point where you can't separate the music from the people. ... Sometimes you get tired of the people but you want to go on because of the music and sometimes you get tired of the music but you want to go on because of the people."
David's father, Jimmy Cottrell, suggested that his son tell about a recent happening at the bluegrass festival at Kentucky Horse Park in Lexington. Seems they had jammed until 3:30 or 4:00 one morning; the following morning found them jamming until the clock indicated 5:30.
"So that tells you they do like music," Jimmy Cottrell said, smiling broadly.
David added, "With Timmy (the Cottrells' autistic son, who is very high-functioning) ... a babysitter usually is pretty high. And if we go play music and we make enough money to pay our babysitter and come out ahead too, it's a way for us to get out. If we just wanted to go out for the fun of it, it would cost a lot of money usually. But we like to play music and it's a way to get out. So it's been like a blessing to us, really."
Laurie does volunteer work for Kentucky Special Parent Involvement Network, a federally funded program to train and inform parents, teachers, and other people involved with handicapped persons.
David would like to see more young people "get into bluegrass."
"If the kids or the younger people would just go out and listen to bluegrass and give it a chance, I think they would like it. ... One thing that we do, we try to pick certain songs that we think everybody likes — like that one Everly Brothers song, 'Bye, Bye Love.' ... [When he played with the Riverboat Ramblers in Jeffersonville, Indiana] people would come from around town that hadn't heard bluegrass — never heard Bill Monroe or any of those guys — and didn't like them if they did hear them. They would listen to us and [then] they would ignore us. But if we came up and did something like 'Under the Boardwalk' or something that they'd heard, they'd all turn around, they'd start clapping or dancing, they'd get into it, and then we could do the same bluegrass tunes and they loved them. Cause then, see, we got them on our side."
He continued, "We're just trying to entertain and have some kind of show that people will come out just to have fun and say, 'I really liked that.' "
David feels that sometimes a band will be so intent on playing well and impressing the other musicians that they forget to entertain.
Said Laurie, "If they like you, your personality and how you're acting, then they're going to like what you do."
David added, "Have fun and they'll have fun."
Jimmy Cottrell nodded in agreement.
Returning home from my lovely visit with David and Laurie Cottrell, I smiled as I glanced at the two cartons of freshly laid brown eggs in the passenger seat, a gift from David and Laurie. I'd almost forgotten that some chickens still lay brown eggs. Like the ones I remembered from my childhood.
l
For Kentucky Blue bookings contact David Cottrell, Box 251, Simpsonville, KY 40067, (502) 722-5633; or Triangle Talent, Inc., 10424 Watterson Trail, Louisville, KY 40299, (502) 267-5466.