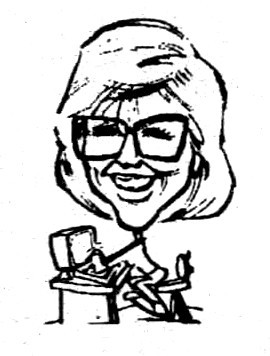 Newsical Notes
Congratulations and best wishes to Board member Larry Standiford and his new bride, the former Scheharazde Haq. The wedding took place at George Rogers Clark Park in Clarksville, Ind., on August 21.
Don't know if it's true in every case, but the month of August worked out pretty well for this columnist many years ago (well past the silver anniversary).
More and more LASC members have been booking gigs around town recently. Add Mark Gibbs and the duo of Dan Wilson and Greg Bowman to the list of those who've had bookings at The Rud in the past few weeks.
And Prez Paul Moffett has been working on getting his callouses back by playing and singing on recent open stages at Uncle P's and The Rud.
Andddd ... several past and present LASCers are scheduled to perform at The Lower East Side Deli during the remaining months of '93:
October 2: Michael Tilford
October 5: Tom Flood
October 9: Dan Bowman & Greg Wilson
October 16: Bob Rosenthal
October 23: Scott Furlong
October 30: John Gage
November 9: Tom Flood
November 13: Bob Rosenthal
December 4: Tom Flood
Don't know if Wally Hill will be blowing harmonica with Tom Flood, but if he is you'd get a double treat from the performances.
I know all of these talented people would be happy to see you in their audience.
On September 1 Karen Kraft appeared on TNN's "Be a Star," and won the day's round performing the Alan Morris and Diana Black original, "Walk on the Wild Side." The competition for the weekly finals was pretty formidable and a young man from Oxford, Kansas, picked up the win.
A very talented singer, Karen is currently teaching voice at Gittli Music Studios in Jeffersontown. Interested? Call Gittli at 267-5803.
Received word of an opportunity for songwriters that involves some folks who are regular entrants in LASC's songwriting contest:
Jan Smith, Atlanta-based female country / adult contemporary crossover vocalist, is seeking original Christmas/seasonal songs for a possible indie release in November 1994.
She'll be looking to cut in March 1994, so send three songs max to Eric T. Johnson, 3012 Moorings Parkway, Lithonia, Georgia 30058. Write JAN SMITH CHRISTMAS PROJECT on envelope.