Second Thoughts
Is the lively art of opera for YOU?
Before you reply, our University of Louisville School of Music has something special for you to check out.
Every Tuesday, beginning with September 14 and continuing through November 16, "The Lively Art of Opera" takes you to a close-up view of the many-splendored world in the making. Now in its seventh year of charming as it provides answers to your questions, this series ties in its content with the coming and attractive Kentucky Opera season.
Louisville Music News talked with the series planner, Donn Everette, who has sung opera here and abroad. "We offer a course that reveals all aspects of the opera art form; that includes make-up, set design, staging, singing, musical composition, the written text. Best of all, it's not strictly a college course, though you can take it for college credit."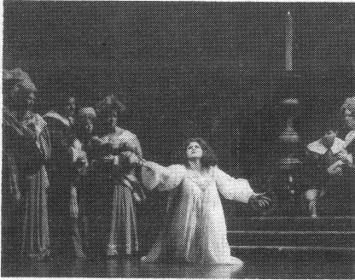 'Lucia di Lammermoor,' Kentukcy Opera, May, 1992, with Marilyn Mims as Lucia. Photo by Patrick L. Pfister
Donn continued, "In this program, we let you hear and respond to the great singers of the past, learn why some operas have been favorites for a century and more, what to listen for when you go to an opera. Opera is for the whole person for it is a story involving conflicting human feelings*. If the vivid pageant of life attracts you, then opera may be a rich experience for you. In this century, operatic stories are more and more drawn from the truth of real life. The characters in Puccini's story of the beautiful singer Tosca and her ill-fated romance with Cavardossi or his tale of the youthful talented persons in "La Boheme" will stir your heart strings because things that happen to them can and do happen to people in our world."
Each Tuesday's program is presented by knowledgeable professionals who know how to talk with people. (As in previous years, the contents parallel the Kentucky Opera season.) Thomson Smillie, Lawrence Leighton Smith, Donn Everette and Ross Allen (he directed Indiana University operas for 30 years) are among the presenters who will take you in this magical, fascinating world.
Useful information about enrollment, free parking and course contents can be yours simply by calling U of L, 588-6907. And if you are a senior citizen, you don't pay a course fee – just register at the University's Continuing Education Office. And there's no danger you won' t find a place. U of L can accommodate 100 or more people at each session. Meetings last from 7 to 8:30 p.m.and you will find each one chock-full of interesting information and simply beautiful music.
You just can't afford to miss it!
*Musical ensembles in opera usually presnet several threads in the story