Bluegrass Beat
Time really flies when you realize that summer is passing zip and it's September already. Seems almost like I just got back from Charlotte, Michigan and that's been two months already.
You know when you are writing something like this you have to think about what's coming up by the time the next issue is out. This time I'm going to look at another of my favorites, so you will have time to plan and that is the Tennessee Fall Homecoming at Norris, Tenn. Some of you will be familiar somewhat with this event from previous columns or my bluegrass show on WFPL (Sunday Bluegrass, WFPL 89.3 FM, 8:3011 p.m.). This is an annual thing at the Museum of Appalachia, Norris, Tenn. The museum is a greatplace to visit anytime year round; oh, but the ' second weekend in October there is nothing else like it. It starts Thursday of that week and continues through Sunday. I usually go on Friday and come back on Monday. I meet an old friend from my high school days, one who obviously shares the same interests, friends and memories. He comes up from South Carolina and for three great days we enjoy the music, kidding, people and friends we have met at this celebration. Sometimes my wife goes and we can all enjoy. You see, this is a family affair. I wish my granddaughter lived close enough for me to take her with me. Here at this living museum the demonstrations of the old ways are worth. . .well, if a picture is worth a thousand words, what anyone can see here, especially children, must be worth ten thousand words. There are craftspeople with their displays and know-how. Yes, the arts and crafts are all around. There are several activities for kids to enjoy and the music. The music starts about 9 a.m. each day on two — sometimes three—stages, and does not stop until dark. Some name stars such as John Hartford, Grandpa Jones and Ramona, Raymond Fairchild and more. Then there are hundreds of others who provide great entertainment and music. These are the folks, craftsmen and musicians of Appalachia who are the real roots of mountain music. These are the folks, young and old, who will keep mountain music, bluegrass flavored, alive. Where else could you meet and hear perform, the son and daughter of Sara and A.P. Carter of the original Carter Family? If you haven't been yet, make this your year to attend and join several thousand others who are regular visitors to the Tennessee Fall Homecoming at Norris, Tenn. Don't let those numbers scare you — it is a huge crowd —but by the diversity of it, it is not crowded. Perhaps you will establish one of the best weekends of the year just as I have. Call an old friend now and plan to be there.
August 6, bluegrass promoter C.R. Wilson picked me up and we went to Benton, Ky. Reason: to see Larry Sparks, Josh Williams and a local group, The 139 South Band. All good. And we had a good visit. Larry Sparks has a new gospel album coming out, which we will be looking for. More about that when we get it. A lot of the numbers Josh did for his part of the program will be on a new release they are planning. Every time see this young man/performer, 12 years old, I am more impressed with him. He took the stage with his High Gear Band, which consists of Josh, banjo; Jamie Jameson, 17 years old, guitar; Tim Harmon, mandolin; Doug Shemwell, bass; and Dwayne Walker, fiddler. All good pickers. But if you guys will forgive me for the moment, I am going to focus on the youngest members. Josh, "cool little dude" that he is (to quote my wife again) is very comfortable and in control on stage. When appearances mean so much, Josh and the rest of his band always dress nice, neat and clean. Appearances have a lot to do with the way bluegrass is presented and the impression it and the performers make on those all-important people – the audience. I have heard names mentioned with the possibility of bookings and the question was asked, "Is he going to look – like he did when I saw him at... ?" Josh is very professional, on stage and off, around his admirers. Jamie Jameson is doing some very acceptable picking with this group. A nice looking young man who has much to offer this band as they grow and mature together. You will hear much from Josh Williams and the High Gear Band in the future.
Josh was also at Seven Springs Festival on August 14 and Oscar, of Lonzo & Oscar fame, was also there. Much to the delight of the crowd, Josh invited Oscar to join him on stage; Oscar did "I'm My Own Grandpa."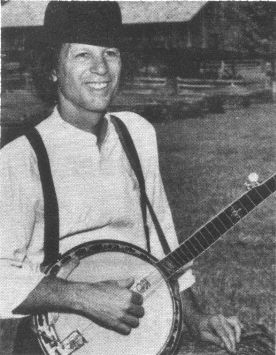 John Hartford
Now, once more, who is that who says there ain't no young people in bluegrass!
I don't have all of the details yet — and I think another story is being done-~— on the Kentucky Blue trip to Japan. I can tell you this: It was an experience of a lifetime for all of them. (I know you had a successful trip, the Japanese loved you and big hearty congratulations once again on being picked. You represented us well.) Dave (Cottrell) says if you want to know how expensive it can be to live over there, just send a few small items out to the laundry.
Must remember to remind you: Mark your calendar for September 10 and 11. Why? Why the Strictly Bluegrass Festival in Central Park, 5th & Magnolia streets, in Louisville. Starts at 5 p.m. Friday, 11 a.m. Saturday and it is FREE! Gary Brewer and the Kentucky Ramblers, Bill Monroe & Bluegrass Boys and Jimmy Martin & Sunny Mountain Boys, both on Saturday, plus several other good groups both days. I'll be there too. A birthday celebration on Saturday for Mayor Jerry Abramson and Bill Monroe. Mo' info, call 448-9107 or 4478657.
WFPL did a kick-off to local production awareness week with an all-live show of Sunday Bluegrass at the First Unitarian Church, 4th & York, Sunday the 15th. With about 170 fans in attendance, Michael Cleveland and the Git Down Bluegrass Band, The Alan Phelps Band, The Reynolds Family, The Schmitt Family Bluegrass Band and Gary Brewer and the Kentucky Ramblers, all played to a fantastically enthusiastic audience. Live radio, I love it! Our sincere thanks to all the folks who attended to support our program and to the bands who all so willingly came in to perform. We've got to do that again sometime.
•
Add this to your bluegrass calendar as well: Alison Krauss headlines the Renfro Valley Bluegrass Festival that takes place September 3-5 in the small Kentucky community off I-75 at Exit 62 that gave the festival its name. Other groups include Lonesome Standard Time, Lonesome River Band, Reno Brothers, Steadfast, Jim & Jesse, The Stevens Family and more. For additional info phone 800-765-7464 or 606-256-2638.