I've Got A Mind To Ramble
A promo cassette of Johnnie Johnson and The Kentucky Headllunters arrived in the KYANA Blues Society post office box in late July. It seemed like a strange marriage to record a band who has captured several group and album awards in the "country" category with the veteran piano player who performed on all of Chuck Berry's early rock and roll hits. Actually, it was Berry who first joined Johnnie's band back in 1953 to play a long-standing gig at the Cosmopolitan Club in East St. Louis.
This collaboration started when The Kentucky HeadHunters met Johnnie backstage at the 1992 Grammy awards and they got the idea for an album. Within a few weeks they composed twelve original tunes and what we have is a marriage made in blues heaven.
The title track, "That'll Work," starts things off with an upbeat call and response vocal exchange between Johnnie and the band. Throughout the entire recording Johnnie's rock and roll, barrelhouse and blues piano rhythms all clearly stand out, complemented by Greg Martin's deep bluesy guitar which occasionally echoes some Chuck Berry licks.
This is basically a blues album with "Sunday Blues (Don 't Matter on Saturday Night)" and "I'm Not Runnin"' on the A side. "Bummed-About Love" has a nice jazzy swing and "Stumb1in"' is a Berryesque rockin' novelty song about someone who can't dance.
Johnny starts off the B side with a brief piano intro which leads into "(Shufflin') Back to Memphis." This song is like a laid-back version of Marc Cohn's "Walking In Memphis." It has the potential to be a hit, with lyrics like "I'm goin' to point my ragged shoes to the city of the blues." Johnny does a slow blues and vocal with "She's Got to Have It." Unfortunately his singing is a little weak and lacks the emotion of the rest of the band. "Derby Day Special" is an uptempo instrumental like the way jump blues used to be played forty years ago. The final cut, "Tell Me Baby," brings the blues to a nice climax.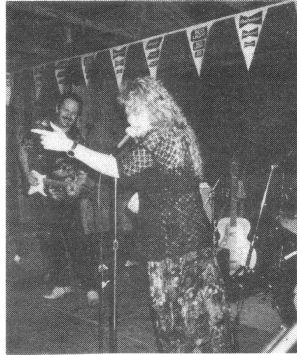 Keri Leigh and Mark Lyon at Cliffhangers. Photo by Keith Clements
The promo wrapper had no liner notes or credits so I called the promoter, Shack Ink, to get the musicians who, besides Greg, are Fred Young on drums, his brother Richard Young playing rhythm guitar, Anthony Kenney on bass and all vocals other than Johnnie's are by Mark Orr. Several cuts had some wailing harp by guest artist Jimmy Hall.
This album was scheduled for release in August on the Elektra label as a part of the American Explorer Series similar to Johnnie's first comeback album, Johnny B. Bad, which had contributions by Keith Richards, Eric Clapton and our own Steve Ferguson. For a group that Entertainment Weekly said "may end up redefining country music for the '90s," The Kentucky HeadHunters proved they can definitely play the blues. I hope this is not a dabble but a direction for these talented musicians.
Those of you who attended the benefit for the Sonny Boy Blues Society at the Butchertown Pub on July 7 witnessed a special moment during that concert when the Metropolitan Blues All-Stars performed. Actually, only Nick Stump, Rodney Hatfield and Rick Baldwin were there representing the band, so Rob Pickett, Gene Wickliffe and Doug Lamb of da Mudcats, who had just performed, sat in with the band (Metropolitan Mud?). This blues conglomerate really sounded good together with Sonny Boy Williamson's "Nine Below Zero," "Help Me" and some other Chicago standards like "Little Red Rooster" and "Sail On." Then Rodney got up to do a "little country song," which started out as his trademark "Pike County Love Stomp." And then gradually the other musicians joined in, with Rob and Nick dueling on their axes. Doug provided some great keyboards and finally the inevitable match-up between Jim Rosen and Rodney on harps. What started out as a simple little song evolved into a 20-minute jam of "Who Do You Love" that left everyone exhausted, including the packed house. Scott Mullins was recording this benefit concert for a future release on his Rollin and Tumblin label. I hope this great moment in our local blues history will be included on the record.
I have to admit that I've never been to Cliffhangers, so it took a good blues act to get me on their deck. Because there were a lot of other outdoor events on August 13, with the Strassenfest downtown and the Rhythm and Blues Festival at the Water Tower, the crowd was not the size it should have been for Keri Leigh & the Blue Devils from Austin, Texas. Texas has its share of outstanding women singers with Angela Strehli, Lu Ann Barton and Marcia Ball carrying on the tradition of Big Mama Thornton and Janis Joplin. Keri showed her stuff that evening with two long sets of emotion-packed blues demonstrating her wide vocal range of four octaves. Her emotion was accentuated by her animation for she moved throughout the stage, jumping, gesturing and swirling her long blonde hair around with every twist of her head. Keri's husband, Mark "Cryin' Papa" Lyon, played several guitars, including a Fender, a hollow-body guitar and an old 1929 National Steel which can be used only once during a set because it easily gets out of tune. Mark gave a clinic on how excellent slide technique is played on "Terraplane Blues" and "Roll and Tumble Blues." Filling out the Blue Devils was Dave Horton on rhythm guitar, Carl Keesee on bass and Kevin Hall on drums. This is the same group that is on both of Keri's CDs, Blue Devil Blues and her most recent release, No Beginner, on the Amazing label. The band paid tribute to a lot of Texas legends such as Freddie King and Stevie Ray Vaughan plus a lot of original material like "Train Don't Roll," "Full Moon Blues" and a real tear-jerker ballad, "I Was Just Thinking."
Keri said between sets that her book, "Stevie Ray, Soul to Soul," is in galleys and will be published this fall with lots of unpublished photos of SRV.
Finally, look out for more blues at Clifthangers with Jr. Wells on September 24.