Mark Schulman
No Foreigner to Rhythm
By Paul Turner
Every year the Kentucky State Fair brings many big names and their big productions our way to enable us to enjoy their pomp and polish. However, we rarely have the opportunity to watch and see those accomplished in their particular craft, who are affiliated with those shows, "do their thing" in a more intimate setting for the purpose of educating and encouraging those with similar aspirations.
If you missed Mark Schulman's clinic at Music Warehouse recently, you missed such an opportunity. As Foreigner's rock rolled into town late last month, Mark, who has been their driving force for about a year and a half, took a quick detour into Music Warehouse as a Mapex endorser to share his rhythmic skills and knowledge.
Knowing many and being a drummer myself, I learned a long time ago that there is no such thing as a "typical rock drummer." During an interview with Mark just before his clinic, Mark again reinforced this opinion, as we talked in between his warm-up exercises.
Articulate with words, as he was later in his playing, Mark related how he was "in the right place in the right timeŚwith the right connection" to get the Foreigner opportunity a year and a half ago. Now he plays (and sings harmony) parts to Foreigner songs that he played when he was a kid. Mark drummed on three previously unreleased songs on Foreigner's greatest hits album which was released last year. Two months ago he was "promoted" from side man to band member in what many believe is Foreigner's most dynamic combination to date.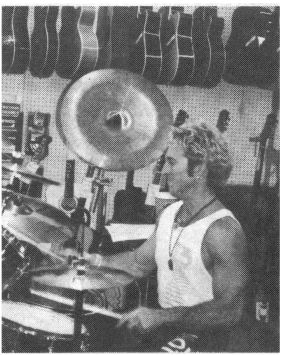 Mark Shulman displays his form
Spanning the country from coast to coast, each member of Foreigner lives in a different city. As the band's lone West Coast representative and longtime resident of L.A., Mark has plans to relocate soon to Portland, Oregon, after this tour, which began last October. That is, after a short Foreigner tour of European festivals with Prince, Duran Duran and others, which is just before recording sessions in Scotland for a Simple Minds album. It seems that Mark's musical future is very bright and busy!
When asked about his drumming influences, Mark's list was quite lengthy, naming both traditional players and some more contemporary players, citing not only each player, but the particular characteristics that make each one influential to his ear and style. What was generally expected for the clinic was a (straight-ahead) rock drummer. What we got was a well-rounded player who was not only able to deliver, but one who did so enthusiastically.
After a brief welcome by Louisville's own Rick Mattingly, Mark kicked off the clinic, blowing comfortably through a progressive fusion track, then into a Latin cascara track. As I watched the faces of the other drummers in the audience, I knew I wasn't the only one expecting a drummer limited to straight-ahead rock.
Besides his adept playing, Mark encouraged questions. He took a considerable amount of time to field all questions that were asked by those in attendance, ranging from product, technique, his past, present and future endeavors, studying drumming, to the music business in general, appealing to a wide range of ages and musical styles represented in the audience.
Mark has written a six-page pamphlet of written drumming exercises, which he provided to those present at the clinic and used in the program, again demonstrating his versatility as a player and his effectiveness as a clinician. He also took the time to demonstrate some basics, like the "feel" of a song, which was done by having "us" clap ON the back-beats while he played ON it with us, then BEHIND it, then AHEAD of it, then ON it once again.
At the close of his clinic, which well surpassed the scheduled hour, Mark made the comment that now he would shut up and do what he came for Ś play drums. And he did. I'm sure the Fairgrounds crowd heard a good drummer that night playing in Foreigner . . . but we experienced a good musician!
And speaking of fine musicians, there will be a Kenny Aronoff clinic on September 28. If you're interested call Music Warehouse (456-4730) for more information.