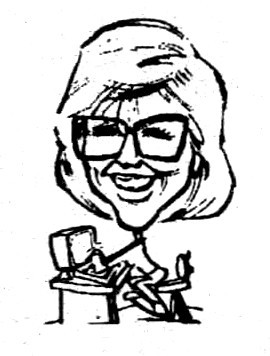 Newsical Notes
Joann Hatcher recently spent several days in Nashville, Tenn. and had a great time. Staying at the Quality lnn Hall of Fame, she and a friend were within walking distance of the places they wanted to visit. The lounge at their hotel was a country music fan's dream. On Mondays the hotel hosts a writer's night and there's a talent show on Tuesdays.
Both evenings proved verrrry imerrrresting for Joann; she spotted country star Mark Chesnutt and a member of McBride and the Ride, as well as some famous songwriters and producers. Several well-known country artists took a turn on the hotel lounge stage and Joann and her friend got to meet a star or two.
They had such a fine time that Joann can hardly wait to go back. But she's not sure her nice husband Wayne will be nice enough to readily give his blessing to the expenditure of as many dollars as she managed to pump into the Music City economy on her recent trip.
Our best wishes go out to Glenda McCoy who recently underwent major surgery. We look forward to seeing her back at meetings very soon.
If you haven't already turned in your LASC Songwriting Competition '93 entries and it you look at your calendar and it's still August, you might have just enough time to get those entries in. Don't forget that $1,000 grand prize. It offers probably the best odds you'll ever have of winning a grand in cash. Call 231-5559 for further instructions.
Your news item would be right here where this sales pitch is situated it you had mailed us a little note telling us about it. Or given us a call.
Send your news to: Newsical Notes, L.A.S.C., P. O. Box 16, Pewee Valley KY 40056.