Radney Foster
at Coyote's
By John J. Bochan
As Arista recording artist Radney Foster and I chatted in the bedroom of his tour bus after his August 11 concert at Coyote's, his road manager, John Suskin, stood guard just outside the door. Up front, a whole gaggle of dreamy-eyed, sweet young things, sat transfixed, eagerly waiting for Radney to emerge.
I was sure, from the look in their eyes, they'd stampede to the rear if given half the chance and we'd both be mashed flat like a couple of Twinkies in the road.
"Can I get you something to drink?" Foster asked me and I remember thinking, "What a pleasant surprise."
In a business so often filled with self-important, narcissistic Adonises, here was a really considerate guy. "Things getting crazy?"I asked him. "Yes," he said, nodding toward the door and the eager pack of fans on the other side.
I sized up the 5' 10" tall, brown-haired, hazel-eyed, Texas-born Foster, who looks much younger than his thirty-four years. I asked him about the adulation of his fans and he smiled, the corner of his eyes crinkling up a bit behind his dark, horned-rimmed glasses.
"It's a dream come true," he said, breaking into a grin, as he described how his solo career has taken off since the release of "Nobody Wins," co-written with Kim Richey and "Just Call Me Lonesome," co-written with George Ducas.
"If you get into the business only thinking about success, you won't get it," he said. And as for the adoring fans, he said he's grateful. But his number one fan is his wife of eleven years, Mary Springs, he said.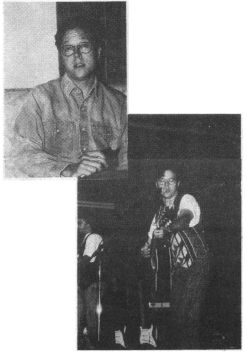 Radney Foster on his bus ... and on stage
The importance of that relationship and also with his one-year-old son, helps him put a perspective on his life on the road and its pressures, he said.
"I don't know an artist who hasn't felt the pressure of having spent 150 days away from home on the road," he said.
Foster hopes to be able to ease the pressure by taking three months off around the middle of November. He'll use the time to write songs, too, he said.
His writing ability really got him into the business, he recalled. While at the University of the South in Sewanee, Tennessee, a friend heard him singing some of his songs as he played in a duo. The friend helped him get in contact with Nashville record producer, Brown Bannister.
It took some tall talking by Foster to get his attorney father's blessing, allowing him to take a year off from school and pursue music, as lawyering was in his family, he said. Both Foster's grandfather and great-grandfather had also been attorneys, he said.
There was the understanding, though, if things didn't work out after one year in Nashville, Radney would return to school and get his degree.
Although his first full year in Nashville was a real learning experience, he did not get a record deal, he said. So he made good on his promise and returned to school and received his degree. In the process, he also married Mary Springs, his childhood sweetheart.
But the lady music had not yet relinquished her grip on him and he soon returned to Nashville.
One of the first people to recognize Foster's talent early on was long-time, successful record producer, Pat Higdon, co-owner of Nashville's Patrick Joseph Music.
"Randy Goodrum, who wrote 'You Needed Me' for Ann Murray, sent Radney to me," Higdon said by phone from his office.
That Higdon had heard some promise in Foster, hadn't surprised me. In the late 1970s, Higdon had given me one of my first jobs in the music business, as a song-plugger for J. William Denny's Cedarwood Publishing. While I was there, Pat had been responsible for pitching a Zack Van Arsdale song, "I'll Find It Where I Can," to producer Jerry Kennedy at Mercury for Jerry Lee Lewis. Jerry Lee took the song to No. 4 on the charts.
Foster eventually hooked up with Bill Lloyd and together they had a great deal of success as the musical adventuresome RCA duo of Foster & Lloyd. When the duo parted, Radney returned to his country roots with his first solo album, Del Rio, Texas, 1959.
"It's about learning how to two-step at the 4-H barns in Del Rio and growing up in a little country town and cruising the Sonic on Saturday nights," he said.
You can hear the trackless lonesome of wild Texas in several cuts from the album, with a little bit of Waylon, Buddy Holly and Bob Wills thrown in to boot. Although "Nobody Wins" and "Just Call Me Lonesome" are a few of the songs that had the Coyote's crowd dancing in front of the stage, other cuts from Foster's repertoire also reveal his wordsmithing prowess.
In "Fine Line," Foster explains the conundrum facing a man with a wife and also a pregnant lover, in the lines;
So how do you confess what words won't explain,
He never intended to cause this much pain,
Now he feels like a farmer who went prayin' for rain
and got more than he bargained from the clouds.
And in "Hammer and Nails," co-written with Cindy Bullens, you can hear a snaky guitar and back-beat straight out of the ghost of Waylon's Music Square office.
Our interview ended and as I made my way past the passel of folks waiting in the front of the bus, I could hear the enthusiastic "Raaaa-a-a-dddney" as I stepped outside.
Foster may not yet be a familiar household name. But ! suspect when the folks in Hollywood finally see just how photogenic, likable and just damned intelligent he is, America is going to see a whole lot more of him.