The summertime climate here in the Ohio Valley has wilted a lot of our club crop. The Machine has totally dried up. Deceased. Kaput. Another Place Sandwich Shop on Frankfort Avenue has been uprooted, thus ruling out an alternate field in which to transplant the all-ages shows. Phoenix Hill Tavern has eradicated its openness to eighteento twenty-year-olds. Uncle Pleasant's is becoming increasingly rootbound. Tewligans is still alive, but bookers Billy Hardison and David Gruneisen are pruned off. Although school is back in session at U of L and in most cities the SAC brings in good shows, the Red Barn was pulled up and turned into compost a long time back and you can still only hear WLCV on selected parts of campus. The local club scene is on the verge of a famine.
Many of our "hybrid vigors" are thriving in these desiccated conditions, though. Crain bedazzled some West Coast label VIPs when performing at the College Music Journal seminar/showcase in July in New York City, which is expected to bear some sweet fruit in the near future. Crain will appear at Uncle Pleasant's on Saturday, September ll, with Zeni Geza. Zeni Geza is from Osaka, Japan and has a release out on Public Bath Recs. of Madison, Wisconsin. Musically, they are heavy, weird, wild and bear a tinge of industrial rock; all the makings for a project. In fact, Albini did fly to Japan to work with the band.
One of our transplanted seedlings, Love Jones, has finished recording their debut release for Zoo Records. The release date is scheduled for October. The promotion folks at Zoo were mighty impressed with how Love Jones had already prepared their own marketing plan. The band is releasing a line of men's fashion wear coinciding with the recording's release ... all the clothing will be made out of 100% polyester. In between recording sessions, Ben Daughtrey sat in on congas with labelmates Tool at the L.A. Lollapalooza.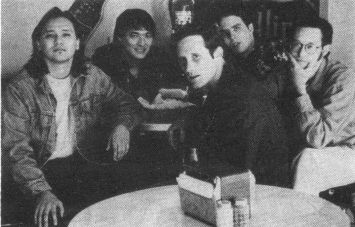 Loose Diamonds will appear at the Butchertown Pub on Wednesday, September 8
Also in support of the release, Love Jones will go on a national tour as support for the Afghan Whigs. Since the last time the Whigs slipped into town (at Uncle Pleasant's about three years ago), they have been signed to and recorded for Elektra. Their release, Gentlemen, will be released in October. Industry trade magazines are touting that it will be "the sexiest album of the year." As a guest performer in the recording sessions, Harold Chichester, bassist for Royal Crescent Mob, plays keyboards. The Whigs finished recording a video last month in their home base of Cincinnati. It reportedly features coffins that look like they are floating in air and appearances by the vamped-up parents of drummer Steve Earle. Guitarist Rick McCullum, incidentally, was born and raised here in Louisville and is a graduate of Trinity High School. He moved to Cincinnati in '83 to attend art school at the University of Cincinnati.
Lexinton's Groovezilla has inked a record deal with the Dutch label Mausoleum Records. Mausoleum is a division of the MMS Group, which includes SilenzRecords (who have released three Paul K [and the Weathermen] CDs to date). Groovezilla plans a West Coast domestic tour in the near future and their first European toura few months later.
IN THE LOCAL FIELDS:
Austin, Texas', Loose Diamonds return once again to prove that "Loose Diamonds are a girl's best friend." They are set at Butchertown Pub on Wednesday, September 8. The following Tuesday, fellow Texans Killbilly make their debut at the same venue. Also at Butchertown, on Tuesday, September 14, The Vestrymen from Amherst, Mass., perform with local up-and-comers Stick People. The Vestrymen played a last-minute "sneak" appearance in town in August and were simply dynamite. They could be classified as edgy power pop ... er, no, it's not really pop, it's, well, just good ... that and the $0 noncover charge ought to be enough to entice one to check them out.
Hillbilly Frankenstein ... Gee, this sounds like a really cool band, featuring two members of the late, great Guadalcanal Diary and all ... It's too bad that the person with Uncle Pleasant's who is responsible for this show's publicity never could/would forward to me one of those press kits that are probably cluttering up his floor. It's not like I didn't go by his apartment myself twice, plus going to the club in search of the bio and tape. So, I really don't know exactly what to expect from the Hillbilly Frankenstein show, or what to say about it, except that Guadalcanal Diary ruled. The two Guadalcanal veterans are Murray Attaway (singer/songwriter) and Jeff Walls. The mystery should be resolved when they appear at Uncle Pleasant's on Friday, September 10; Mr. Happypants opens.
On September 17, Heavy Weather is the forecast for Tewligans. Heavy Weather is a new-to-Louisville band based out of Cincinnati, who in their two years of existence have opened for the likes of The Toasters, Dream Theatre and Bop Harvey. Anyone into funk, rock, blues, soul, reggae, or any combination of the above should break out the galoshes and head on over.