Songwriter of the Month
Wayne Young
By Michael Layman
Wayne Young is a name synonymous with Louisville music He has been associated with a number of groups, including Soul, Inc., The Carnations, Midnite Special and The Tren Dells. He is a past president (and still an active member) of the Musicians Emergency Relief Fund (MERF), has toured with Dick Clark and is a current member of the Board of Trustees of the LASC.
Wayne is a partner with John Grantz and Duke Meyer in a management company called Preferred Artists Management. The company's goal is to promote acts by shopping their products to labels. Wayne is very excited about the new company and feels it will fill a void in the music industry in this town. Two of the groups involved with PAM are da Mudcats and Willie Jeffries and Contagious. Da Mudcats are currently writing with Tim Krekel and are scheduled to begin a recording project in October, with Tim producing. Wayne, along with the rest of us, is looking foward to hearing the finished product.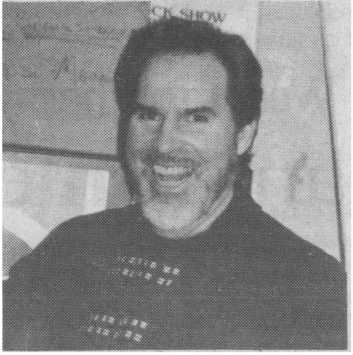 Wayne Young. Photo by Jean Metcalfe
While he doesn't play out as much as he did in the past, Wayne still has a lot of fun with music and manages to find some time to join in with the Shufflin' Grand Dads. On August 8 Soul, Inc. got back together for Phoenix Hill's 17th anniversary celebration.
Wayne has helped the LASC immensely, giving us a fresh point of view and more exposure. He is very excited about the November Hit Makers '93 showcase, which is scheduled to be held at Jim Porter's and Phoenix Hill. Wayne believes the LASC can be a focal point for cataloging songs and publishing new material.
The LASC is proud to have Wayne as a member and knows that with folks like Wayne we can't help but be successful.