Yikes! Look at the next two pages — all those words and dates!
!Too imposing for you? Then this is your page, a USA Today-style, quick-bit answer to your musical needs. We pick the highlights for you, so just sit back, relax and enjoy live Louisville music in the upcoming month. Can I get you a beer?
The Floating Men
Jeff Holmes, the songwriter, guitarist and singer with the Floating Men gave us a call to talk about their brand of music and what it's like to be a full-grown man on the alternative music circuit. The Nashville-based band sounds a bit like Elvis Costello on their rockers and Roy Orbison/Chris Isaak on slower, moodier songs, according to Holmes. They will be playing Butchertown Pub on September 22 and by all accounts, the place will fill up fast for this show.
How they formed, Or, How Floating Men dodged the acoustic bullet
Scot [Evans, bassist] and I had been working together since college at Furman; we met the first day of school our freshman year in 1979. We started a band two years later [The Little Saints] and have been together ever since. After Little Saints broke up, we auditioned hundreds of drummers — every drummer in the Southeast, I think — and couldn't find one. We had given up on a drummer and we were going to be a folk duet, then [Jeff] Bishop walked in and blew our socks off. And we said, "Thank goodness We're a rock and roll band again."
Stranger in a strange band
I was raised in rural South Carolina by strict Baptist parents, so there is a level of uneasiness and dissonance between the personal lifestyle I chose and prefer and what I have to do to make a living. It's rough when you love to play rock and you have to deal with so many twisted people.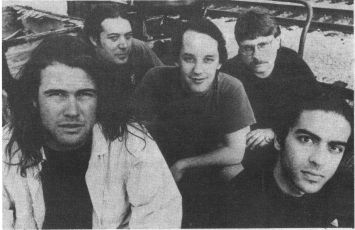 What better place to hear "Southadelic rock" than the outdoor deck at Cliffhahgers? Allgood, hailing from Athens, Georgia, play there September 2.
Making makes Floating Men the alternative acoustic equivalent of straight-edge punk?
We're not far off that track. I myself am not a strict vegetarian, but the other two members are. We love an ice-cold bottle of Samuel Adams now and then and the occasional double cappuccino, but that's the extent of our habits. We're grown men, we have short haircuts and bank accounts and insurance policies.
On their just-released new CD, Tall Shadows
This is a very, very tightly wound concept album that takes a very scathing, condemning look at the drug- and sex-crazed '80s. It's a dark, sultry, nocturnal kind of album. Kind of hazy, kind of sexually charged. The title comes from a song called "Deep into the Night" that we hope makes it onto the next record. The line goes, "Tall shadows bloom in her room by candlelight."
The last word
It's an acoustic guitar, bass and drums.
Lots of vocal harmonies.
We call it, oh, I guess, acoustic alternative rock or pop. Our instrumentation is the same as the Violent Femmes, but we're infinitely more listenable. Our lawyer has called it "the Everly Brothers sing Lou Reed," but I think it's a little bit ballsier than the Everly Brothers.
Kentuckians for the Commonwealth are very active in this state, leading the opposition to such things as the Broad Form Deed and Jefferson County's solid waste incinerator. But in the music world, they also do something great once a year called the Annual Summer Benefit & Music Festival, to raise funds for their activities.
This year's benefit on September 12 boasts a truly stellar lineup: the rain chorus, lovesauce & soulbones, Candy Says, Serpent Wisdom, John Gage, Dem Reggae Bon, Patrick Fitzgerald and About Us. The music starts at 2 in the afternoon and runs until 11 at night. The program is designed to appeal to every age group and it' s scheduled on a family-friendly Sunday.
The cost is just $6, a bargain for all those great bands and a double bargain when you consider that ALL the money goes to fight for social justice in Kentucky.