w
The Silver-Tongued Devil
Kristofferson at Jim Porter's By Jean Metcalfe
My husband doesn't believe in buying video cassettes; renting them either. Recently, risking his "why in the world would anyone rent, let alone buy, a movie when they can watch it for free on TV" speech, I purchased my very first video cassette movie, one I had already seen: "Songwriter," starring Kris Kristofferson and Willie Nelson.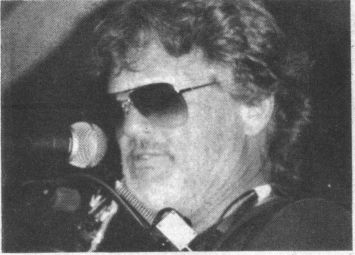 Kris Krostofferson. Photo by Jack Schupp
Naturally, when promoter Avram Kahn brought Kristofferson to Jim Porter's on March 18 I was there with my Nikon and my notebook. And my husband. (He hadn't originally planned to be there despite free tickets; he had seen Kris at Louisville Gardens several years ago and wasn't sufficiently impressed to want a second helping. )
Okay, so Kris isn't an outstanding musician (Rolling Stone recently attributed to him a "stunningly off-key [harmonica] accompaniment" and "tone-deaf noodling" at New York City's Bottom Line).
Who cares? He could still win a Gold — in a tie with Willie — in the Songwriting Olympics.
Dressed all in black — jeans, jacket, T-shirt and shades — and accompanied only by a talented, gravely voiced backup singer-keyboardist-guitarist, Kristofferson opened with "Help Me Make It Through the Night" and followed with Krisclassic after Krisclassic, e.g., "Me and Bobby McGee," "Sunday Morning Comin' Down" and the Ray Price signature "For the Good Times."
"Why Me, Lord?" alone was worth the cost of a guaranteed-seat ticket.
At concert's end and without being pressed, my husband admitted that he had found Kris to be very entertaining. And even though an expected interview with Kris didn't happen (a communication glitch), I left Jim Porter's exhilarated.