Talking with Daron Norwood
By Jan Winders
Daron Norwood is ready for some attention. He remains your average sort of guy with his feet headed in one direction — to the top of the charts.
He has that edge that can change into a tender ballad at any moment. The one song he wrote on his self-titled CD is a lot about his life; "J.T. Miller's Farm" is a song written about his Pa-Pa, his best friend. This song will let you know what Norwood is all about, something real to life. It is a favorite part of himself that he wants to share with his listeners and fans.
Norwood is an entertainer who aims to please, and he doesn't miss. His hit single, "If It Wasn't For Her," continues to climb the charts.
Norwood is 100% all natural, with no additives. He just sings good ole heart and soul songs that will make you smile.
This country artist has grown up with music. He played country and gospel music with his family, hitting the stage at the tender age of two.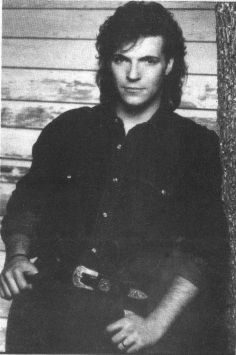 Daron Norwood
"I would live, eat, drink and sleep music every day of my life," he said with a lot of pride.
He went on to relate how he was finally discovered by Danny Davenport, the gentleman who also discovered Travis Tritt.
DN: I was playing the Tennessee/Alabama line when I had reached a point in my life where I was so frustrated. I had reached the end. I thought I had done all I could do. I had been to Nashville off and on for four or five years, playing the Grand Ole Opry with Jim Ed Brown, Shelly West, and Rex Allen Jr. mainly to survive while I was trying to get a deal. At this frustrating time in my life I received a phone call from a major recording label to tell me that my voice wouldn't fit in country music. This really got me down. I just quit playing any music for a couple of months. I had played music every day of my life. It was born and bred in me. I started inviting the in-laws over to listen while I was trying to get back into it. Finally I played at the Buckboard in Marietta, Ga., and got a deal.
But when it came to getting professional I was bubble gum, you know, honky-tonk. I had a lot of talent and didn't know what to do with it. I was first signed to Warner Brothers then moved over to Giant Records.
I feel God has given me a special gift to reach out and touch people. Sometimes there's something spiritual that comes through my music when people don't know what's going on. People can feel the passion and love in the songs I sing. That's really important to me. I'm not put-on. From day one I just sang and it worked. People accept it and say this kid belongs where he is standing.
LMN: Is there one person who has given advice about your career that you try to live by?
DN: I would have to say my Pa-Pa. He told me in the very beginning when I first went to Nashville, "Don't forget where home is, boy. There are people watching you, especially little kids. Remember that!" I owe this man my life. I can't touch him; he's great! Old people have a special old-school-love kind of love that touches me.
LMN: Do you have a set goal you would like to achieve in your career?
DN: If everything goes right in a year I could become new coming artist of the year. I don't think I'm hot, but success for me is playing in front of a lot of people. You will know how successful you are by the fans that buy your CDs and the tickets to your shows. I'm just a country boy that has a dream and is making that dream come true. I want to be here for a long time.
Stone-cold country with a kick is the only way to describe this Tahoka, Texas, cowboy who on March 9 took Louisville's Coyote's country club by storm. Snow storm that is. Despite an ice storm and 3" of snow, people kept arriving to see this boy wonder. Daron Norwood is a very determined person who obviously adheres to the show business tradition that the show must go on!
(Daron Norwood was in Louisville for a performance at Coyote's on March 9.)