Bluegrass Beat
February, valentines, seed catalogs, and, whether it really seems like it or not — no matter the weather conditions — every day, everybody is trying to detect that hint of SPRING! [Editing this on Jan. 18, the second day of Winter Storm '94, with the temperature at minus 10 degrees, I'd have to agree. — Editor.] Pulling at the picks and chompin' at the strings to get out there and get to that first festival. No doubt about it, springtime is bluegrass time. 'Course summertime, fall and wintertime are also bluegrass times, but spring just has that little added something which, of course, is not limited to bluegrass but does breathe new life into those cooped up all winter, indoors, by the fire instruments. So get ready. I am.
The Reno Brothers and Larry Stephenson were at Shepherdsville in January. In spite of a small turnout they did a great show. I was able to do a good bit of visiting and reminiscing with Ronnie — back to the days of Don Reno, Red Smiley and the Tennessee Cutups, considered by many as having been one of the all-time top bluegrass bands ever. I knew them and, as I look back, I know it was a privilege to have been on shows with them and called figures for square dances when they were playing.
Ronnie also filled me in with a couple of sadder notes. John Palmer who was the bass player for Reno and Smiley in those days, died of lung cancer Dec. 31. I think it was the 31st. Also, Harold Morrison, banjo player, had recently died. I like the Reno Bros. I knew Ronnie but hadn't met the other two until they were here last year.
Other good acts were at Shepherdsville last month but were not there before my deadline. Leroy Mattherly and the Sunnysiders, the Fret Benders and the Del McCoury Band were all scheduled to be there during the month. Bill Monroe, James Monroe, Gary Brewer and the Sullivan Family, originally scheduled for the 21st, have been rescheduled for April 1 due to Winter Storm '94.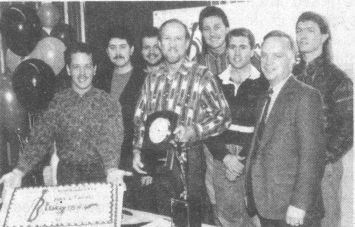 Doyle Lawsdon (holding plaque) was honored for his thirty years in bluegrass. He is surrounded by members of New Tradition and Quicksilver.
Coming up for February: the 4th, Carl Story and the Rambling Mountaineers; the 11th, The Hazel River Band and another band to be announced. On the 18th, Kentucky Blue; and the 25th, Doyle Lawson is coming back. March the 4th will find the Goins Bros. at Shepherdsville, and the Kentucky Bluegrass Band is scheduled there for the 18th.
All you good folks moaning the shortage of bluegrass, here are some of the best available to you. BIG question now, are you going to be available to them?
A couple of festivals to plan now for are the one at Otter Creek Park, May 27-29; and Charlotte, Michigan, June 23-26. There are more we will cover later.
Other area bluegrass shows at the community center, Brownsville, Ky: C.R. Wilson will have the Bill Monroe, James Monroe, Gary Brewer and Sullivan Family show Feb. 4, and Ralph Stanley March 25.
There are several February birthdays we might mention. On the 4th, "Tater" Tate; 13th, Jim McReynolds; 16th, David Davis (Warrior River Boys); 21st, Don Reno; 24th, "Little" Roy Lewis; and the 25th, Ralph Stanley and Pete Wernick.
Another noteworthy event took place in February and that was the last Grand Ole Opry appearance of Flatt & Scruggs, on the 22nd, 1969. So much for trivia.
I had a very nice note, actually a couple of them, this past month. The first was from Elmer Bird, the Banjo Man From Turkey Creek. It was in regards to the review I did of his tapes in the November issue, and he included the CD version of one other release he has out. Actually it was one I had reviewed quite some time back. They are all good. As I said before, he is an extremely nice individual and my advice is: Do not pass up an opportunity to hear and meet him.
Remember TMA. Sit down and do something about it right now. TMA. Traditional Music Association. A NON-PROFIT, as in not for profit, organization out to do what soooo many of you say you wish would happen. Wishing won't make it happen; a dedicated few cannot make it happen; but a dedicated organization of all of those wishing can make it happen. Go back and reread last month's column and sit down right now and help make some things happen. I gave the listeners to my Sunday Bluegrass show — WFPL, Sundays, 8:30-11:00 p.m. — a sample of traditional country one night last month. I can't tell you as of this writing what the results and feedback were, but I do know at this time that many listeners have been requesting more of this in recent months. Write TMA, P.O. Box 800, Cave City, KY 42127, or call 502-773-3789. After all, if you don't care about getting things back and on, why should we?
Enough. Plan to get out to a bluegrass show and spring/summer festivals. Look for me; I'll be looking for you.