I've Got A Mind To Ramble
Spencer Bohren at Homefront
It was an evening of blues at the last Homefront performance on Saturday, December 11, at the First Unitarian Church. The crowd was sparse but you wouldn't have known it by the usual applause, whistling, hooting and foot-stomping that opens each show.
Spencer Bohren warmed up the audience with a couple of songs that included "Drop Down Mama" that he learned from "Yank" Rachell. When the taping began he opened with "Born In a Biscayne," a 1954 Chevy Biscayne, that is. Spencer influences come from New Orleans and the Mississippi Delta even though he now resides in Casper, Wyoming. He traded off between playing his 1928 National Triolian and his Max Krimmel acoustic guitar, frequently beating on its hollow body to get the percussion rhythms.
Spencer established a nice rapport with the audience, providing a little story or anecdote to go with each song. My only regret is we didn't hear enough of his National Lap Steel with that supernatural eerie sound as on "The Witch Doctor" and closing out the second show with "The Sky Is Crying." The lap steel is not just limited to country and Hawaiian music. Listen to some records by bluesmen Sonny Rhodes or Hop Wilson and hear how their sounds can get pretty low down. I understand Nick Stump with the Metropolitan Blues All Stars is fooling around with a lap steel guitar.
A pleasant surprise was hearing Harry Lewman perform several Leadbelly songs including "Midnight Special," "Rock Island Line" and a nice call-and-response work song. Harry captures the authentic sounds of the folk blues master on his twelve-string guitar. He has extensively researched the history of Huddie Ledbetter and has kept in close touch with Leadbelly's niece, Queen O Tiny Robinson, who lives in Nashville.
John Gage, assisted by Larry Davenport on bass, filled in between performances with a spirited "Boogie Woogie Man and Chattanooga Shoe Shine Bo."
A more brash style of the blues was presented by The Mudcats, but they were toned down this evening, with Rob Pickett playing a plugged-in Guild guitar and Gene Wickliffe working the skins with a softer touch. As the band was nearing the end of its second set, John Gage joined them on guitar for a rousing version of "Close to You." It was a shame there was feedback from the public radio station coming through the sound equipment, which was a distraction during their performance.
During intermission Jim Rosen said that The Mudcats have been working at Real to Reel studios on a new release called Back to the Basics, due out in February. Reese Wynans, the keyboard player with Stevie Ray Vaughan, is on three of the tracks.
•
Henry Townsend & Leroy Pierson at the MeX
History was recreated Friday, December l7, in the MeX Theater at the Kentucky Center for the Arts when Henry Townsend, the patriarch of St. Louis blues, performed with Leroy Pierson.
Henry had been at this same site just 62 years ago when Victor set up a temporary recording studio on the upper floor of what was the Guy W. Smith Moving Co. Henry played guitar during that nine-day recording session which included other blues artists such as Jaydee Short, Roosevelt Sykes, Clifford Gibson and Walter Davis.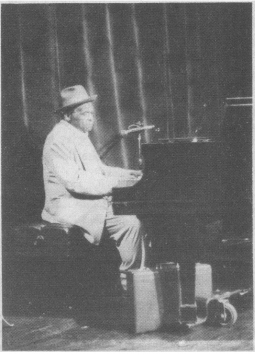 Hnery Townsend
This event was sponsored by the Kentuckiana Blues Society and the Cultural Diversity Program and was the second performance of the River City Blues Series. The concert was sold out a week before the show, with some excellent publicity. Leroy opened the show playing several traditional blues songs on his National Tricone and an electric '50s vintage National that Leroy claims has never had to have a string replaced on it.
Leroy is involved with Nighthawk Records and is an authority on St. Louis blues. Many of his songs were preceded with insights of different guitar techniques by these early musicians.
When it was Henry' s turn, he ambled out wearing a tan suit with an open collar and hat. He sat down at the piano and commenced to play and sing an hour of both improvisational and blues standards, drawing inspiration from Sykes, Davis, Lonnie Johnson and St. Louis Jimmy. It was a trip back in time to the barrel houses, joints and house-rent parties of the '30s and '40s.
Hearing this formative style of urban blues from an original master was a memorable experience. I occasionally need to get re-acquainted to these early styles of the blues to appreciate the evolution of the music.
Henry performed several classics like Sykes' "44 Blues" and "I've Had My Fun," plus many songs composed on the spot with lyrics like "I walked all night but the streets got tired of me." I think he could have played the ivories and sung all night long but it was time for a break during which he signed autographs and chatted with his admirers.
The performance was closed with both Henry and Leroy playing guitar and trading vocals. The guitar was Henry's original instrument but, as he says today, the piano is "my major," and that is where Henry's natural genius of the blues shows the best.