NEW RADIANT STORM KINGS
If a person is only going to see just one show this month at Uncle Pleasant's, then it ought to be to witness the New Radiant Storm Kings (Homestead Records' newest slurry offering to our city) on Sunday, January 16. The show will be all ages (i.e., start early) and opened by the formal debut of two "supergroups" from the indie rock scene. The Pale Horse Rider, which includes Paul Oldham (Slint) and Bob "from Virginia" Stanovich (Pavement), will vie for the best slot with The Cutters, a Rocket House spin-off band featuring J on Cook (Crain) and Erika from Drinking Woman (among other frequenters of the household).
FAT FREE TUESDAYS
Butchertown Pub is now entering its fourth year of offering the series of no- (or low-) cover shows to the Louisville (old) scene on Tuesdays. Kicking off '94, local loud young bands Plunge and Stick People will co-bill on January 4. From Minneapolis, Run Westy Run is coming on January ll, which will be their first Louisville date in years ... they've played a couple of times at Tewligans under the Barhorst regime. The Westies have released albums on SST, Twin-Tone and A&M Records so far in their career, plus a brand new single on the Big Money Inc. label out of Minneapolis. Their sound is an alternately safe and dangerous mixture of chunky guitar rock, pop, funk, sludge and Bob Dylan. Cherub Scourge opens the show at 9:45 p.m.
January 18 features more loudness with Bush League and/or Telephone Man. Wrapping up the month is Strictly Wet from Lexington with local guests Voodoo Love Taxi on the 25th. .
ROOF GARDEN UPDATES FORMAT
There is one more stage in the Highlands making a serious effort to showcase new music to the Louisville scene. The Roof Garden upstairs at Phoenix Hill Tavern is stepping up the booking of local, regional and national acts in the original/college/ alternative/whatever-you-call-it vein. Booking diva Vanessa has returned to her post to take on the challenge. The room sports a totally renovated stage (now there's room enough for the musicians to actually move around). More remodeling is in the plans to make the atmosphere less like that of Gilligan's Island.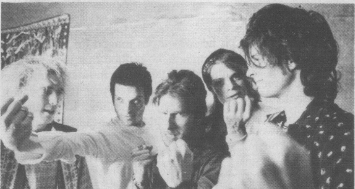 Run Westy Run
All you snooty, purist, righteous Generation X types who are above frequenting a venue where the plumbing works shouldn't snicker . . . it means that more larger-than-Tewligans cool bands will have an established venue that can meet their big-time booking agent's terms now (i.e., more shows). Even your favorite punk band probably has a lofty guarantee and rider out the wazoo that makes them too risky to book at Tewligans or Uncle Pleasant's. Being one of the larger live music establishments, the Hill can afford to keep ticket/cover charges for "in-house" bookings lower than would be possible at a smaller space, plus they have the required facilities for bigger shows.
Touring bands are sparse in January, but upcoming (national) events at Phoenix Hill include: A&M recording artists Allgood on Thursday, Jan. 20; and Scrawl will return on February 18.
STOLEN EQUIPMENT
A couple of our local bands have been lifted of varying pieces of gear recently and so far no news has surfaced regarding any of the thefts. A brown sunburst Les Paul guitar has been missing since the Sunday of the Rant Insomniacathon at the Brewery/Thunderdome in October and a Shure Beta 58 mic, plus four (guitar) effects pedals and a tuner are missing from Butchertown Pub (circa Grifters / Mice Termite show) since November. One of the bands has since been parted from a monitor and then a mic stand on consecutive weeks. If anyone has any tips about the above cases, please drop a line to Louisville Music News and it will be forwarded to the appropriate band. Feel free to remain anonymous.
THERE'S NOTHING TO DO HERE
Okay, now we are all stuck here together in Louisville together for a new year. A lot of people gripe that there's never anything happening entertainment-wise and admittedly the pace can get pretty slow around here. BUT, most of the time when there IS a cool show, the attendance is frighteningly sparse.
What's the deal? Louisville supposedly has this mythic cool/huge punk and underground rock scene, but where is it when it's needed most? If people would SHOW UP a little more reliably, there would be more cool shows.
Everybody who's booked shows here in town has lost money out of their own pocket taking a chance on a show. It's really hard for people to bring interesting shows to town for the alternative types to enjoy, when they lose tons of money in the process. Would you spend upwards of 500 bucks a week to have a few friends come over and mooch beer? People in this town are getting really lazy about supporting the shows.
Also a problem are the hypocrites that will spend thirty bucks at the bar, but bellyache over a $2 cover to see a touring band (plus a local band). Louisville offers the cheapest cover charges in the country! Several clubs in town even go so far as to deliberately subsidize the cover, offering you a show that costs $1500 (just for the headliner) for only a S3 cover charge, because they want you to come. Show some appreciation, for cripes sake, people; go out to the shows!