Love Can Build a Bridge
By Jean Metcalfe
"She was just such incredibly warm, nice person," said Martha Neal Cooke, co-owner of Hawley Cooke Booksellers, several days after Naomi Judd had autographed her new book, Love Can Build a Bridge, at the bookstore's Gardiner location.
The fans would agree.
On December 15 more than 600 people stood in line for a ticket to stand in line for an autograph of the mother half of the six-time Grammy-winning country duo The Judds.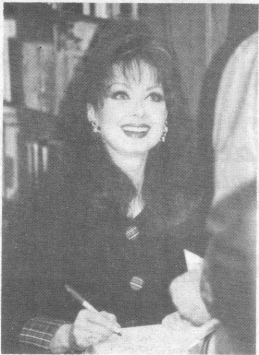 Naomi Judd. Photo by Jean Metcalfe
Remaining well past the advertised 68 p.m. signing span, the gorgeous Ms. Judd paused briefly to soak her hand in ice water to ease the cramping before going on to sign the remaining autographs; no one in line was turned away because of the position of the hands on the clock.
With a limit of three autographs to a person, more than a thousand books were signed.
(The Louisville turnout for Ms. Judd exceeded earlier signings in Lexington, Nashville and a subsequent one in Atlanta.)
•
This writer had no trouble reading through the first half of Ms. Judd's memoirs; only a hectic holiday schedule and deadline considerations prevented a complete reading of the 546-page, 80-photograph volume.
And Naomi Judd's life story is an amazing one.
Finding herself pregnant and unmarried, 17-year-old Diana Ellen Judd set out on a not-well-planned voyage that would take her from Ashland, Ky., to Hollywood, Calif. and back (and forth) to Kentucky and eventually to her present home, a farm adjacent to her daughter Wynonna's spread outside Nashville.
The bookmark in this writer's copy of Love Can Build a Bridge precedes the chapters chronicling the shocking announcement that Naomi was being forced to retire because of a life-threatening liver disease, her two years in isolation combating her illness and the writing of her book.
Love Can Build a Bridge is available at area bookstores in hardcover at $24.
Paperback may not be far behind, if Martha Neal Cooke' s observations about Naomi Judd are a measure of her fans' devotion some two years after her retirement:
"I've never seen a reaction of fans to a name the way that they reacted to her. ... She looked everybody square in the eye and it was like she kinda touched part of their soul when she did that. It was really an unbelievable night ... people just kinda hung around ... after they had their books signed and just watched her."