Second Thoughts
"H.M.S. Pinafore" Provides a Happy Trip for All Aboard!
If Gilbert goes with Sullivan — and it has for more than a century — then so does Thomson Smillie and Kentucky Opera. Their current production of Pinafore" is a winner. It simply combines music that's delightful to hear, lyrics that sparkle, acting that draws raves plus occasions to engage in that timeless therapy, laughter. If there is any difficulty, it is that anyone who intends taking in a Gilbert and Sullivan performance has to be an attentive listener. Otherwise, one will miss out on most of the fun. William Gilbert simply writes lyrics as no one has before or since — and he is poking fun at the pretensions, conventions and the uppity-puppityness of Victoria's England. If Thomson did nothing else but return Gilbert and Sullivan to the local stage, we would be in his debt.
The locale and synopsis are as follows: quarter-deck of the H.M.S. Pinafore off Portsmouth. Lovely middle-class Josephine is in love with handsome but lower-class Ralph, a common British sailor (Jack Tar). In turn, the man who admires her is no less than the very snooty Sir Joseph Porter, Britain's First Lord of the Admiralty. The Pinafore's captain (a right good Captain too) and Josephine's father (Captain Corcoran) strive to arrange for a marriage between Porter and Josephine. But by a dramatic device (much too subtle for this synopsis) but involving baby-swapping at birth, true love triumphs.
It is almost unfair to single out individual credits. But in my opinion, Donald Sherrill's portrayal of able seaman Dick Deadeye steals the show from his first appearance to curtain. Sherrill can sing and he can act with first-class aplomb.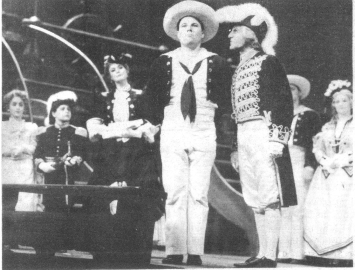 Ralph Rackstraw (Bradley Williams), listens to advice from The Right Honorable Sir Joseph Porter (Michael Sokol), First Lord of the Admiralty of Her Majesty's Royal Navey. Photo by Patrick L. Pfister
Conductor and chorusmaster David Berger has often pleased local audiences, but in this presentation he came into his own. His conducting was relaxed yet intense and added much to one's enjoyment. The chorus combined excellent diction with sound musical presentation. Both qualities are a must for the chorus is the key to success in putting on Gilbert and Sullivan.
Local audiences who reveled in Michael Sokol's portrayal of the "modern" Major General in Pirates of Penzance had even more to say about his scintillating depiction of the easily self-impressed Sir Joseph Porter.
It takes a bit of doing to present a snob as a likeable human being, but Sokol was more than up to it. I find it hard to say whether his presentation of another patter song, "When I Was a Lad," or his overall portrayal of this character was the more superior achievement. Sokol is a delight and we want more of him.
Pamela Hinchman was a likeable and believable Josephine and I found her almost-unnoticed asides with Dick Deadeye masterful. Both she and Antoinette Hardin (Little Buttercup) turned in quality performances, with a nod to Pamela for her soliloquy in Act II.
A special hand goes to the mighty good captain Richard Rebilas for braving a voice limitation in Act I and for continuing to perform well when Donn Everette had to take over for him in Act II. Donn sang, as he usually does, in fine fashion. Bradley Williams gave us, in my opinion, a somewhat uneven performance as Ralph, especially as regards acting. We cannot forget our youthful Ben Madden and Elizabeth Ann Ferreri; they were charming and I suspect we will be hearing and seeing more of them.
Finally, bravos go to the Andrew W. Mellon Foundation, Kentucky Fried Chicken, National City Band and local benefactor Major General Dillman Rash.