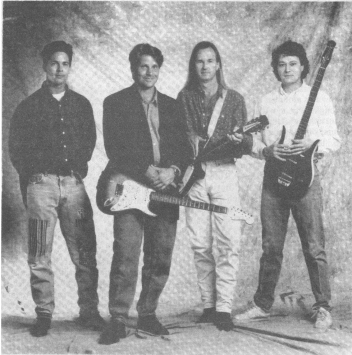 Nervous Melvin & The Mistakes
On Stage: Nervous Melvin & The Mistakes
By Darrell Ray Elmore
It all started at the Southfork Lounge in 1981. Four nervous young men picked up musical instruments, hitched up their torn and faded Levis and bashed their way into local rock and roll stardom. A battle of the bands it was and after all the dust had settled, Nervous Melvin and The Mistakes reigned supreme.
They are the hardest working band in Louisville, playing something like 284 gigs a year: parties, weddings, proms, bars, nightclubs, Belle cruises, homecoming dances, etc., etc. Everyone has heard of them. lf you are reading this music newspaper, then you've probably seen them and already know the glib, press-kit story of how this band of doctors and lawyers worked their way through college playing covers in dim, smoky nightclubs.
Total professionals, they are a kind of modern day equivalent of The Monarchs .... the only difference being that they haven't had a hit single. It should have happened ... their single "I Wanna Be Rich, Smart and Famous" should have rocketed to the top of the charts, but like Clint Eastwood's William Munny character rasps at the end of "Unforgiven": "Deservin's got nothing to do with it."
There was an album, back in 1983 and a CD release as recently as 1990, yet it is not original material that gives Nervous Mel its edge, its undeniable success. The medium that Nervous Melvin excels at is the battlefield, the arena of live performance.
During the '80s, they were one of the biggest draws in the city and it is rumored that they single-handedly kept Tewligans Tavern's doors open during the last days of the Gary Berger regime. It was a fair trade off, as Berger was one of the few club owners (at that time) who was willing to take a chance on a band that covered The Sex Pistols, Elvis Costello and all that fine British Invasion material. You have to remember that this was before the MTV revolution and the banner of "alternative" music was just beginning to be raised. The dark ages it was and the only way you could hear the stuff in your "cool" music collection performed live, was to brave the teeming audience of 300+ drunken nurses and doctors-to-be that crowded around this band with the misleading name. During a satirized cover of The Romantics' "What I Like About You" (with the word "shoes" replacing "you") the cadre of fans would remove their right shoe and wave it in the air as drunken frat boys smashed beer mugs against the wall back by the pool tables.
Oh sure, it was fun, but like all good things it was destined to come to an end.
Now we are in the '90s and bands like Pearl Jam, Nirvana and all those other Seattle grungemeisters have forced the bright light of wide-scope public acceptance on original, "alternative" music, shattering its underground "I know something you don't" status and pretty much robbing the word of any meaning. But I digress.
Phoenix Hill Tavern. Used to be, this was the last platform, the graduate school for many local bands. Once you had four one-hour sets down and could perform something like 80% covers, you could give up playing the small clubs and start making some real money. Phoenix Hill, with its three levels of bars, games, restaurants, stages, etc. and its babe-central status was a kind of local Mecca for musicians. I guess it still is. I dunno, maybe I'm just getting old and my perspective is changing, but when I recently attended a Nervous Mel show at The Hill, I found it to be more of a suburban music mall. I kept expecting to walk around a comer and find a little hair-salon booth.
Nervous Melvin obviously has an understanding of just what it takes to play other people's music and still bring something to it of its own. The "oooh-ooohs" are perfectly modulated, the covers are crisp and picture perfect, played as if the whole band was trapped in a time warp. Their playing is like butter. Smooth, creamy, rich and laden with cholesterol (too much would be bad for your arteries). And yet, the time-warp analogy works perhaps a little too well. I noticed a definite lack of spark in Nervous Melvin's performance, as if too many proms and homecoming dances had worn a once sharp piece of flint into a smooth, palm-sized pet rock. Even the audience seemed uncharacteristically restrained. Nobody was Waving their shoes around, if you know what I mean.
Frontman/guitarist Todd Bensenhaver is the only remnant of the original line-up, the last of the med-school set and a real sweetheart to boot. Pre-med status behind him, he has traded his ragged Levis in for a clean pair of Dockers and now works as a psychiatrist across the river in Indiana.
"A lot of people think of Bob Newhart when you mention psychiatry," he told me during a break between sets, "but Bob was a psychologist. I work mainly with other doctors as a consultant."
I was surprised at the frankness with which he described Nervous Melvin's place in local music. When I mentioned the low-energy aspect of their performance he replied, "Low-energy is our middle name. We have to play (tonight) until 3 a.m., so we like to kinda pace ourselves." When I asked if he sometimes longed for the old days at Tewligans, he replied that they sometimes played smaller, more intimate clubs like the Golden Nugget, but that it just wasn't as economically rewarding. It became clear during our conversation that Nervous Melvin isn't as interested in making new music as they are in making money. Twelve years is a long time. and what was once perhaps a dream of record deals and world tours has become more of a hobby that helps to pay the bills.
Along with Todd, Dennis Ledford, Jerry Cardin and Scott Lankford round out the group and it looked to me as if they still genuinely enjoy making music, despite their grueling schedule. I never did get to find out who the heck Melvin is, but I don't think it's too important. After the show, as I wandered out through the maze of stairways and hallways that make/up Phoenix Hill, I really wanted to smash a beer bottle or something, but found I just didn't have the heart.