How long does YOUR hangover last? January music can soothe you back to health, whether it takes the crunch of hardcore, the wail of a jazz sax or some sweet blues. Even if your head feels like the skin on the bottom of an elephant's foot, mixing and mellowing out with music is the miracle tonic.
Trust me. ~ Big Al & The Heavyweights.
We called Nashville and talked to Big Al, of Big Al & the Heavyweights, to find out what he plans to do on the Old Pub Stage at the Butchertown Pub on January 7 and 8. He promised to mix original blues with covers ranging from Muddy Waters to the Allman Brothers and he vowed to deliver the "spirit of Jimi Hendrix and the ferocity of Duane Allman."
Big Al, a man clearly aware of the importance of myths and legends, weaved his way through his musical resume, stopping here and there for some direct talk and a particularly feral description of the blues. In his deep Louisiana drawl, Big Al laid down the Heavyweight law: no horns, no slickness, no Robert Cray or Fabulous Thunderbirds. Just the blues, brother.
Big Al plays drums and sings backup.
The Heavyweights are Kenny "The Kid" Lee en slide guitar and lead vocals, Regie Ray on harmonica and Billy Stone on bass.
Why the blues?
The world would be a lot better place if more people would listen to blues music. It's a positive music. It's about being in control of your problems. Ain't none of this cryin; and wimpy-a-s sh-t. And there's too much music out there that's about hatin' people. The blues are about having the power, the power to walk away.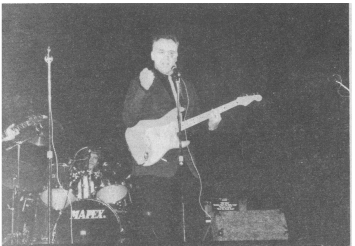 Curtis Marlatt will lead his band, the Kicks, through a hot blues show at the Silo Microbrewery on Jan. 26
Put on your high-heeled sneakers
People like the blues because it's primal and it's simple. It's a music that everybody can understand. It grooves, man. Everybody can groove. When I'm playing, I'm thinking about dancing. If I wasn't playing, that's what I'd be doing.
Big Al wants you to take action
When I play "Statesboro Blues," I make sure that I tell the crowd that this is a song by Blind Willie McTell. He wrote this. It's like my own little small crusade. We want to play for the people and we want them to groove and enjoy it, but we want them to know where it came from. The Allman Bros. didn't think of this. This is what they were listening to ... If there's a hundred people out there and one sumbitch goes out and buys a Sonny Boy Williamson album, I'm happy
Big Al shares his special blues recipe
I take the electricity of Son House and put it with the rhythms of Professor Longhair. And I think it's the secret to our success. We don't go up there and play like no museum. We don't play it real soft and nice. We're going to shove it down their throats. We're not out there to impress no musicians. We're out there for you. We want to party with you.
From Unknown to Big Al
I had a band together with [guitarist] Warren Haynes called the original Unknown Blues Band. We always loved the blues so we started doing this thing on the side; in fact, we played one of our first gigs at Tewligans. One night, we were playing on a bill with Dicky Betts and Dicky Betts really liked Warren's playing. He joined up with the Dicky Betts Band. I always did the booking, so when Warren left, I decided to call it Big Al & the Heavyweights, because everybody called me Big Al anyway. I'm only 5'4" with heels. I don't know; some girl called me that when I was takin' a shower.
Blues travel itinerary
I'm gonna take you on a blues journey.
I'ma start way down in the swamps of Louisiana, I'm gonna take you to Memphis, then I'm gonna take you up to Chicago and then I'm gonna bring you home again.
What to expect from the show
They goin' to move and they goin' to groove and they goin' shout some more. If you can't dance to the blues, then you got a hole in your soul.
Up in Corydon
Corydon, Ind., is a cool place to visit — historic and quaint, with a small-town feel. It's a great place to take out-of-town guests, but it's now making a play for Kentuckiania families via musical acts.
The Indian Creek Theatre is opening January 7 with a concert with Bride, the Dove-dominating Christian rock band. Bride's appearance kicks off the theater's "First Friday" series, which is organized by the "Heads-Up"' Christian Resource Alliance and will feature Christian acts the first Friday of every month. The February 4 "First Friday" show will feature Sons of Thunder. MOM's Musician's General Store supplied the computerized sound system and an in-house lighting rig gives the theater added flexibility, allowing for multimedia presentations.
The Indian Creek Theater will also be home to the "Old Capitol Opry," an attraction that had been on hiatus since May. One of these shows was described by the Theater as "good-time family fun and great country music."
Some of the other more notable concerts scheduled at the 750-seat, 10,000 squarefoot venue: dulcimer player John Kay (J an. 28), the "Singing Impressionist" Johnny Counterfit (January 8), illusionist Ryan Livesay (January 22), the jazz combo the Rob Mathes Trio(Jan. 16), funky R&B/pop dude Vince Ebo (February 12) and Grand Old Opry Star Del Reeves (February 26).
All the shows start at 7:30 p.m. except for the Rob Mathes Trio (7 p.m.). Call (812) 738-1234 for more information.