Diversity.
It's the difference between color and black & white. It's network TV versus cable. It's New York as opposed to Louisville . . .
Okay, so there are limits to our musical offering in March. But you can still find fine blues, reggae, classical, R&B — whatever you want — in the course of these 31 days. And on the local scene, we have appearances from two of Louisville's acclaimed new bands, Starbilly and Common Law Cabin. Taste them and see if they tickle your fancy.
Common Law Cabin
It's safe to say that Chili Rigot is the most unusual front man presently on the Louisville music scene. The big guy could be sporting fishnet stockings while he's singing Common Law Cabin's wry, humorous songs. The music is all pop, but everything else is decidedly alternative. The Cabin's tight rhythm section (bassist Jim Peak and drummer Todd Osborne) and canny guitarist (Dave Rapp) get the dancers movin,' while Rigot captivates with his offbeat charisma.
Common Law Cabin seems universally loved, by the public, the critics and the clubs where they pack them in. They appear at Butchertown Pub on March 9 with Juanita. LMN talked with Rapp and Rigot recently about Common Law Cabin's success.
What's the appeal?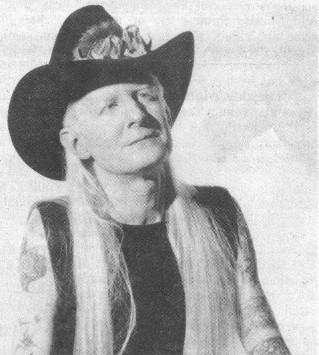 Legendary Texas blues guitarist Johnny Winter plays Coyote\'s on March 14
"It's just good music," replied Rapp. "It's traditional bass, drums, guitar. But we're a little bit different from what's out there right now. We're unique and we really hit a lot of different age groups — everybody that comes to the show has a good time. It's just the way the music's put together . . . it's kind of poppy. And there's some humor in a lot of it.
The band became a top act quickly, opening for Dread Zeppelin last month at Phoenix Hill Tavern and headlining several shows at the Butchertown Pub and the Rudyard Kipling. Did Common Law Cabin's quick rise shock Louisville music veteran Rigot?
"I guess it's more delighted me rather than surprised me," said Rigot. "We haven't been together that long."
And already they have the interest of several independent labels. Partially to help spur industry interest in the band, Rigot resurrected his old label, Tuesday Records, to release Common Law Cabin's first single. Titled Thankful, its 500 copies are printed on gold vinyl, and the record bears the Self Destruct label on it. The March 9 show is the single release party.
"It'll be a good time," said Rigot. "Lots of music and atmosphere. It's going to be more a party atmosphere — at least I hope people will feel that way. The singles will be for sale there, and there'll be a few surprises too."
The single's cover sleeve shows a tattoo of praying hands on someone's back, with the word "thankful" written in script above it.
"That's actually painted, and it was on my back," Rigot said. The hands were modeled from Albrecht Durer's "Praying Hands."
Is this a reverent or irreverent look at religion?
"It's neither here nor there," Rigot said. "It has no consequence at all. When you hear the word thankful, what projects that? When you think thankful what do you see? And it came down to that."
"We're happy with all of it. The music speaks for itself, and we're happy with the packaging and everything. Everybody put a lot of effort into it."
Starbilly
Big Wheel made impressive strides in the music business, releasing a diverse album titled Slow Town and opening up for the reunited Big Star at their show at the University of Missouri — a performance that was preserved on record last year. But it didn't go far enough fast enough, and Big Wheel disbanded. Out of it came Starbilly, featuring Peter Searcy on vocals and guitar, David Ernst on guitar, Casey Seitz on bass and Tom Tompkins on drums. Starbilly is at Butchertown Pub on March 5.
LMN talked to Ernst about the new lineup, one that puts more emphasis on aggressiveness — "playing guitar and being loud." Whereas Big Wheel was more of a riff band with sharp starts, stops and changes. Starbilly works with a few chords, milking more out of dynamics, according to Ernst.
"It's a lot closer to Squirrelbait than Big Wheel was," said Ernst. "Big Wheel turned into this semi-commercial beast before it was over. I loved being in Big Wheel, but I think this is the music that everybody wanted to do for a long time."
Starbilly's two-guitar attack layers Ernst's loud, big sound over Searcy's clean strumming.
"We're trying to not over-analyze any of the songs, and leave some loose ends for feedback, swirls and some interplay," Ernst said.
The rhythm section "sounds like it's been lifted from another group," with the funky Seitz melding well with the in-the-pocket Tompkins. Ernst describes it as loud pop, with a background in punk.
Sound familiar?
"We definitely have a lot of the Hula Hoop feel in us," Ernst said. "But whereas Hula Hoop is guitar-oriented, we give a more equal part of the overall pie to the vocals. Peter's voice is definitely the thing. It's hard to avoid. It's the constant over the top that is easy to listen to. Everybody deep down likes to sing along, and he allows that. But Peter has said that he is singing less — not that he is singing fewer notes, but he doesn't have to push it that hard."
Mammoth Records still has first right of refusal on the project, though some major labels have expressed interest.
And with good reason. The band has only been practicing since October, but the reaction to their debut at Phoenix Hill on Feb. 16 was overwhelmingly positive.
"We played three songs, just bam-bam-bam," Ernst said. "And when we stopped, everybody just went nuts. It felt good."