Soon to be Playing at the Palace
Palace Concert Schedule
June 29 Yanni
June 30 Rosemary Clooney
July 2-3 Harry Blackstone, Open House
July 7 George Carlin
July 13 Peter Frampton
July 19 Ted Nugent
July 22 Chuck Mangione
July 23 John Denver
July 24 Festival New Orleans
July 26 Steve Miller Band
July 29 Crosby, Stills & Nash
July 30 David Sanborn
Call 502-583-4555
for ticket information.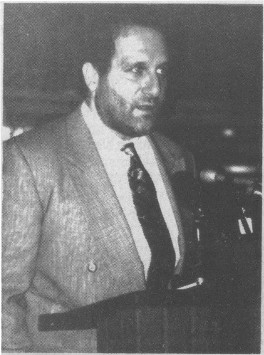 Photo by Paul Moffett
Co-owner John Seigel, Jr., left, announced on April 20 the grand re-opening of the Palace Theatre in downtown Louisville. The Palace, which has been closed for remodeling for some time, is one of the largest and most ornately decorated movie houses in the United States. It will be restored to as near its original condition as possible. The schedule of concerts, below, will begin with the already sold out Yanni show.