an inventive voice for the angst-ridden
The Downward Spiral (Nothing/TVT/Interscope)
Nine Inch Nails
By Kory Wilcoxson
There are a lot of posers to the angst throne out there. But if you are willing to look past the glitzy rage of heavy metal, past the overworked anguish of the grunge set and you'll find the true music of the persecuted: industrial rock.
Nobody's spent more time on the cross than Trent Reznor, aka Nine Inch Nails, and he's more than ready to sing about the sins he saw from those lofty heights.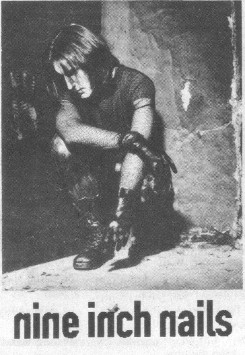 Reznor did his good deed for the decade when he introduced the mainstream alternative to his machine music on the wildly popular Pretty Hate Machine. Having served the masses, he's now ready to slip back underground where there are no taboos, and The Downward Spiral is the staircase.
Reznor's music is a the equivalent of a violent car crash: screeches and moans, metal slamming metal and body parts flying. It's assaulting and penetrating and soothing and all at the same time.
Reznor can verbally assault the listener over a Barry Manilow piano ("Hurt"), or wax melancholy over guitars and synthesizers that sound like the collapse of a steel framed structure ("March of the Pigs").
The topics of discussion on Spiral are as blatant and hostile as the music. Reznor lets loose his pent up frustrations on the touchy subjects of religion and sex, and often in the same line, as on "Closer." Only his unabashed, flailing delivery, which oscillates from a seductive whisper to a tortured yell, often within seconds, could hang with the absolutely vicious beats he lays down.