Bluegrass Beat
Is it just me or does time really begin to go by at the speed of light and sound combined? Summer has blurred by and fall is picking up speed already. Let me get a grip and see if I can pass on what has been happening in these short weeks since the last time we met like this.
The big IBMA bash at Owensboro took place with me in attendance that Saturday. I finally, after about 30-some-odd years and a couple of failed attempts in the last couple of years, caught up with Bill Clifton at Owensboro. It was really good to see Bill and briefly catch up on all these years. I mentioned to him that I still had a 45 record he had dropped off for me at the station I worked at back in the '50s. I told him there was a note on the sleeve that read, "I didn't have a book after all (reference to his current song book at the time that he was going to give me a copy of), will bring one by next time." Bill replied, "You never did get one did you?"
"No."
A copy showed up in my mail just recently as promised.
Bill's new CD with Jimmy Goudreau has brought a lot of good comments. All gospel, River of Memories on Elf label is very good-sounding with a pretty much easy-going basic approach that has often – too often – been strayed too far from.
In the hotel lobby just before I left to come home I also spotted an old acquaintance I had not seen for 20-plus years. This one, the man who is acknowledged as holding the first bluegrass festival, Carlton Haney. It is always good to see old friends and renew acquaintances. I caught up a little bit on some of the mischief Carlton had been up to all of these years. I met and got to know him when he was managing Reno and Smiley.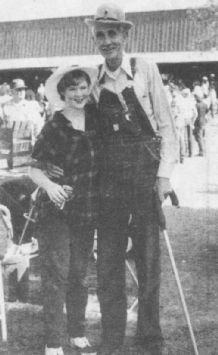 Becky East and Harold Garrison. Photo by Jack Huffman
Moving right along, the second weekend in October was another of those weekends I look forward to from year to year: the Tennessee Fall Homecoming at the Museum of Appalachia, Norris, Tenn. I believe that Friday was the biggest Friday I had seen there. The weather was perfect with the exception of Sunday's rain.
There was both good news and bad news for us down there. Jack Huffman, my high-school-and-after run-around buddy, came up again from South Carolina. One of the regulars we were looking forward to seeing was Bill Necessary, a long-time guitarist and performer. Bill and I had gotten acquainted talking about a great old fiddle player, Burke Barbour, from my home in Virginia. Jack was asking about Bill and someone told him Bill wouldn't be there. Seems he met with an accident while getting his boat out of the water, slipped and fell on the ramp, hit his head and drowned. We will miss this sincere, friendly, gentle friend for years to come. I am glad I have some brief shots of him on video and a tape he gave me last year.
Also learned Oswald will have to have another operation on his jaw. That "thing" they put in has begun to wear through and cause troubles. I got a copy of Os's book, "That's the Truth if I Ever Told It." You ought to get yourself one if you are an Oswald or Acuff fan. Easy and enjoyable reading. You will learn a lot about Roy and Os and I am sure in some ways will raise your respect for either or both of these great entertainers. Insights in anecdotes.
Bill Stewart told me Uncle Dave Macon's grandson was looking for me and wanted to see me. I finally found him and we had a very pleasant chat. Seems he wants to come by and visit on my program sometime. Uncle Dave was the first featured performer on the Opry and definitely one of a kind. I'll be looking forward to that as I hope many of you will.
Bill Monroe was there on Sunday. Although the crowd was down for Sunday, there was a respectable – in spite of the rain – number of Bill's fans willing to tough it out for his performance. Bill was feeling good, singing good, playing good AND dancing good. A really good performance. By the way, there were a lot of young fans out there, too!
Other plusses for me and my friend that weekend included my daughter and granddaughter joining us there for the first time and seeing another of the regulars we find ourselves somewhat concerned about from year to year. One of those is Harold Garrison, the 6-foot-10 wood carver from North Carolina. I introduced him to my daughter and granddaughter Becky. I will never forget the expression on Becky's face as Harold stood up. From a ho-hum expression to three separate and distinct blinks accompanied by a tilting back of the head each time until he was finally all the way up. All of this culminated with a smiling chuckle and a picture. Harold is very accommodating about this.
I haven't counted but I think I must be about out of words for this time. Come on down to see us at Shepherdsville for the Friday-night bluegrass shows.
Berk Bryant is the host of Sunday Bluegrass, WFPL 89.3 FM, each Sunday from 8:30-11 p.m.