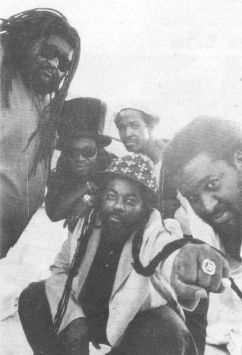 Innter Circle
slinky pop reggae
Reggae Dancer (Big Beat)
Inner Circle
By Kory Wilcoxson
Anyone who got a sample of Inner Circle's Jamaican stylings from having the song "Bad Boys" stuck in their head only scratched the surface of what this band can do.
Inner Circle makes reggae that's immediately accessible to a mass audience. Their music has the basic elements that make any song, reggae or otherwise, good: catchy hooks, big beats, simple, engaging lyrics.
It's pop reggae, if there is such a thing, and Inner Circle has it perfected. "Summer Jammin'" and "Walking on a Rainbow" are breezy jams just heavy enough to get your soul -- and your soles -- moving, and "Black Roses" is a airy ballad.
Hardcore fans of reggae might find Inner Circle a little soft, but anyone taking their first look into the music couldn't find a better introductory album. It's impossible not to like.