Alabama and Neal McCoy
By Michael W. Stout
It's 2:30 on a blistering summer morning on a four-day run, that eighteen wheeler roaring like a lion down the highways of America, the floorboard melting the soles of your boots to the bottom of your tired and weary feet like a frying pan, the window down so the stale air blowing on your dry face will keep you awake, just waiting for that right song to come on the all-night country request line. Then, much to your surprise and pleasure, you catch your second wind after singing along with Alabama's "Roll On."
The audience had no trouble staying awake or catching their second wind in Freedom Hall, on March 24 when Kenworth Trucks presented Artists of the Decade, Alabama and the hot newcomer Neal McCoy as part of the Mid-America Truck Show. As soon as the houselights dimmed, the practically sold-out crowd jumped to their feet and roared like thunder, awaiting Alabama's appearance onstage.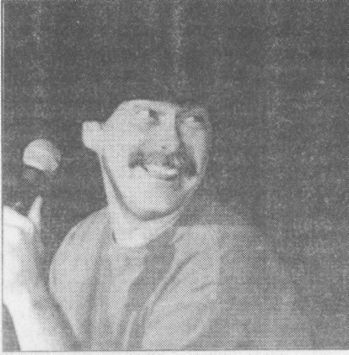 Randy Owen
For some indescribable reason, Alabama's music has the perfect trucker image. No other group could pass the time well as Alabama on that long, four-day run. Maybe it's the simplicity and honesty of their music that people find so enjoyable and easy to relate to. Whatever the reason, Randy Owen, Teddy Gentry, Jeff Cook and Mark Herndon make up the perfect combination.
Alabama hit the stage with "Tennessee River" and rolled on with huge hits from over the years such as "40 Hour Week," "Roll On," "Feels So Right," "Take Me Down," and "Dixieland Delight," never hitting that first roadblock. As they traveled down their highway of hits, they would make an occasional detour to one of their later hits such as "Cheap Seats," "Angels Among Us," and their latest release from their third greatest hits album, "Give Me One More Shot."
Of the twenty-two songs they performed during their 85-minute set, two stood out from all the rest. Jeff Cook brought the house down with his mighty fine fiddlin' on "If You're Gonna Play In Texas (You Gotta Have a Fiddle In the Band)," and the entire arena had a foot-stompin, hand-clappin' good time during "Mountain Music."
Alabama's perfonnance was so entertaining and easy to get wrapped up in that it took me until the next day to realize that they left out a number of hits that should have been included, such as "High Cotton," "Down Home," "Forever's As Far As I'll Go," and "Jukebox In My Mind." Oh well, I guess they can't play em all. That probably would have taken 185 minutes.
Atlantic recording artist Neal McCoy started the evening off right with probably the most entertaining and quickest, 50 minutes I've ever sat (or rather stood) through. Neal is not only a mover and a shaker of a hit maker, he is a true entertainer having mastered both stage presence and showmanship. This guy has a voice as big and strong as his legs are long and let me tell you, his legs are very, very loooooong.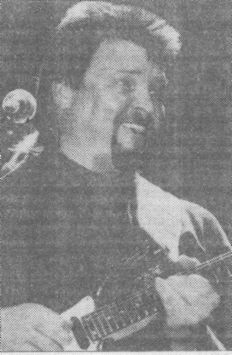 Jeff Cook of Alabama. Photo by Letha Marshall
Neal hit the stage singing the title track from his fourth Atlantic record, You Gotta Love That and continued with hits such as "The City Put the Country Back In Me," "Wink," and his latest smash hit, "For a Change." He also expressed his great appreciation to the audience for helping make "No Doubt About It" his first number one hit.
These hits of his own were entertaining enough, but Neal didn't stop there. He was doing some mighty high-steppin' on Roger Miller's "King of the Road," on which his band offered remarkable fiddle and harmonica solos. Speaking of his band, those six guys performed a very rousing rendition of "Orange Blossom Special."
But that's not all. You'd have to see Neal perform and meet him in person to really appreciate his wonderful sense of humor. This larger-than-life trait really came through when he traded his cowboy hat for a baseball cap and rapped the theme song to "The Beverly Hillbillies." The crowd roared with laughter and joined in. He continued with fun songs such as "Doo Wah Diddy" and "Day-O."
Whether it's a tender ballad or a rockabilly rouser, Neal McCoy will knock your socks off. Alabama has helped define country music in their nearly two decades of performance, but Neal McCoy gave them a run for their money. Experiencing these two acts together is a trip you won t soon forget.
See Photo of Neal McCoy on page 12.