Bryan White: Country's Freshest New Voice
Bryan White is not your average 21-yearold. Bryan is an exceptional tenor who moved to Nashville right out of high school in 1992 and had a record contract just 11 months after arriving in Music City. The year 1994 brought the release of Bryan's self-titled debut album. This album has already enjoyed a fair amount of success with the first release, the tongue-in-cheek "Eugene You Genius"; the second release, "Look At Me Now," co-written by Bryan along with friends Derek George and John Torri, is rapidly rising on the country charts.
Bryan told Louisville Music News during a recent stop in Louisville:
"The album, we covered so much stuff on there, we kind of covered the spectrum. I think we captured all my influences on there. There s a little bit of R&B on there and there's probably a lot more traditional than there is anything else, then there's kind of a '70s kind of feel, 70s country and rock mixed together. I call it kind of a soulful country." He added that "Steve Wariner has always been my biggest influence. My parents would be an influence, Ronnie Milsap, Vince Gill."
Bryan's childhood was very musical. He started playing drums when he was a mere five years old and began playing in his father's country band and his mother's R&B band. Bryan says that his parents did not force him into music; he found it on his own. Being around music all the time did help encourage him though.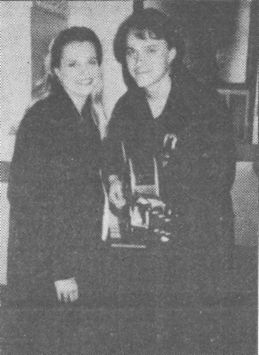 Bryan White poses with a fan at the Palace on Jam. 20. Photo by Michael W. Stout
"I was actually real fascinated with drums so, realizing that my parents were musicians, I started hanging out around their music and stuff and I guess I just asked my dad if he cared if I liked drums and one day he bought me a drum kit and just started teaching me stuff."
Although he was raised around music, it has been more to Bryan than just a lifestyle. "I think then, it was kind of what my family did, but I guess there was something there that kept me attached to it enough for me to love music other than just the whole family just doing it as their whole main thing."
He feels he first wanted to be a country performer himself when he was sixteen or seventeen. "I wanted to start getting out front and get away from the drums and get out and start getting some microphone experience, just sing out front."
His parents have been very supportive and have encouraged his musical dream. "l think they would encourage me in anything I did. They didn't force me to do anything with music. I think they knew that was what I always wanted to do. The whole family supported that whole idea of me going to Nashville."
Bryan did consider college before his country music career, but he opted for Nashville instead of the textbooks.
"I was going to go to college and try to major in music and all the things started happening with my tape and I was getting recognized in Nashville. I figured, Well, I don't know if I'm going to get this chance again, so I wanted to load up and go do it while I could in case I didn't get the chance again."
"I already had a couple of real good connections before I got to Nashville. I hooked up with Billy Joe Walker Jr. and he co-produced the debut album with Kyle Lehning. Billy was the one that took me to Asylum Records and kind of introduced me to all the folks there. And at the same time, I had met some other folks from Glen Campbell Music and they introduced me to Glen and [to the person] who soon became my manager; ... Marty Gamblin. They kind of kept an eye on me and Marty offered me a publishing contract at Glen's company to write songs, so that kind of kept me above water. That and I started singing demos for publishing companies also. I got a record deal with Asylum in, probably, I think eleven months of being in Nashville."
Bryan feels that his age has been, but is no longer, an obstacle for him in the music business. "I think at first it almost, probably, shied people away from me because I was eighteen when I moved to Nashville and I guess that would lead people to believe that, I guess, in a way, I would be kind of green as to what the business is all about. I don't oppose to that at all, but I think now it is a definite advantage being young. If something didn't happen just so soon, I could always get back up and go do it again."
Fortunately, Bryan has not had a problem with getting respect from his peers because of his age. "I think when they hear me sing, I think they kind of know that I'm meaningful in what I sing and I think I've got a voice that kind of definitely describes what I've been through. It's something that they can tell that it's real when I open my mouth."
Don't let his age fool you, because this young man has all the talent to be the brightest new star in Nashville.
And just why did Bryan choose country music like his father over his mother's R&B? "Anything I do, I don't think it's anything but country. I think if I were to call it anything else, it would not fit anywhere else. I think every kind of music evolves around country. I think country and rhythm and blues is where it all started, so I think I fall definitely into the country category, but you can hear a lot of R&B influences."
Just like any other artist, Bryan hopes for longevity and success in the music business. "I just want to keep doing this as long as I can and hopefully maintain a good living at it and I just want the world to know that this is what I love doing. It has nothing to do with money at all. I know it's not, because when I step out on stage and there's people clapping, I know that's my purpose for being out there. This is what I'm here to do: to sing, develop longevity in the business and making some great friends and just having a good time. That one moment of glory being on stage is what it's really about for me."
Bryan White is currently opening up concerts for artists such as the CMA Female Vocalist of the Year, Pam Tillis and the CMA Group of the Year, Diamond Rio, performing an acoustic set with just his guitar, a microphone and his incredible voice. He plans to start work on a new album in March, to be released later in the year and hopes to start putting together a band in April. "I can t wait to get out there with a band and just start playing everywhere."