What does Louisville have more of than Cincinnati, Indianapolis, Nashville and Lexington? Aside from beautiful people, River City has more Celtic music By "Celtic music" I am referring to the music of Ireland, Scotland and Wales, although Comwall, Isle of Man, Brittany and Galicia (in Spain) are also traditional settlements of Celtic peoples.
This is the first in a regular series of articles exploring the resurgence in popularity of this unique musical idiom. This column will profile local and regional bands and musicians, review new recordings as well as to generally keep LMN readers apprised of the growing Celtic music scene in the region.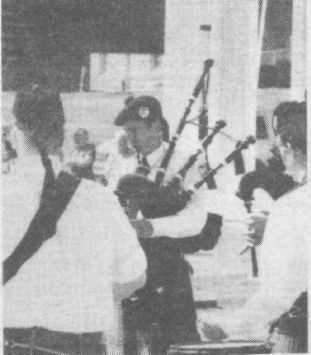 Lou Armstrong of the Louisville Pipe Band squeezed the pipes at the 1st Annual Irish Holey, hosted by the Ancient Order of Hiberians at the Water Tower on March 17.
Our fair city boasts some six regularly performing Celtic bands: Drowsy Maggie, Tight Squeeze, Ten Penny Bit, Galloglas, Clogheann and The Rashers. Of course we also have two bagpipe bands: Kosair Pipes & Drums and The Louisville Pipe Band.
In addition to the many venues featuring Irish music on St. Patrick's Day, we also have a great Irish festival each September which has grown in scope and quality in each of the six years since its founding. Occasionally you can catch Lrish music performances at The Irish Rover, The Rudyard Kipling and Shenanigan's. The newest live Celtic music spot is O'Shea's Traditional Irish Pub on Baxter Avenue which offers live music two or three nights a week as well as regular jam sessions every Sunday afternoon. The Rudyard Kipling has Louisville's oldest Celtic music session on the first Friday of every month and the Irish Rover has a session on the third Friday of every month. All are welcome to participate in these sessions.
There is gobs more to talk about, so all you Celtoids stay tuned for the craic (Gaelic for good times)
(Welcome to our pages, Mr. Rock. Sure and you're long overdue — Editor.)