Awards . . .
The National Academy of Recording Arts & Sciences handed out the 37th Annual Grammy Awards on March 1. Mary-Chapin Carpenter has been no stranger to the Grammys and this year's awards were no different. Carpenter added two more Grammys to her collection, winning for Female Country Vocal Performance for "Shut Up and Kiss Me," and Country Album for Stones In The Road. Carpenter's "He Thinks He'll Keep Her" was nominated for Record of the Year, but was beat out by Sheryl Crow's "All I Wanna Do."
Lyle Lovett was' equally successful, winning for Duo or Group Country Vocal Performance on "Blues For Dixie' with Asleep At The Wheel and Pop Vocal Collaboration on "Funny How Time Slips Away" with Al Green.
The entire list of country Grammy winners is as follows: Female Country Vocal Performance: "Shut Up and Kiss Me" — Mary-Chapin Carpenter; Male Country Vocal Performance: "When Love Finds You" — Vince Gill; Duo or Group Country Vocal Performance: "Blues For Dixie" – Asleep At The Wheel with Lyle Lovett; Country Vocal Collaboration: "I Fall To Pieces" — Aaron Neville and Trisha Yearwood; Country Instrumental Performance: "Young Thing" – Chet Atkins; Country Song: "I Swear" – Gary Baker and Frank J. Myers; and Country Album: Stones In The Road — Mary-Chapin Carpenter. Congratulations to all the country Grammy winners!
...Awards...
Unlike the Grammys, the People's Choice Awards are determined by a poll of the public rather than industry professionals. More than 4,000 people were asked to list their favorite music, TV shows and movies. Of all the categories voted on, three were musical: Male Musical Performer, Female Musical Performer and Rock Group. It's obvious that no country band would win the Rock Group (which went to Aerosmith), but country music dominated the remaining two musical categories. Garth Brooks was the People's Choice as the favorite Male Musical Performer, beating out Vince Gill and Alan Jackson, and Reba McEntire was the People's Choice as the favorite Female Musical Performer, beating out Whitney Houston and Mariah Carey. That just goes to show that the people love country music!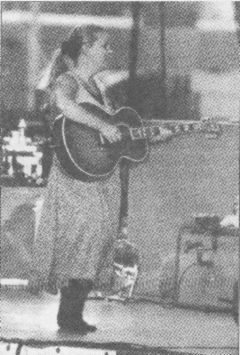 Mary Chapin Carpenter. File photo by Letha Marshall
Congratulations, Garth and Reba!
. . . And More Awards!
The Music City News Songwriters Awards were recently handed out at the Grand Ole Opry House, honoring the songwriters of the top ten country songs of the year. If it weren't for the country songwriters, there would be no country music. Music City News readers voted the following ten songs as the top ten country songs of the year:
"Your Love Amazes Me" — Amanda Hunt-Taylor and Chuck Jones
"Thinkin' Problem" — Allen Shamblin, David Ball and Stuart Ziff
"Tryin' To Get Over You" —— Vince Gill
"How Can I Help You Say Goodbye" — Karen Taylor-Good and Burton Collins
"Summertime Blues" – Eddie Cochran and Jerry Capehart
"I Swear" — Gary Baker and Frank J. Myers
"Independence Day" — Gretchen Peters
"Don't Take The Girl" — Craig Martin and Larry W. Johnson
"Whenever You Come Around" — Pete Wasner and Vince Gill
"Does He Love You" – Billy Stritch and Sandy Knox
The readers voted "Your Love Amazes Me" as Song of the Year. Kris Kristofferson was also awarded the Roger Miller Songwriter Award. Congratulations to all the country writers! Keep those great songs comin'.
The Country Derby?
Spring is here and the tulips are finally peeking through the ground, meaning only one thing: the Kentucky Derby is on its way!
The Kentucky Derby brings one of the most successful and long-awaited Derby events: The Philip Morris Festival of the Stars. This year's free country concert will be held Thursday evening, May 4, at Freedom Hall and will feature Kentucky's own Nicholasville native, John Michael Montgomery and Archer/Park. Doors will open at 6 p.m. and the show will start at 7:30 p.m. Since this is a free concert, you'll definitely want to be in line plenty early to get a good seat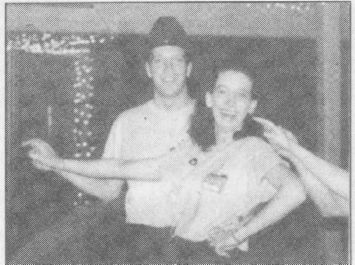 Josh Banet and Kerrie Leitner danced at the "Laser Country Jam in 3-D" preview party at the Louisville Science Center on March 16. Photo by Jean Metcalfe
This year's Derby Eve Jam concert will be held Friday evening, May 5, at 8 p.m. at Freedom Hall and will feature Bocephus himself, Hank Williams Jr. Along with Hank will be the legendary rock group Lynyrd Skynyrd. Sponsored by Kentucky Harvest, tickets will be $18.50 plus three canned goods, which will be donated to those in need within the community.
If Bocephus and Lynyrd Skynyrd aren't quite your speed, then I'm sure you'll want to spend Derby Eve with Collln Raye. Collin will be performing at the Palace Theatre, Friday evening, May 5, at 7 p.m. I'm sure this will be an evening you won't soon forget.
Crystal Gayle fans won't want to miss the Derby Festival Louisville Orchestra Concert with Crystal Gayle to be held Saturday, April 29 at 8 p.m. at Louisville Gardens. This show is part of the Liberty National Bank SuperPops Series and tickets will range from $9 to $37.
Brady Mania
Brady Mania is sweeping the nation these days and, yes, it's even affecting country music. Maureen McCormick, who played Marcia Brady on the '70s hit sitcom "The Brady Bunch" is scheduled to release her first country album this month. We all loved her as Marcia Brady and I don't know if there's any guy out there who didn't have a crush on her ('fess up fellas), but how will country music accept her? Well, just keep your ears open and we'll soon know.
While you're in your favorite local record store looking for Maureen's new album, be sure to check out some of the other hot new country CDs. You'll definitely want to pick up Tanya Tucker's latest release, Fire To Fire, which contains the tender ballad "Between The Two Of Them." Other hot releases include Marty Stuart's Marty Party HitPack, John Michael Montgomery's self-titled third album, John Michael Montgomery, Mark 0'Connor's Fiddle Concerto and Doug Stone's Faith In Me, Faith In You. The Highwaymen are together once again, this time offering up This Road Goes On Forever. All you country fans who grew up listening to the Beatles will definitely want to pick up the country tribute to the Beatles, titled Come Together, which includes performances by artists such as Little Texas, Tim McGraw and Collin Raye.
IMAX Goes Country
The Louisville Science Center's IMAX Theatre has gone 3-D, AND country! "Laser Country Jam In 3-D" is a spectacular, high-tech laser show which combines three-dimensional holographic technology with laser imagery and popular country music by great artists such as Wynonna, Alan Jackson, Reba McEntire, Vince Gill, Faith Hill and Brooks & Dunn, to create a high-energy, unforgettable evening. From now until April 8, "Laser Country Jam in 3-D" will be shown on Fridays and Saturdays at 8, 9, 10 and 11 p.m. From April 14 to September 4, it will be shown on Fridays and Saturdays at 8 and 10 p.m. You won't want to miss an exciting evening at the Louisville Science Center's IMAX Theatre with some hot country music and laser graphics shooting right off of the screen.
LMN's own editor, Jean Metcalfe, recommends this show to all you country fans, describing it as a very "fun show." She warns not to expect country videos though. This show is strictly a laser show set to some hot country music with a rousing finale including Lee Greenwood's "God Bless the USA."
Cowboy Corner Country Quiz
Q: Is the working man's country singer, Sammy Kershaw, related to singer Doug Kershaw? R. Rose, Jeffersonville, IN.
A: Sammy Kershaw's publicist assures me that, contrary to popular belief, Sammy and Doug Kershaw are not and never have been relatives. That doesn't mean that they never will be though. You just never can tell.
Sammy is also not related to George Jones, but has often been referred to as George's illegitimate son. In fact, Sammy opened shows for George when he was a teenager in Louisiana, sometimes singing duets with Lorrie Morgan. His life has not always involved music though. He has held jobs ranging from welding, dry cleaning, working in a rice mill, to being a remodeling supervisor at Wal-Mart.
He also considered making a living as a baseball catcher, but he opted for these jobs as well as being a DJ. When starting his music career, Sammy would perform standup comedy in clubs his band was performing in so the crowd would not leave when the band took a break. After two platinum albums, one gold album and more than ten top ten hits, including at least three number one hits, Sammy Kershaw has no problem these days keeping the crowd's attention.
If you have a question you'd like answered about one of your favorite country artists, please send your question, along with your name, to: Cowboy Comer Country Quiz, Louisville Music News, 7505 Cambridge Drive, Crestwood, KY 40014. Please don't hesitate to send in your question. We're anxious to hear from you. J
Well, that's it for now. Always remember: Keep your boots shined up and your hat on straight, 'cause country music is comin' your way.