Roy Named Musician of the Year by AFM Local
A list of local drummers who were not taught by John Roy would be shorter than a list of those who were! At least that's the way it seems to Cheryl Farris. The two worked together at the Bardstown Road offices of the Louisville Federation of Musicians until he recently stepped down after nine years as its president.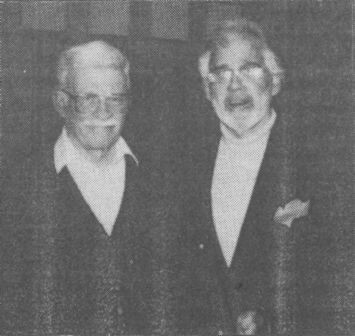 John Roy, left, is presented his plaque by Rock Adcock. Photo by Wes Myers
At the union's January 23 Annual Chili Supper and Awards Night, Roy was honored as the 1994 Musician of the Year. And a more deserving recipientof the honor would indeed be hard to imagine.
Roy has been an active member of AFM Local 11-637 for 49 years and has played with the Louisville Orchestra, the Glenn Miller Band, Bob Hope, Liberace and other reknown artists. But far beyond his considerable musical talent, he is respected as a man who works in the trenches and who is a genuine, likeable, gentle man.
Congratulations Mr. Roy!
Elaine Richardson's recipe took top honors in the chili cook-of and it must've been mighty tasty if it was better than chili a la John Roy This writer sampled the drummeister's blend a couple of cook-offs ago and, thankfully, 1t was not at all like my introduction to chili prepared by a musician.
Other award winners included those vying in the Billy Taylor Golf Tournament: Ron Neeld (tourney winner), Ernie Sanders (longest golf drive) and Kenny Reihl (closest to the hole).
Presidennt' s Award recipients included Tommy Jones, Martha Guenther (Cuzzin Amue Belle) and Art "Sandy" Bass. John Babcock took home the Appreciation of Service Award.