Fabulous Performances of 'My Fair Lady
Spring began recently with a smash; the Ursuline School of Music and Drama scored triumphs for all concerned with a purely delightful staging of "My Fair Lady." The school had so many talented youngsters among their 6th, 7th and 8th graders that they almost had enough for two complete casts.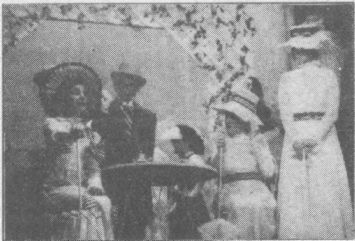 Sarah Franks portrays 'Eliza' and Mike Pellegrino is 'Freddy' in the Ursuline School of Music and Drama's presentation of "My Fair Lady" on March 18.
Each person gave his or her best, so there is no way this review is going to rate performances. Combining gifted voices and acting skills, Sara Franks and Lauren Feldhaus also rendered the Cockney accent so well that for a moment this observer thought he had returned to London and its Sadler Vic Theater. Equal applause is due Stephen Chambers and Marc McHone for their talented presentation of the punctilious and haughty servant of the English language, Henry Higgins. And who would find fault with interpretation of the gallant and fair-minded Colonel Pickering by Andrew Tangel and Jonathan Riesser, the lively presentation of Henry' s distraught and gracious Mother by Jennifer Hurst and Meredith Will and Ty Leitner and Patrick Haynes' lifelike portrayal of Eliza's irrepressible Dad? Michael Pellegrino was a very likeable and charming suitor for Eliza while Catherine Conway and Jessica Katorski both displayed aplomb as Higgins' sometime harried housekeeper.
The minor roles were jolly well done. The reasons for this achievement included the school's new directress, Anna Paul, who was a real pro. Jimmy Givans combined the direction with lighting with more than a little skill. Likewise, Myra Jo Walker and the orchestral ensemble did a first-class job. The actors' diction was a real triumph for voice coach Martha Harris and the accompanist, Anna Marie Hodge. Parents of the cast were marvelously supportive of the production.
The singing was impressive, which takes nothing from the diversity of acting skills. But so were the dramatic skills; the youngsters knew their lines and their enunciations were smooth and skillful.
Louisville should be proud of these performances and should get behind the school. Why not put your name on their mailing list (897-1816). You will be in for some great entertainment!