I've Got A Mind To Ramble
Since this column usually snuggles up to Winston Hardy's ad on page nine of LMN, I thought it was about time to have a little chat with Winston about his new release, Mumbo Jumbo. The CD is now being pressed at Nashville Record Productions and is due out in mid April with a release party at Shively Records in the afternoon and at Blondie's later that night.
The last time Winston recorded was a 45 single with Ray Stevens on Monument Records back in 1965. "Let Yourself Go" and "Just Your Friend" were the two cuts which had some sales in Japan. Unfortunately Nancy Sinatra's "These Boots Are Made for Walking" came out at the same time and the label decided to push that release.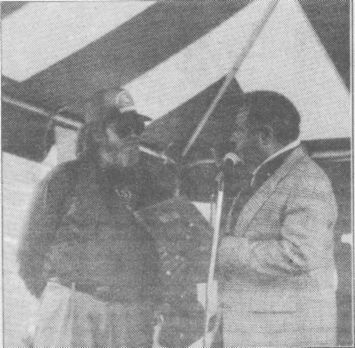 Winston Hardy receiving the Sylester Weaver Award at the 1992 Garvom Gate Blues Festival. Photo by Keith Clements
For a guy who started out in Bullitt County 52 years ago, Winston has had a long, colorful association with music; he started playing at the age of 12.
Long before there was the Rudyard Kipling there was the Crosstown Cafe at the same location. Winston, who was just 17, had a group called the Pharaohs. Because he was under age, the police would give him a hard time and Winston would have to call on Foree Wells to come to the rescue and share the stage. They all played rhythm and blues, rock and roll and the blues. Since the music had common simple roots, it all sounded alike. Those were crazy times, according to Winston, for he was known to swing from the rafters while honking his tenor sax. The rafters are long gone but Winston is still swinging with the Roadmasters. Which brings us back to Mumbo Jumbo.
Besides his current band, which includes the house musicians listed in his ad, Winston has added a long list of "Friends." There are lots of horns that show up on various: cuts with Tommy Jolly, Kush Griffith, Quentin Sharpenstein and Jerome Howlett. Bill Dean and Todd Hildreth (who writes the Jazzin' column for LMN) play keyboards. Anita "Lady Fingers" Dane is on bass and Misha Feigin does a Russian blues ballad.
Winston said this 73 minutes of mostly original music is a mixture of blues, calypso, rock and country — yes, country — with the last cut, "Democrat's Revenge," featuring Jake Kessinger on dobro.
In addition to these recent tracks, there are a few live and raw recordings from when Winston was performing at the Straight Theater in San Francisco back in the '6Os. If you listen closely you will hear a historic brief 15 second segment where Winston is in the studio in New York with Frank Zappa and they are goofing around on their guitars.
Winston is showing Frank some feedback techniques which sound like guitar explosions. The Mothers of Inventions soon followed.
Winston was exposed to African influences early in his life for his aunt was a missionary to Africa and showed him tribal costumes and pictures. In keeping with this influence Winston chose for the CD the title Mumbo Jumbo, which comes from the Mandingo language meaning "a magician who makes the troubled spirits of ancestors go away." Gary Hick has been working on the cover art which shows a view of the Sky Flower Garden near San Francisco with some African motifs and a giant dog.
It wasn't until the '70s when veteran blues guitarist Smoketown Red took Winston to the 26th Street Tavern that he really got serious about the blues.
The Winston Hardy Original Blues Band evolved from that house band and they performed at the Center for the Arts, the Lonesome Pine series and the Jazz at the Water Tower concert. It was during this time that Winston encouraged Foree Wells to go back to playing his guitar instead of the B-3 Hammond organ for he knew how well Foree could play from the old days.
Recently Winston got some well-deserved recognition at the 1992 Garvin Gate Blues Festival when he received the Sylvester Weaver Award from the KYANA Blues Society. Look out for Mumbo Jumbo if you want to drive away the bad spirits.