The Shivers at the Phoenix
By Paul Moffett
Louisville eeeentric Cary Stemle wrote a musician's dream of a review of the Shivers last album. Naturally, it was the featured press clipping when the CD arrived at the LMN office.
So I listened to the CD. Cary was right It was entrancing, hotter than jalapena, cooler than Mojave evenings. It was also real East Texas. Kelly Bell sings it "no striangs attached."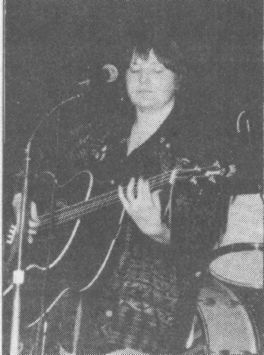 Kelly Bell of the Shivers. Photo by Paul Moffett
So when they showed up on a Phoenix Hill schedule, opening for P. S. Dump Your Boyfriend in the Saloon, I scooted on down to hear for myself, being an East Texian as well.
Another shock. They got on stage, looking like road musicians too long into the tour, Kelly Bell looking like a young version of my last ex-wife. Oh m'god. Same shape, same type face, dressed like ex-wife.
I had to close my eyes, but that was alright, because what I heard was the nifty tunes from that album. Professional, well-rehearsed and able to crank out the material without mistake, husband and wife Kelly Bell and Carey Kemper write better than pretty good songs and have a pretty good sound to go with them.
"Silver City Train," "Never Leave Nevada" "Dreamtime with a Wanted Man." All tunes from the CD, sticking in the brain. They played new material for the new CD and the sample was enough to make me ready for that one next.
Hard to label the songs, though the influences of Texas are pretty plain. Kelly Bell grew up in Sulphur Springs, just a few miles from Michelle Shocked's home county of Gilmer. Carey came out of Houston, the most air-conditioned city on earth a few years back. That city's music is some Louisiana Cajun-boogie, some Texas blues, some Texas country and not a little rock. All of it shows up in their music, like the ingredients in a pie show up in each forkful — hard to separate but adding nonetheless to the overall flavor.
Their set was too short. Maybe the Phoenix will book them back for a longer gig.