Tracy Lawrence at the Palace
Tracy Lawrence's March 12 performance at the Palace Theatre proved that Lawrence is correctly labeled the "rebel of country music." The Palace will never be the same. Rowdy and wild straight out of the gate, the crowd readily complied with Lawrence's insistence that they have a good time and swing from the rafters. Several fans were obviously having quite a good time; fortunately there were no rafters.
Lawrence's rowdy, 80-minute honky-tonkin' set was sprinkled with classics from Alibis and his recently platinum Sticks And Stones albums, plus new material from his current album, I See It Now. There were also tributes to the late Keith Whitley and country legend Merle Haggard. Without Merle Haggard and George Jones, Lawrence said there wouldn't be country music today.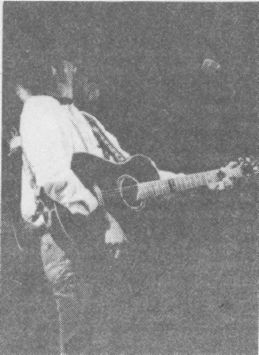 Tradcy Lawrence. Photo by Mike Stout
Opening the Show with "Renegades, Rebels and Rogues" (from the Maverick movie soundtrack) Lawrence dedicated the song to all the rednecks in the crowd. Apparently a heaping portion of the crowd fell in that category. Never missing a beat or hitting a sour note, Lawrence continued with the crowd-pleasing "My Second Home," the bittersweet "Today's Lonely Fool," "I See It Now," and his recent number one hit, "As Any Fool Can See."
Guitarist Kenny Beard, in his last show on the road with Lawrence, was featured in a duo on Lawrence's personal favorite song, "If The World Had a Front Porch." (The song appears on I See It Now as a duet with John Anderson.) The audience's enthusiastic response never waned from the opening song through the encore, "If The Good Die Young."
Little Elvis, Lawrence's eight-piece band, kept the crowd going along with the-artist. They performed two songs before Lawrence hit the stage and lived up to the extreme confidence the Texas Tornado has in the fellas that back him up.
Louisville's own Uncle Pecos started the evening off right with a very well-received 30-minute set, which included cover tunes such as Neal Mccoy's "Wink" and John Michael Montgomery's "Be My Baby Tonight." In addition to these, they played "Candle" and "Play With The Baby's Mama," band originals that will be on their upcoming CD targeted for release in June.
Keep your eyes and ears open for Tracy Lawrence's next touchdown in the area. Not only is this guy a heckuva singer, whether interpreting a rowdy-romper or a tearful ballad, he's also a heckuv an entertainer.