Upcoming Live Music
Forget that hogwash about April showers bringing May flowers. Statistics show that it rains more in Louisville during the month of March. For this town, the operating bromide is: April begins like Dr. Jekyll and ends like Mr. Hyde — courtesy of a lil' race called the Kentucky Derby. The end of April is hysteria, as Louisvillians scramble to exacerbate (or escape) the trumped-up razzle dazzle of Derby Week festivities in the first week of May.
On your way down into the depths of Derbymania, catch some of the shows and concerts around town in April. There are plenty of 'em.
If you hurry, you can catch the fabulous Cactus Brothers at the Butchertown Pub. They bring their skittishly wild blend of rock, bluegrass and twang to town on April l. On that night, Common Law Cabin and the Galoots are in the house too.
Mary-Chapin Carpenter is considered a singer/songwriter by some and a country artist by others, but her literate blend of genres draws fans from all across the demographic map. She's responsible for the infectious hits "I Feel Lucky" and "Down at the Twist and Shout," and she's at Freedom Hall on April 2 with Miami's trad-country band, The Mavericks.
Scarface is one rap star that brings considerable prestige and credibility to the hard-core rap genre. His rhymes are touching and real and though he stares unblinkingly at some very ugly aspects of thug life, his lyrics are truly artful. Scarface's vocal delivery is unique too and the beats are slow and slammin'. He headlines a show at Louisville Gardens on April 2 that also includes hot rapper The Notorious B. I. G. and flava of the month Craig Mack.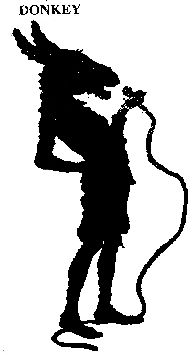 Donkey will bray, er, play at the Butchertown Pub on April 13.
Too rough for you? Point your car towards Baxter Ave. and get yourself a slice of Jamaica. There are a lot of chump reggae acts out there in clubland, but Black Uhuru isn?t one of them. Catch the real deal at Phoenix Hill Tavern, also on April 2. Busy night, huh?
World-class saxophonist Branford Marsalis is touchy about how people classify and quantify the music produced under his pseudonym Buckshot LaFonque, but facts are facts. His blend of poetry, jazz and hip-hop is too slick for rap listeners and too produced for fusion fans. It pales terribly compared to his brilliant, forward-looking jazz records. How does it sound live? The curious can find out by attending the April 5 concert at Coyote's.
Stand back. The teachers and jazz gurus at the University of Louisville are going to practice what they preach on April 5 at U of L's School of Music. The names are said with awe by some: Jamey Aebersold, Steve Crews, Tyrone Wheeler, John LaBarbera, Jerry Tolson, Mike Tracy, Michael Ferraraeeio. Each is responsible for inspiring hundreds of musicians — Aebersold has undoubtedly touched millions. It's the makings for a monumental concert and I for one can't wait to see these guys play.
Once you hear big Sam Myers blow solidly on-stage, a bandoleer of harmonicas across his chest, you never forget it. And he isn't even the star of Jim Porter's April 6 show. That distinction belongs to tasty, economical blues guitarist Anson Funderburgh. The band is called Anson & the Rockets and the Texas blues concert is a sure thing.
For years, Louisville singer/songwriters working in rock and other genres tried out their material at Danny Flanigan's Monkey Hour, Tuesday nights at Dutch's — and recently, at Anthony's By the Bridge. But Danny has said, "Enough already." To better concentrate on his new project, Greathouse, Flanigan has retired the popular and successful weekly feature. Don't be sad. A good songwriter is moving on.
Besides, Chaz Rough has already started his eclectic take on open-stage work with his Castaways Jam, Thursday nights at Gilligan's (the. old Sunset East Tavern, across from the Bristol on Bardstown Road). Comedians, musicians and other artists have dropped in on recent Thursdays, buoyed by Chaz, a relentlessly supportive host. One night, a captivating duo featuring an electric bassist and a tastily percussive bucket player performed. THAT'S entertainment. It's free and Gilligan's has a fine, lengthy beer list. Check it out.
O'Shea's Pub, a traditional Irish pub on Baxter Ave., has a somewhat family feel to it, so it's not totally surprising that local folksinging stalwart Bob Rosenthal is playing there regularly in the coming month. Rosenthal has directed a lot of his energy toward entertaining and inspiring kids and senior citizens, but a good entertainer is a good entertainer.
The Cherokee, the building that formerly housed Tewligans, seems to be pulling its head out of its ... doldrums and getting something going, original music-wise. Witness these upcoming shows: Godhead and Evergreen on April 7, The Web on April 8, The Aquarium Rescue Unit on April 28 and Col. Bruce Hampton on April 29. That last show will be the Louisville debut of the former ARU frontman's new band, the Fiji Mariners. And that is guaranteed to be interesting.
In the most interesting "classical" music event of the month, the Ceruti Chamber Players will perform works by Joan Tower, Ned Rorem, Beethoven and Ravel at their April 9 concert at the U of I School of Music. If you're not hip to Rorem, an outlandish songwriter, then make a point to experience the piece baritone vocalist Lynn Thompson will tackle on this program: "Serenade on Five English Poems for Voice, Violin, Viola and Piano," which uses poems by Shakespeare, Hopkins, Tennyson and other writers as settings for the work.
Tara Key and Tim Harris, frequent visitors to the River City, return with their band Antietam for a April 11 show at the Butchertown Pub — because you can never have too much guitar in your face. The next night, the Queen of Soul comes to the Palace Theatre: Aretha Franklin. Scream loud and say "Amen" if you want Ms. Franklin to sing some gospel music at hat April 12 concert.
In their own way, Donkey has as much soul as Aretha. Before you protest, consider their release Slick Night Out. It swings, baby, from beat to beat and from raw punk to virile crooning. Donkey plays at the Butchertown Pub on April 13.
There's Frankie Valli nostalgia, there's Kansas nostalgia and then there's Cameo-The Gap Band-Tina Marie nostalgia. "You Dropped a Bomb on Me," "Word Up," "Lovergirl" — that was the shiznit in the early '80s. Generation X, are you listening? The dancing will be done at the Louisville Gardens on April 14.
The Silos have their own diehard fans, but their evening at the Butchertown Pub is brightened further by the psychodots, Supafuzz and the Kelly Richey Band. That's almost too much music to handle in one night. Rest your ears for this April 15 event. More laid back but just as exhilarating is Yer Girlfriend's scheduled performance on the same night (April 15) at the Rudyard Kipling. They're doing it unplugged. Why? Because they can.
Country fans will want to venture out on a Tuesday night to hear George Ducas, a rising star with a voice that one reviewer described as "Orbison-like." Heavy. That Coyote's show is on April 18. I think I would cower in the corner if somebody compared me to Roy Orbison.
Hide your dog and lock your liquor cabinet, because Mojo Nixon is coming to town. The infamous wild man has a backing group dubbed the Toad Liquors and that don't sound like no sissy band. The mayhem will be contained within Phoenix Hill Tavern on April 20.
If you're born and raised on Chicago blues, what else can you do but pick up the guitar? Duke Tumatoe couldn't offer you any alternative; that's what he did. For 20 years he's been blending blues with other compatible musics to create a sound that has enchanted fans all along the Indy-Chicago axis. Hear Duke and his Power Trio April 21 at the Backstage Blues Cafe in Coyote's.
All right, so "Wreck of the Edmund Fitzgerald" is a frightening song. Gordon Lightfoot has plenty of good ones: "If You Could Read My Mind," "Sundown," "Carefree Highway," "Early Mornin' Rain." Lightfoot will play at the Palace on April 21 in support of his new album, Waiting For You. Lightfoot himself says it harkens back to his earlier style of folk singing.
If you thought Big Hat was arty, wait until you see My Scarlet Life, a spin-off group from the now-defunct Chicago band. Their music is denser than a jam cake and quirkier than a Coen brothers film. I"m not convinced' that it works, but My Scarlet Life's April 22 appearance at the Butchertown Pub promises to be good theater.
If you wanted to see the Allman Brothers Band in the delightful confines of the Palace Theatre on April 22, sorry Charlie. It's long sold out. Willing to sell your soul for a ticket? Maybe try the Louisville Gardens on the same night. The Dark One has a supposed agent in visiting musician Glenn Danzig, although a giggle always seems to be just under the surface of Danzig's satanic bluster. Marilyn Manson opens the show featuring Danzig's cleverly named band, Danzig.
Me? I find rush hour on Dixie Highway much scarier.
The month ends with two amusing shows: Dread Zeppelin at Phoenix Hill Tavern on the 25th and Goober and the Peas at the Butchertown Pub on the 26th. Dread Zeppelin started out as a brilliant satire, took itself too seriously and is now rediscovering the power and charm of Elvis, Led Zep and the two's uncommon element: reggae. If you're confused, don't worry. Dread Zeppelin has to be heard to be understood.
Most anyone with an eye on the local scene has heard tales of Goober and the Peas. Seven-foot singer, five-foot guitarist. a raucous dose of punka-hillbilly. . industry respect and mass hypnosis in Detroit. If you're wavering, consider the other half of this inspired bill: Louisville's own (resurrected) The Uglies. You ain't heard a Madonna song until you've heard Mr. Dan Kilian wrap his lascivious lips around it. Be afraid.