On Stage: Voodoo Love Taxi
By Darrell Ray Elmore
VOODOO Love Taxi! Or is it Voodoo LOVE Taxi? Or maybe Voodoo Love TAXI? Heck, I don't know. What is it about these guys' name? It reminds me of Vambo Marble Eye, but those guys are completely different from these guys. Now I'm confused. I know, I'll just go for the "c.d. kaplan imitation" filler (patent pending):
"Rip 'em up rockers; there's a new sheriff in town and their earnestly baroque style imbues every mandated song with crescendos of cacophony, ice cream dishes full of saccharinisity and, what with their able-bodied tunesmithing, will admonish even the most sacrosanct listener into a beguiling and self-imbued yet-tentative reaction not unlike applause.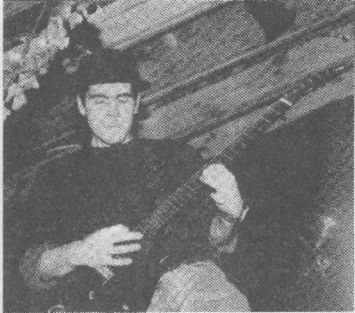 Chad Phillips. Photo by Darrell Ray Elmore
It is the anachronistic opinion of this reporter that the Voodoo Love Taxi is font for even the most seclusive of muses. Allah be praised and pass the salt! Their misanthrope and innocuous stylings are flocculent and will make even the most derogatory statement vibrate with a scintillating flash of pompous, ambulatory, chrono-synclastic infundibulum.
Hot damn girl! Slip a thesaurus in your pocket and wear your best Sunday-come-to-meeting dress and I'll meet you behind the old barn where we will dance the night away to the superb innuendo of The Emotionally Obsessed Hansom Cab Drivers From The Dark Side — but don't forget to bring a dead chicken and a raincoat!"
Sorry.
Voodoo Love Taxi has been impressing local 20-something gen-x girls in our fair city for about two years now and, from what I saw recently at The Cherokee, are finally coming into their own as far as whatever it is "being in a band" is all about. Terry, the manager of The Cherokee, made a point of coming up to me and whispering in my ear: "Watch out for these guys, they eat babies!" Coolness. I was more than a little intrigued to say the least. Of course, I didn't believe him for a minute (people love to lie to reporters, just so they can see their name in print), but nonetheless I was anxious for something out of the ordinary to happen.
Yeah, right. I wish I could say the band had filled the club with a mystical, magical aura of otherworldliness, but in fact what they did was pack the house with eager Voodoo fans, the majority of which just happened to be fantastically attractive frat-rats of the female persuasion, so in the long run, I didn't miss the magic hoo-hah much. Too bad you missed it, eh c.d.? The Love Taxi guys are Greg Neat (vocals), David Taylor (drums), Brad Piontkowski (unpronounceable name & bass) and Chad Phillips (groovy little hat & guitar). Brad and Chad used to play in the Exploding Veils (hey! I heard of them!). Greg proved to be a really nice guy off stage — unassumingly modest with a capital "M." Indeed, all the Taxi guys were like this and to tell the truth, I was a little disgusted. Whatever happened to the huge egos that used to shuffle on and off stage at the local venues? What's that, you say? They became music critics? God help us all.
It had been explained to me that the Love Taxi CD (available at them there places where they sell CDs) was a surprisingly effective little romp that had everybody's feet a-tapping down at the ol' LMN offices, so I was curious to find out just what these guys could do live. Actually, they weren't bad. Funky, R. C. Mobesque in their performance (Greg even uses one of those little megaphones during some songs), I found my own foot tapping along.
Strangely enough, the sound that night was really bad, ironic when you consider that David the drummer is the house soundman at The Cherokee.
Let me explain something. When I say the sound was bad, I mean bad— the guitars sounded funny, the" drums were a little too loud, the bass seemingly raced along independent of whatever it was the drums were doing — but suddenly, out of the blue, I began to like this badness. My ear is not what some people would call trained, but somewhere in the middle of the set I began to realize that the sound wasn't really bad, it was just different. Thousands of hours of listening to the same ol' E-A-D progressions filtered down through ugly P.A.s (and even uglier soundmen) had left me deaf to anything different. Voodoo Love Taxi had in just a few minutes forced me to reconsider the standard sound thrown out by many local bands and I liked it! Faboo! I don't care if they eat babies or not, I think maybe there IS a little magic in these Cab Drivers From The Dark Side. I guess all those pretty girls knew what they were doing, after all.
Overheard at the bar: "This ain't no Tewligans and that ain't no R. C. Mob!"
"Hey, You maybe looking for a poke in the eye?"