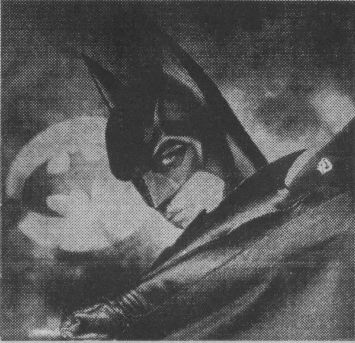 What the 'Skip' button is for
Batman Forever Soundtrack (Atlantic)
various artists
By Mark Clark
Riddle me this: What happens when a soundtrack is more entertaining than the movie that spawned it? Answer: They call the movie "The Crow." Or "Batman Forever," which packs more rock-'em, sock-'em action (not to mention better performances) than its parent film.
BAM! U2 jump-starts this disc with "Hold Me, Thrill Me, Kiss Me, Kill Me," one of the band's brightest cuts in years. Bono is at his least pompous, and the rest of the band seems refreshed by the simple, groove-powered number — designed to make listeners shake their rumps instead of their fists.
POW! Seal contributes the finest single of his career (so far) with the angelic ballad, "Kiss from a Rose." The singer displays a wider vocal range and considerably more finesse — not to mention plenty of soul — while crafting the summer's warmest love song.
BIFF! The Offspring chime in with "Smash It Up," a worthy tribute to one of punk's originals, The Damned. If the cover is a little too polished to sound authentic, it's got the right energy and the right attitude. I wonder if the fellas would take a crack at "I Just Can't Be Happy Today"? There's lots more good stuff, too, like Brandy's first-class, sultry ballad, "Where are You Now?" and PJ. Harvey's eccentric, bluesy "One Time Too Many." The Devlins, Sunny Day Real Estate and Massive Attack with Tracey Thom (the girl from Everything But the Girl) also contribute fine selections.
Holy shuffle button! The only faults separating this soundtrack from true greatness are awkward pacing and a trio of sub-par selections.
After opening with U2 and Harvey, the album serves up five consecutive ballads. They're all good ballads, but after five in a row," listeners may find themselves nodding off — at least until the Offspring make their jarring entrance, to snap the streak.
Later, the album enters another bad stretch, with three consecutive tunes that would have been better left in the studio: Nick Cave's annoying "There is a Light," Method Man's boring rap, "The Riddler," and Michael Hutchence's inept Iggy Pop cover, "The Passenger."
Of the three, Hutchence's tune is the worst, evidence of why the ex-INXS vocalist's career is in a nose-dive. Hutchence appears to miss the point entirely, applying his trademark breathy, sexpot vocals to Pop's rough and raw material. Hutchence is as convincing with punk as Donna Summer is with country. He should go back and listen to those old INXS records and figure out what made them work — upbeat tunes with catchy vocal hooks and danceable grooves.
Since this disc runs a respectable 59 minutes, executive producers Jolene Cherry, Joel Schumacher and Gary LeMeil could have axed at least two of these dogs and still delivered a healthy-sized album. Instead, listeners are left with an edit-it-yourself record. Happy programming.