I've Got A Mind To Ramble
Say It Ain't Mojo.
The KYANA Blues Society's newsletter, Blues News, has been running an ever-expanding list of the "Top Definitive Blues Songs" as submitted by the KBS members. The diversity of the 100+ selections blends the rich heritage of the blues with the contemporary standards. What about starting a list of the blues songs that you least want to hear at a blues festival or concert?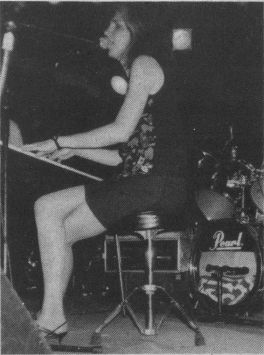 Marcia Ball. Photo by Keith Clements
The inspiration came at a recent concert when Bob Margolin was performing at the Backstage Cafe. At a vulnerable moment he asked for any requests and someone shouted out "Sweet Home Chicago." Bob groaned a little and reluctantly did a nice version of the national anthem of the Chicago blues, but he said blues musicians do not like to do "Sweet Home."
Robert Johnson first did the song when he recorded it for his first session in 1936 for Vocalion in San Antonio. His inspiration came from Kokomo Arnold's "Kokomo Blues," which Arnold recorded for Decca in 1934. Magic Sam did the definitive urban Chicago version on his first Delmark release, West Side Soul. I can't even begin to count the times I've heard the song at the Chicago Blues Festivals and when the Chicago bands come to Louisville.
The next song I'd add to our list is "I Got My Mojo Working." I first heard "Mojo" on the classic Chess recording Muddy Waters at Newport. This was a live performance recorded at the 1960 Newport Jazz Festival, which was cut short by riots. That live version is full of a strength and vigor that has never been equaled.
We must also add "Down Home Blues" to our list of over-performed blues. Sorry, George Jackson, Z.Z. Hill, Annie Ophelia, Winston Hardy and all the others who have had anything to do with the song, but every time I hear the opening notes and lyrics I just block it out and patiently wait for the next song. I'm sure you all have your own "Oh No Not Again" blues songs.
Spoon & Ends End . . .
It was with mixed feelings that I went to Jim Porter's on July 13 to hear the Rusty Spoon Blues Band open for Marcia Ball. This was the band's last performance before hanging it up after three years.
The band did an excellent set, finishing up with "Sweet Sixteen" and "Reelin' and Rockin'." Rusty Ends, one of the lead guitarists and singer, introduced the other band members: Danny Kelly, the drummer; Fred Kaiser, the bassist; and his "partner in crime," Dave Witherspoon. Rusty said to the appreciative crowd, "This has probably been the most wonderful three years one could ever have." It was an anticlimactic ending for one of the most promising blues bands in Louisville.
I called Rusty a few days later to get his impressions of the band's brief career. He said the high point was the release of their recording Midnight Screams on Scott Mullins' Rollin' & Tumblin' label. They had received cards from radio stations all over the country and even as far away as Italy. Curtis Gaines was the guest vocalist on the release; he now lives and performs in Atlanta.
They had become a regional band playing in Cincinnati, Kansas City and at Nashville's Boardwalk Cafe. Check out the back of Sam Lay's recent CD on Appaloosa which was recorded live at the Boardwalk and you will see a Rusty Spoon Blues Band poster. The band had just started on a second recording when they decided to disband.
So what's going to happen to all this talent? Fred, who is the ripe old age of 52, is going to retire, and Rusty will be doing some songwriting and producing some demos with Danny.
...But Ball Keeps Bouncing
Now on with the show. Long, tall Marcia Ball came out to do a nonstop hour-and-a-half set that was dynamite. She opened with "I Just Love You," then sat down behind her keyboard and pumped out a whole string of her hits, including "Red Beans," "Why Don't You Change Your Way of Living" and "Good Rockin' Daddy." When Marcia and her hot band tore into "All Night Long" the place got unglued. Even though the dance floor was filled with chairs and tables, the crowd managed to get up and dance the night away.
Marcia is a master of mixing R&B, zydeco, blues, soulful ballads and funky New Orleans with her magnificent voice and boogie woogie piano. Marcia's guitar player and saxophonist really propelled the band to great heights throughout the evening, playing a variety of instruments. Her frequent past performances in Louisville on the Lonesome Pine series and at the Water Tower have created a large, devoted following of fans of all ages.
(See Michael Campbell's review of the Marcia Ball / Rusty Spoon concert elsewhere in this issue.)