When you care enough ... to applaud.
Happy tenth anniversary to Tight Squeeze. Hallmark lists tin or aluminum as appropriate to the occasion but applause will do nicely.
Tight Squeeze's first gig at a tour of historic homes in Madison, Indiana, was appropriate for a group of musicians who had decided to take the historic music from Ireland and the British Isles and play it for all who would listen. Now, in the band's tenth year and 260 engagements later, they are still committed to playing these traditional tunes and increasingly writing their own as well.
Tight Squeeze formed when the four original members united after years in various other bands. Henry Austin (guitar) came from rock groups and through "Glittering Strand," a local British Isles group. Beverly Buchanan (accordion, keyboards) played with numerous dance bands as well as the acclaimed McClain Family Band. Lexington dance band player Mike Murphy moved on to California and was replaced by Pete Komsiski (fiddle) who adapted quickly to Irish styles from his classical background. Maureen Spencer, an award-winning traditional dancer, joined the band later but has had to reduce her role to raise her child. Nancy Harris (flute, whistle) has also moved on to do duo performances and entertainment agency and management work with Harris Entertainment.
The band has had many a memorable gig, dodging sheep, chickens, and even flying meat and beer mugs at an all-too-authentic medieval banquet. They have shared the stage with the likes of Tommy Makem, the Tannahill Weavers, John McCormick, to name a few, and has performed on NPR with Patrick Ball, a California-based harpist and storyteller. TS's first commercial album was well received by critics and the public and they are now recording their second album, featuring original tunes as well as their characteristic tight arrangements. As regulars at the Irish Family Fest, Dickens on Main, the Irish Rover and other venues, they are regarded as Kentucky's premier traditional dance band. Rock's only complaint is that they do not play for public consumption often enough. Perhaps in their second ten years they will get around even more. Be sure to catch their performance at the Saturday night ceili at the Irish Family Fest. Three cheers for Tight Squeeze!!
Black Watch ...
Celtoids, prepare for the second coming!! ... of Black 47, that is. They blew everybody's doors off at Phoenix Hill Tavern some months ago. In his LEO column, "Quoth the Maven," c.d. kaplan called it the best rock concert of the year.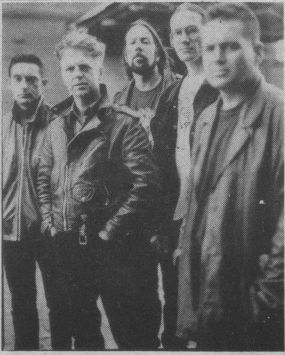 Black 47. Photo by Chris Cuffaro
Formed by a New York City cop and a playwright from Wexford, Ireland, they are a very unique blend of Celtic rock, traditional, rap, reggae, jazz ... undefinable. This is a killer band and they are heading the bill at this year's Irish Family Fest (Sept. 22-24). Black 47 will be the last act on the main stage on Saturday (the 23rd), around 5 p.m. If you pay no attention to anything Rock has to say, at least do this: Mark your calendar now for Black 47.
Upcoming Performances
The Rudyard Kipling
Aug. 4: Celtic Jam Session
Aug. 5: Galloglas
Aug. 15: Fianna Rua
O'Shea's Traditional Pub
Aug. 12: Clogeann
Aug. 22: Ten Penny Bit
Aug. 29: Galloglas
Wednesdays, 10 p.m.-1 a.m.: Mark Cannon/Bob Loeffler
Sundays, 6-10 p.m.