Cowboy Corner
Kentucky State Fair Fever
August is here, the temperatures are unbearably hot, and the concert tickets are on sale, meaning only one thing: It's state fair time! The Kentucky State Fair will be held at the Kentucky Fair and Exposition Center August 17-27 right here in Louisville, and boy, is there ever a scorching line-up of country concerts.
Kicking the state fair off this year on Thursday, Aug. 17, at 8:00 p.m. in Freedom Hall will be Brooks & Dunn along with special guests Mark Chesnutt and Wade Hayes. Brooks & Dunn will have everyone "Boot Scootin'" in the aisles while Mark Chesnutt will have everyone "Going Through The Big D" and Wade Hayes fans will be begging him, "Don't Stop." Tickets are $16.50.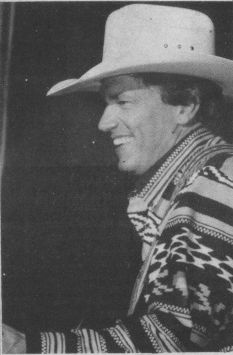 Geroge Strait will perform at Freedom Hall on Aug. 19, with Lari White. Photo by Letha Marshall
George Strait and the lovely Lari White will have no problem filling Freedom Hall on Saturday, Aug. 19, at 8:00 p.m. George Strait will be sure to "Lead On" everybody while Lari will have everybody full of "Wishes." These tickets are also $16.50 and going QUICK, so rush out and grab up a seat while there still are a few to be had.
Oak Ridge Boys fans are in luck. This long-time favorite country music quartet will perform a free concert Sunday, Aug. 20, at 8:00 p.m. in Cardinal Stadium. They're bound to perform favorites such as "Elvira."
Cardinal Stadium will once again be filled with country music fans Wednesday evening, Aug. 23, when country crooner Ricky Van Shelton performs a free concert at 8:00 p.m. I'm sure he'll be cruisin' down those "Backroads" with a stadium full of fans.
The Keebler Unbeatable Wheatables Tour, starring Clint Black with special guest star John Berry, will stop off at Cardinal Stadium Friday, Aug. 25, at 8:00 p.m. for what's sure to be an unforgettable evening. Clint Black will be sure to stir up "One Emotion" or another and John Berry's love will be sure to amaze you. Tickets are $15.50. Clint is teaming up with Kentucky Harvest to fight hunger, so be sure to do your part by bringing non-perishable food items to this show to help Kentucky's needy.
And if that's not enough country concerts for you throughout the state fair, Fruit of the Loom Country Comfort will present Alan Jackson and the beautiful Faith Hill in Freedom Hall at 8:00 p.m. Sunday, Aug. 27. Alan is guaranteed to perform an incredible show just as he did last year and he's bound to let everyone know just "Who I Am." Faith Hill will share with the crowd a "Piece Of My Heart." These tickets, while they last, are $16.50.
Concert goers should be aware that a $5 state fair gate admission and $2 parking fee are required for all concerts, whether paid or free. Also, be sure to plan on being at the fair a couple of hours before each show because traffic really gets bad the hour before these concerts, especially those held on a weekend night.
I hope everyone gets a good seat and I look forward to seeing everyone at the country concerts at this year's Kentucky State Fair. As Alan Jackson would say, the state fair has "Gone Country!"
"Cowboy Corner Country Concert Frenzy Contest"
If you've ever dreamed of seeing your favorite country artist in concert and meeting them in person, then Louisville Music News' "Cowboy Corner Country Concert Frenzy Contest" is for you. I am proud to announce that a lucky reader and a guest will be my special guests at the Aug. 17 Brooks & Dunn, Mark Chesnutt, and Wade Hayes concert in Freedom Hall and I will escort them backstage to meet and get their pictures taken with Mark Chesnutt.
If you're an Oak Ridge Boys fan, then you'll definitely want to enter to win two backstage passes to meet the Oaks before their free concert in Cardinal Stadium Sunday, Aug. 20.
To enter and win these prizes, please fill out and mail the entry form found on this page or send us a postcard with your name, address, and a daytime and evening phone number to:
"Cowboy Corner Country Concert Frenzy Contest"
Louisville Music News
7505 Cambridge Drive
Crestwood, KY 40014
Be sure to include all information so we can contact you if your name is drawn.
All entries must be by mail, and must be received by Tuesday, Aug. 15, 1995. Enter as many times as you wish, but only one entry per envelope. Receipt of your entry gives LMN permission to use your name and photo in print.
As of press time, these are the only contests confirmed, but be assured that we are working with each country artist coming to the fair this year, attempting to treat a lucky reader and his/her guest to each of the country shows and escort them backstage to meet the stars. Each entry is eligible for all concert contests available, but each winner can win only once.
Good luck and I'm looking forward to spending an exciting evening with you and a guest at the Kentucky State Fair country concerts and introducing you to the stars!
Country Thermometer Rising
The temperatures are sweltering in your favorite local record store, due to some sizzling new country releases. You definitely won't want to miss out on Tracy Byrd's hot new album, titled Love Lessons, which includes the smash hit "Walking To Jerusalem." The traditional style Junior Brown has a five-cut CD out titled Junior High.
Shelby Lynne's Restless is now available, which contains "Slow Me Down" as seen on CMT. Stacy Dean Campbell fans will want to be on the lookout for his latest effort, Hurt City. If you're a Lee Roy Parnell fan, then you're in luck; his latest, We All Get Lucky Sometime, will soon be hitting the streets. And last but certainly not least, Garth Brooks' right-hand man, guitarist Ty England's self-titled debut release, which includes "Shoulda Asked Her Faster," is scheduled to be released mid-month.
Pick up some of this hot country music and enjoy while you're sitting beside the pool with a big, tall glass of lemonade. And by the way, don't forget the sunscreen because this country music is hot enough to burn!
Cowboy Corner Country Quiz
Q: Does Alan Jackson write his own songs, in particular "Livin' On Love"? If so, did he write it about his parents?
Geneva Stephens, Brandenburg, KY
A: Alan Jackson does not write all of his own songs, but he does write a heaping portion of them. Of all the songs on his four smash albums released to date (excluding Honky Tonk Christmas), Alan has written eight and co-written 24 of these tunes, adding up to a whopping 74% of his material. Not too bad for a long-legged country boy from Georgia, huh? In addition to these songs, he wrote "Merry Christmas To Me" on his Christmas album.
Alan has written or co-written some of his biggest hits such as "Here In The Real World," "Wanted," "Home," "Don't Rock The Jukebox," "Dallas," the multiple award-winning "Chattahoochee," "Tonight I Climbed The Wall," and his latest smash hit, "I Don't Even Know Your Name." As a matter of fact, Alan has written 13 of his 16 number one hits.
And what about "Livin' On Love"? Alan did in fact write this smash hit all by his lonesome. Although Alan's mother and father, Ruth and Eugene Jackson of Newnan, Ga., are in this video, Alan says that he did not write the song with his parents in mind, but realized that it was their life story once the song was complete. His mother considers this song to be "her" song.
Alan Jackson's great knack for songwriting has helped sell more than 14 million albums in just five years, and has led to the most prestigious songwriting deal in country music history. Warner/Chappell Music, Inc. recently signed a multi-million dollar deal with Alan which includes his entire back catalog as well as all future material he writes. He has been named ASCAP Country Songwriter of the Year twice and says, "Songwriting is an important part of my career and I'm happy to be involved with a publishing company like Warner/Chappell, whose reputation is known worldwide."
In addition to writing number one hits for himself, Alan has written two number one hits for Randy Travis and one for Clay Walker. He has also had songs recorded by artists such as Faith Hill and Chely Wright.
If you have a question you'd like answered about one of your favorite country artists, please send your question, along with your name, to: Cowboy Corner Country Quiz, Louisville Music News, 7505 Cambridge Drive, Crestwood, KY 40014. Please don't hesitate to send in tyour question. We're anxious to hear from you.
Well, that's it for now. Always remember: Keep you boots shined up and your hat on straight, 'cause country music is comin' your way.