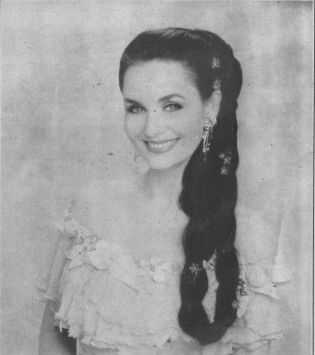 Crystal Gayle
Crystal Gayle
Long Locks and Deep Roots
By Michael W. Stout
"Well, I was born a coal miner's daughter, in a cabin on a hill in Butcher Hollow." Anyone who calls her/himself a country music fan knows that Loretta Lynn is the "Coal Miner's Daughter," but, then again, so is her youngest sister, Brenda Gail Webb, better known as the lovely, talented, long-locked international superstar, Crystal Gayle. Gayle was born in Paintsville, Kentucky, in 1951, the youngest of eight children, to a coal miner named Ted Webb and his wife, the former Clara Butcher.
Gayle recently told Louisville Music News, "I did grow up as a coal miner's daughter, but a factory worker as well. When I sing ["Coal Miner's Daughter"], it's still from the heart. I am a coal miner's daughter, but I didn't live some of that that [Loretta's] talking about." Papa Webb had to quit mining due to black lung, so the family moved to Wabash, Indiana, when Gayle was just four years old. "We moved to Indiana so [daddy] could work in a factory. He had to quit working in the mines because of his health. My brother Junior already lived in Indiana. That's probably why we moved [there]. My mother wanted to move us from the hills. I think she probably wanted us to be a little more open. She had to go get work; our dad couldn't find the work when he went. She found work and [then] sent for us."
Gayle was on the path to stardom right from the very beginning. "I love to sing. My mother said I could sing before I could walk. I recorded in high school and actually had a record, 'I've Cried (The Blue Right Out of My Eyes),' released and that got on the charts. I think it got to like number thirteen. 'I've Cried' was with Decca; that was the same label as my sister, Loretta and it didn't take long to realize that I was only on that label because of being her sister, I realized if I wanted to make it I had better go out on my own. It was quiet 'til about '74 when I had real success and that was with United Artists Records. They signed me and put me with a producer by the name of Allen Reynolds," who is now "doing great things with Garth Brooks."
Gayle feels being Loretta Lynn's little sister has been both a help and a hindrance in the music business. "It got my foot into a lot of doors, but it also closed some too. I've had the question, 'Does it bother you?' Maybe if I never had success, maybe I could say, 'Well, that did it and that's why I wasn't,' but loving my sister, Loretta Lynn, she's wonderful. I learned. a lot from.her. I learned a lot from her mistakes. She'd tell me, 'Don't do this, this is what happens."
Lynn's advice and Gayle's own keen ear for music has led her to much success in the music business, winning just about every award possible. Her first major award was the Academy of Country Music's Most Promising Female Vocalist award in 1976. This award was followed by the ACM's Female Vocalist of the Year three times, the Country Music Association's Female Vocalist of the Year twice and the American Music Awards' Country Music Female Vocalist of the Year three times. Her signature tune, the country-pop crossover "Don't It Make My Brown Eyes Blue," helped her capture a Grammy and the Most Played Record of the Year and the Most Played Country Female Artist of the Year awards by the AMOA Jukebox Awards. In addition to all these, Gayle has received the AMA's Favorite Female Country Video Artist award.
Gayle could not have enjoyed such success without the great songs she has had the great opportunity to record throughout the years. She attributes the longevity of her career to "picking songs that are a little more sustaining than just songs that are there and gone. You'll never forget 'Brown Eyes'; it's just a song that doesn't happen real often and I'm glad that one was mine. I think maybe also gearing [my] career in a way [of] not just taking everything that came along in the beginning, being more selective with things, not recording songs because I didn't feel like I should sing them because I didn't like what they said in them, [has helped my career]."
When in the song selecting process, Gayle looks for a good melody first. "Well, melody first will grab me and then I'll listen closely to the words. If it feels [like] something I feel I can say or sing about, or want to, I do, but melody is the first thing. There's some great songs I've read lyrics to and think, 'Oh, these are neat,' but the melody just sort of misses. Of course the great lyric and the great melody, they work. There are some wonderful songs out there. To me, with 'Brown Eyes, it was such a simple song, but it says so much with so little; that's what I like about that song."
Fortunately, Gayle does not have to have lived a song to sing it. "If_I've lived all the heartache I've sung about, I'd be in real poor shape. You have to be sort of an actress or an actor when you sing because you've got to put something in it even though you've not lived it; you've got to know how you would feel."
There have been several highlights during Crystal Gayle's prosperous music career. "Of course winning the Grammy. [Also], it's just neat looking back and hearing my song on the radio for the first time and think[ing], 'Oh, that's me.' Or walking down the streets of London and hearing my record come out of a clothing store. Those are highlights. Of course, because of my career, I've been able to be at the White House. Loretta, [my sister] Peggy and I, we campaigned for President Bush and had a great time on that tour. That's a highlight."
Of all the songs Gayle has recorded, just which one does she consider to be her theme song? "I think that 'Brown Eyes' would probably be a theme. 'Talking In Your Sleep' is a song that people, I don't know why, the association with that song that people want to hear that. 'When I Dream.' I don't know. As far as an association, I'm sure you would say, 'Oh, "Brown Eyes,"' but I think ballads. They've really been my forte even though I do up-tempos as well."
Throughout her music career, Crystal Gayle has always made her music and her image her first priority, not dwelling on the money or the fame. If you were to have the great opportunity to sit and converse with her for just a few moments, you would realize that she is a truly honest and genuine individual. "Through the years, I turned down a lot of commercials because I didn't believe in them. I don't want to represent myself saying something about something I don't believe in and want someone else to buy it. I try to keep my values out there, not just because I'm going to get a lot of money if I do this. I've lost a lot through the years, but I didn't look at it as losing. I turned down a really good hair deal years ago. It was like, 'I don't use it; it's not my shampoo. I don't care for it; I tried it."' And yes, if you've seen the MCI commercial with Gayle and Lynn and are wondering, they truly are MCI customers.
"I think overall, family values have changed over the whole world, or America anyway. I can see a big downslide. I wish we could figure out what it is to pull it back. I wish the values would get better for our future. I think everybody is blaming this and that, but I think it starts at home; I think that's where we need to start blaming it. There's too many video games and too much TV. I'll tum on the TV sometimes and think, 'Wait a minute! Why are they able to do that?"
Gayle's values are conveyed through her latest music project, a gospel album titled Someday, which is now available in your favorite record store. "There are songs in there that definitely you've lived. The title track is a song that I think a lot of people, the way it's written, definitely relate to."
Also be on the lookout for the video to the title track which was filmed in her husband/manager Bill Gatzimos' homeland of Greece.
Gayle has performed many feats and enjoyed much international success throughout her music career while never sacrificing her values, but what is the one thing she has not yet done that she wants to? "Sometimes I think that I would like to do a certain role in TV or a movie that would utilize the hair, like Rapunzel. I've never done that and maybe I should do something with the hair before I cut it."